ANE Portfolio Posts
Sep 16, 2016

Gretna Campbell: Paintings from Great Cranberry Island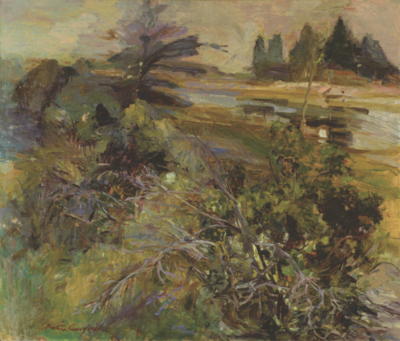 Gretna Campbell, Small Rosebush, 1981, oil on canvas, 42 x 48". All images courtesy Courthouse Gallery Fine Art.
By Carl Little
Painter Gretna Campbell (1922-1987) first came to Maine in the late 1940s not long after graduating from Cooper Union in New York City. She and her husband, artist Louis Finkelstein, bought a house on Great Cranberry Island off the southern end of Mount Desert Island in 1950. Over time, the island's granite edges and deep woods became her principal muse, a place she returned to every summer. Gretna Campbell: Paintings from Great Cranberry Island at Courthouse Gallery Fine Art in Ellsworth, ME gathers a dozen oils dating from 1976 to 1985, all of them Great Cranberry subjects.
Seeking immediacy through immersion, Campbell transported her canvases, some of them as large as 50 by 50 inches,...
©2018 Art New England, All Rights Reserved
Designed and Developed By: T. Montgomery