ANE Portfolio Posts
Aug 24, 2015

Morning Light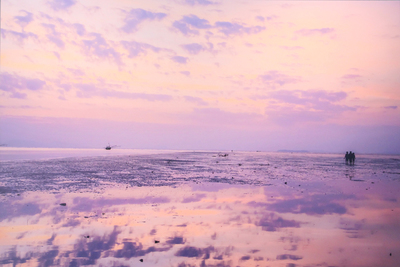 by Celina Colby
Eleanor Briggs is one of the few artists able to completely transport you from a gallery into an ethereal, picturesque landscape. A photographer for decades, Briggs has become skilled at creating not just an image, but another world. This is largely due to her extensive travel repertoire. Her landscapes range from the natural world around her home in Hancock, New Hampshire to exotic portraits of Vietnam, shot with a color 35mm. "I like to go someplace where I can look around and see no one who looks like me," says Briggs.
In the exhibition Morning Light at the Fitchburg Art Museum, photographs from Briggs' trips to Southeast Asia are juxtaposed with her series on Moose Brook, a quiet stream near her home. In a multi-year exploration, Briggs would kayak out into the stream at daybreak to photograph the natural majesty around her. "There is not one shred of human...
Aug 10, 2015

Project Beta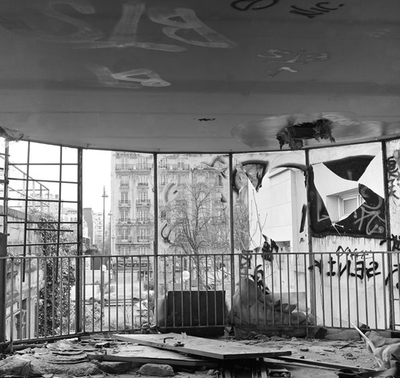 by Celina Colby
Calling all artists! A new residency has opened in Newport, Rhode Island. Arts in Bushwick (AiB) and the newly formed non-profit Newport Art House (NAH) have teamed up to introduce a northeast artist residency called Project Beta in the beautiful seaside city. The goal of the residency is to bring artists from New York and other thriving artropolises to the hallowed shores of New England. Here they can explore the rich natural beauty and cultural offerings of the historic city.
Three Bushwick, New York, based artists will break ground on the residency. Thomas Stevenson, a video and multimedia artist, Lucia Rollow, a photographer and Jeremy Kiracofe, a sculptor. Each artist will be paired with a local Rhode Island institution that works in their medium, Fab Lab for Stevenson, the Newport Photographer's...
Jul 27, 2015

The Paper People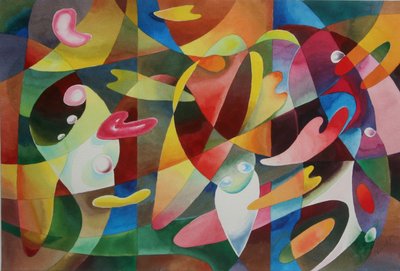 by Celina Colby
Hanging on the walls of galleries and public buildings all over New England are beautifully crafted works by the artists of 19 on Paper. Founded in Rhode Island in 1986, the organization is a member-based group of artists whose primary medium is paper. The name originates from the founding 19 members. The current members are painters, collage artists, bookmakers, printmakers and sculptors. Although the group often works independently, they also meeting regularly at a member's studio for workshops and group critiques, and frequently join in outside functions and activities as a group. Their latest excursion included a group trip to The Paper Connection for a lecture/demonstration and participation in a wholesale paper purchase.
The...
Jul 2, 2015

Wind, Waves & Light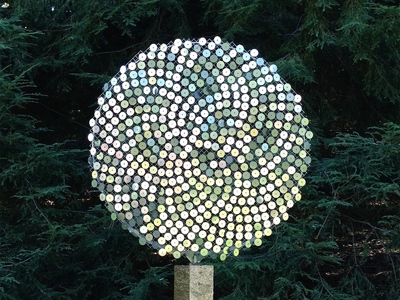 by Celina Colby
The Coastal Maine Botanical Gardens in Boothbay, ME, feature 248 acres including a mile of coastline. The grounds are lush with gardens, walking paths, and serene natural spaces. And until October 12, the gardens will also feature the sculptural work of George Sherwood.
Wind, Waves & Light couldn't be a more accurate name for Sherwood's solo exhibition. Not only does it reflect the hypnotizing kinetic sculptures Sherwood is known for, but also the rambling landscape and natural wonders the Gardens have to offer. Sherwood's work is inspired by nature, reflecting the swooping motion of a flock of birds, the uniform weaving of a school of fish, and the shimmering reflection of light on water. He uses stainless steal to reflect color and light as the sculptures move. The exhibit includes five monumental pieces previously shown in the Hudson...
Jun 18, 2015

Luxuria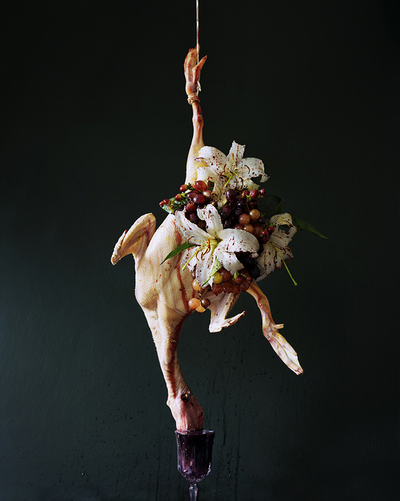 by Celina Colby
Tara Sellios's exhibition Luxuria at Gallery Kayafas is not for the faint of heart. The collection of watercolors, photographs, and installation cannot be simply viewed, it must be digested, experienced. At Art New England we've been following Tara since she debuted on the cover of our November/December 2011 issue. She was also named one of our seven photographers to watch. Four years later and we're still watching.
Since graduating from the Art Institute of Boston in 2010, Sellios has been lauded for her complex and stirring juxtapositions of life and death. Working in large-format photography as well as watercolor, she stages elaborate still lives on the themes of excess and self indulgence, a play on the seven deadly sins. In her artist's statement she says of her work, "Through these images, I aspire to make apparent...
Jun 11, 2015

CREATE Boston Keeps Getting Better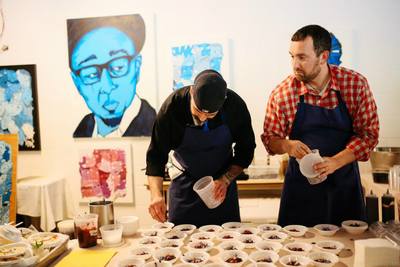 by Celina Colby
The line for CREATE Boston runs out the door and down the block. Hundreds of people are desperate to get in to the hottest collaborative event of the summer. Inside looks something like an urban gallery crossed with a gourmet restaurant. Six booths are set up around the concrete exhibition space. Each area features a collection of artwork and then food and drink inspired by the series. Guests float from table to table holding tiny mixed drinks and sampling fare. Artists talk to fans about their work while offering the best price on the displayed pieces. Light beats waft from the DJ booth. The result is an event so hip the building should be wearing aviators.
In one corner giant wooden buffalo heads by the !ND!V!DUALS are mounted on a wall. A group of chefs from Asta stand in front slicing up a pig's...
Apr 10, 2015

Needles & Opium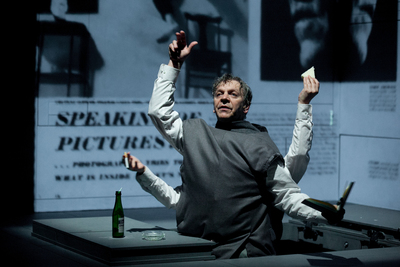 by Celina Colby
Marc Labrèche stands suspended in the air 20 feet above Emerson's Cutler Majestic stage. His face is illuminated from below casting an ominous shadow across his brow. A background of cosmic dust frames him. The mournful croons of Miles Davis's trumpet echo through the theater. Labrèche opens his mouth and with a thick French accent transforms into the famous French poet Jean Cocteau: "New York is a city that never sits down and thinks. A city that never lays down and dreams."
So sets the scene for the groundbreaking production of Needles and Opium, the brainchild of playwright and director Robert Lepage. Originally performed in the '90s, the production has been completely re-imagined for its contemporary revival. The hypnotic performance follows three intertwined story lines. In 1949 Miles Davis traveled to Paris where he met and fell...
Mar 2, 2015

Second Selves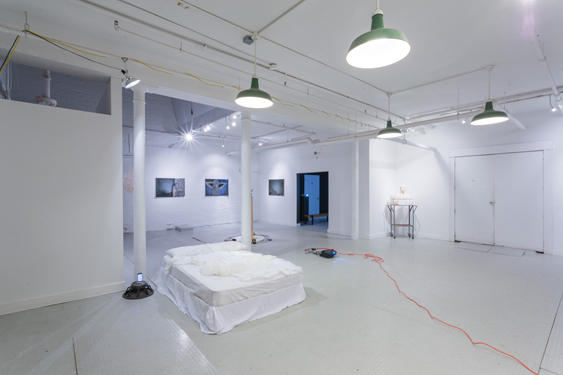 by Celina Colby
Walking down the street, three people scroll through their Facebook feeds. One of them is stalking her ex's new girlfriend, and another is uploading a picture of the party he went to last night. On the train two friends tweet at each other from seats across the aisle and a teenage girl cries while reading a breakup text. Our technology has gone beyond being useful to being a part of us—a curated reflection of who we are. In the exhibit Second Selves at the Distillery Gallery, curator Alexis Anais Avedisian brings together six artists who are trying to reconcile their public and private selves.
The first thing that greets the viewer in the clean, white space is a bed. This is Avedisian's own piece. The mattress is covered with white sheets and a lace blanket. It's rumpled in an intimate way as though the owner just rolled out. On the bed there's an iPhone. Avedisian encourages visitors to lie down on the bed and scroll through the phone. On it is a lengthy...
Jan 28, 2015

Song of the Sea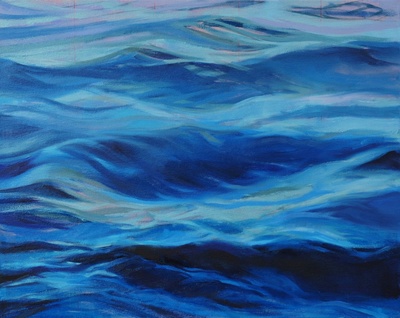 by Celina Colby
The sea has been an inspiration to artists for hundreds of years, from early Egyptian paintings of water as a source of life to JMW Turner's tumultuous depictions of the stormy ocean. But Lisa Knox of the 249 A Street Artists Cooperative in the Fort Point area of Boston is celebrating the sea in a whole new way. On January 11 at FP3 Gallery, Knox collaborated with singer/songwriter Carrie Erving on an afternoon of music and art focusing on the beauty, power and mystery of the sea.
Knox works from preparatory photographs of the ocean to create her intimate portraits of the water. Using a variety of shades of blue she layers light and dark expertly with each crashing wave. The works vary from very close-up of a particular wave to a more...
Jan 23, 2015

And the Gold Star Goes to…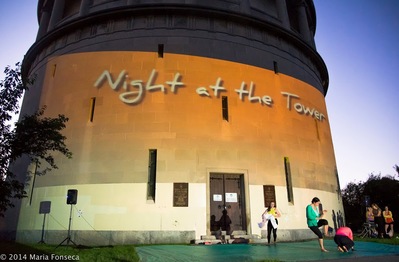 by Celina Colby
The staff here at Art New England doesn't just report on the arts, we're deeply involved in them as well. We're happy to announce that Merli V Guerra, our magazine's production manager, has been recognized for her astounding artistic contribution to the town of Arlington, MA.
Together Guerra and Kimberleigh A. Holman founded Luminarium Dance Company as a new outlet for performing arts. The pair envisioned innovative performers using music, dance and light to create completely unique presentations. This past fall Guerra decided to bring their work from the stage to the street.
With the help of a Massachusetts LCC grant and a gift from the Bob Jolly Charitable Trust, Luminarium turned Arlington's Grecian-style...
Jan 16, 2015

Boston Globe Revamps Living/Arts Section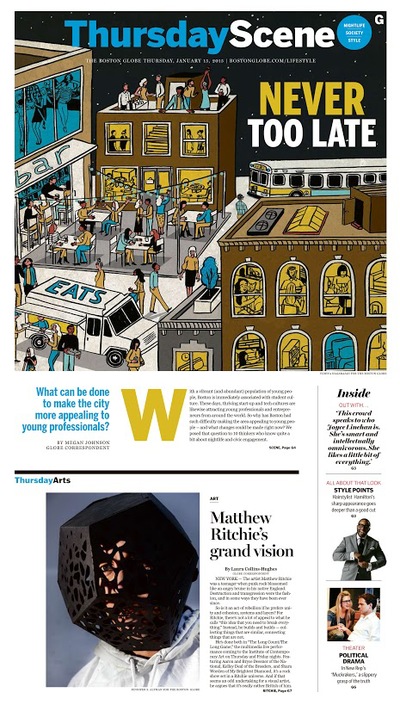 by Celina Colby
The Boston Globe has given their Living/Arts section a makeover. Each day will now have a completely new design in a bigger, bolder daily broadsheet format with a host of new stories. The sections revolve around daily themes including MondayFamily, TuesdayStories, WednesdayFood, ThursdayScene, Weekend, and SaturdayLife.
A strong interest in the lifestyle and arts content of the newspaper spurred the Globe to make these changes around those subjects. Deputy Managing Editor for Features Janice Page said, "Readers of the Globe have a great appreciation for arts and culture and a keen interest in the many stories that this region has to tell. With the latest redesign of the Living/Arts section we have an even broader canvas on which to display those stories, engage people in new ways,...
Jan 14, 2015

2015 Artist Residencies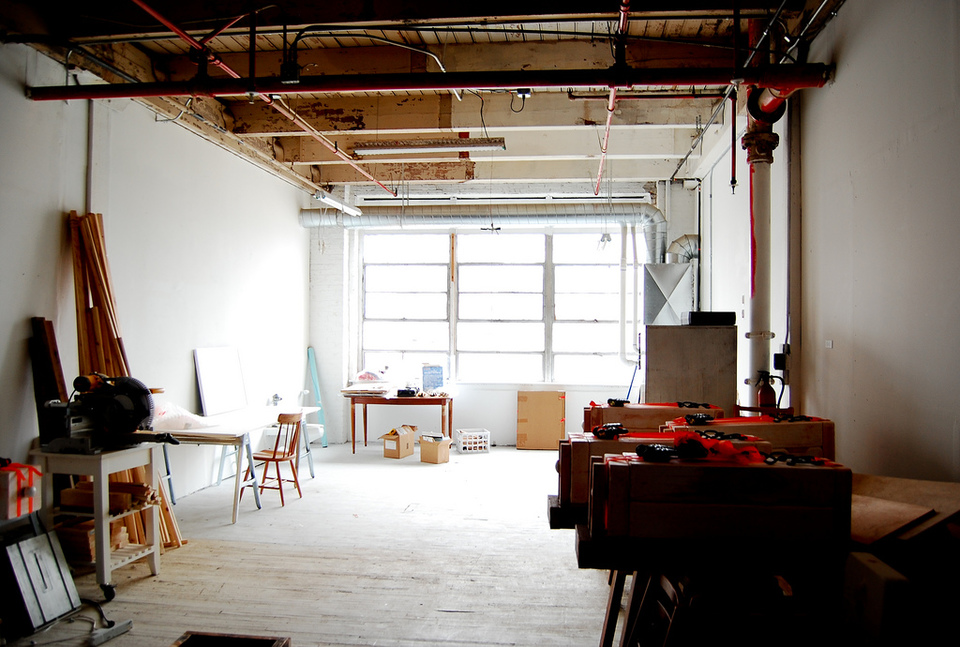 Compiled by Celina Colby.
Residencies provide opportunities to every kind of artist, enabling them to escape their usual routines to reinvigorate and re-inspire their work. Whether they're looking for isolated settings for introspection or collaborative, critical settings for fresh input and new perspectives, residencies and workshops can help artists take their work to a new level. No two residencies are alike. New England is dotted throughout with artist enclaves – from Maine's shoreline to the hills of Vermont. Each residency offers its own unique accommodations, working environment and fields of study. Adventure-seeking artists can explore residencies across the country or even across the globe. With so many options, any artist seeking a creative, concentrated art experience this summer will surely find one that matches their needs.
Art New England has put together a dynamic list of local, national and international residencies for artists...
Jan 9, 2015

Four Prolific Artists, One Creative Family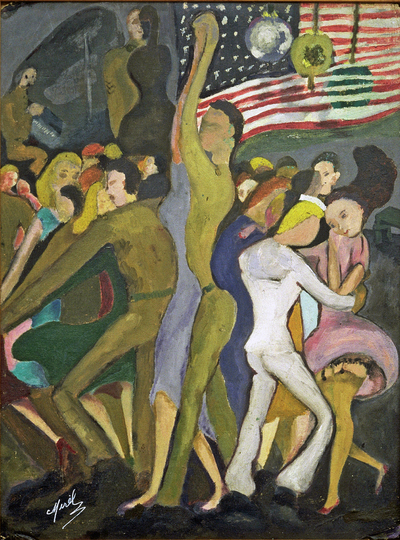 Although Mirana Comstock is a photographer, musician and writer, she never felt there was a spot for her in her artistic family. "When I was young I had trouble fitting into the visual arts side of the family because there wasn't any wall space," she says. Comstock isn't just referring to metaphorical space but to the actual limited hanging room in their home. With an artist mother, grandmother, and brother, wall space was expensive real estate. Recently closed at the Strand Theatre in Dorchester, MA, is an exhibit that's not just about art, but about family. Generations features four artists from the Bercovici clan, the family of the late Konrad Bercovici. Konrad was a Hollywood writer, and he and his wife, Naomi, lived like creative royalty, dividing their time between New York and Los Angeles. Their circle of friends included notables like Hemingway, Fitzgerald, Brancusi, Dreiser,...
Nov 19, 2014

Illuminus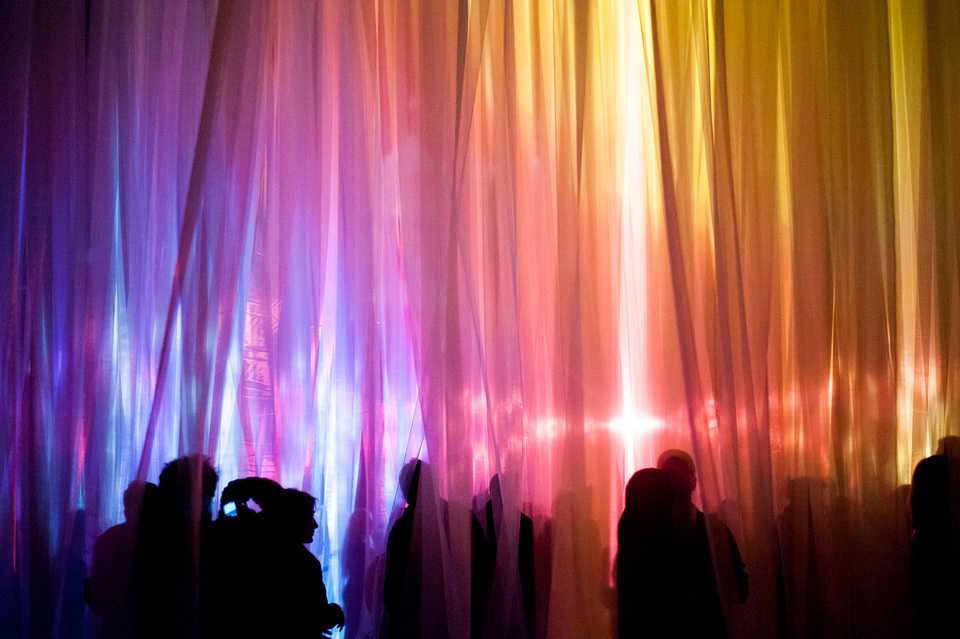 by Celina Colby
Bright lights and big ideas transformed the West End Street Railway Central Power Station and other buildings in the South End on a late October Saturday night. Boston's first Nuit Blanche festival, put on by the Dorchester-based production company Materials & Methods, was a rousing success with thousands of viewers coming out to the SOWA area. Projections, light installations, emersion environments and performances by almost 40 artists were on view.
The event was truly a community collaboration. Although Jeff Grantz, the founder of Materials & Methods, did much of the heavy lifting, the artistic undertaking would have been impossible without the help of others. Monetarily Grantz had almost 20 sponsors donating money, time and equipment to the project. Local curators recommended artists to be featured to help build the number of exhibits available. Even GTI Properties, which owns several of the Harrison Avenue buildings used...
Nov 3, 2014

Ellis Boston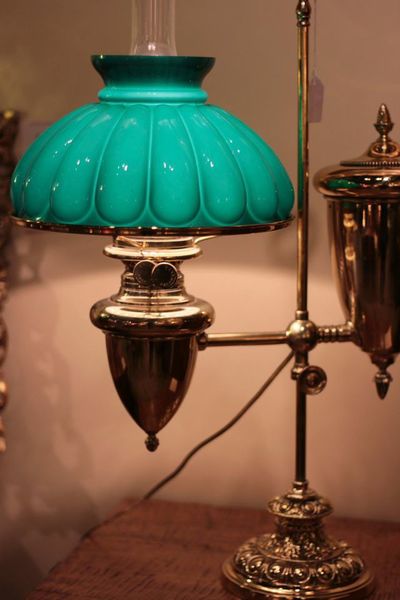 by Celina Colby
Stepping into the Cyclorama last weekend felt like stepping into a luxurious old home. Forty booths were decorated with an astounding quantity of ornate antiquities. Chandeliers sparkled from the ceiling and bookcases hugged the walls, filled with rare artifacts and old volumes. Friends and collectors sat in high-backed chairs discussing vintage Chanel bags and porcelain figurines. You might well have seen the same scene in any of the sophisticated historic homes on Beacon Hill.
For 49 years the Ellis Antiques show was held at the Castle at Park Plaza. In 2008 it closed due to budgeting problems and a great Boston tradition was lost. Tony Fusco of Fusco and Four, who was working on the Boston Antiques show at the time, suggested that Ellis merge with Boston Antiques, thus combining the best of both. A new tradition was born.
Oct 8, 2014

Reverb: New Art From Greece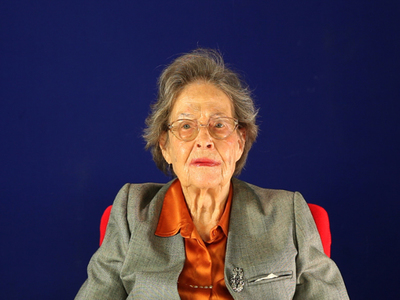 The Alzheimer-stricken Greek woman stares down from a large screen on the wall. Her personal narration is interspersed with flashed images: Mickey Mouse, Soviet Nazis, gunfire. Over the grandmother's muted words runs the sound of a newsreel, spewing information from a 1970s broadcast on Greek National Television. You can't follow both storylines. Loukia Alavanou's striking piece begs the question, which will you listen to?
Alavanou is one of nine Greek artists featured in the School of the Museum of Fine Arts show Reverb: New Art From Greece. The exhibit's goal is not to be an overview of contemporary Greek art but to reveal alternate perspectives of the many changes in the country. A new sense of urgency has infused into the artwork as a result of the social and political turmoil the Mediterranean country has experienced...
Sep 24, 2014

Canvas Fine Arts Opens Two New Exhibits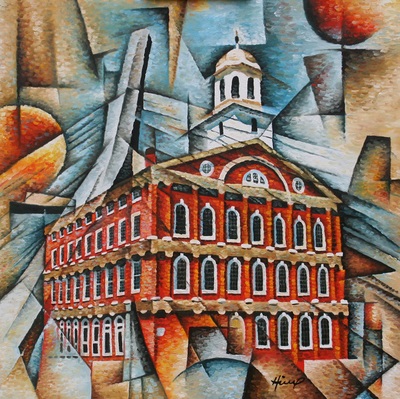 Boston City Hall has long had artwork spicing up its dreary walls, but on Wednesday, September 17, the first curated exhibit to grace the city council president's office opened. Suzanne Schultz of Canvas Fine Arts and Keith Whitmore of Masterpiece Fine Art Gallery curated the show to represent both Bill Linehan and Boston in a subtle yet relevant way.
Linehan represents the SoWa District, where many artists and galleries are located, including Canvas Fine Arts.
The orderly offices behind the brutalist façade of City Hall make for an unlikely oasis for the art in the exhibit. But there is something poetic about the way the pieces reflect the city council's mission.
Robert Hickox's piece Maelstrom is featured prominently in one of the seating...
©2017 Art New England, All Rights Reserved
Designed and Developed By: T. Montgomery