ANE Portfolio Posts
May 30, 2017

"Katie Bell: Showroom" at The Saint-Gaudens Memorial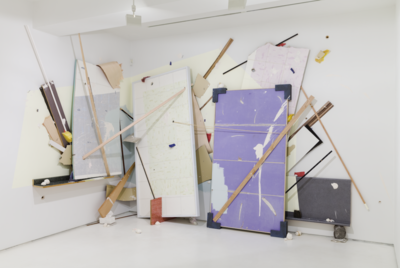 Katie Bell, Faded Flight, 2014, wood, foam, laminate, linoleum, aluminum, plaster, acrylic, drywall, ceiling tiles, rope, and nails on wall. Image courtesy Etienne Frossard.
By David Raymond
Marcel Duchamp's sculpture In Advance of a Broken Arm altered its snow shovel identity when the artist named it and asserted the fluidity of language and art, claiming that the shovel was "elevated to the dignity of a work of art by the mere choice of an artist." Duchamp challenged artistic practice to expand materially and intellectually.
Katie Bell, like Duchamp, repurposes ordinary building materials as artistic elements in her sculptural installations that are at once a coming together and a coming apart of parts. Katie Bell: Showroom at the Saint-Gaudens Memorial in Cornish, NH (through July 16) is an explosive abstraction...
©2018 Art New England, All Rights Reserved
Designed and Developed By: T. Montgomery