ANE Portfolio Posts
Sep 26, 2013

1,000 pianos/ 37 cities/ 1 Boston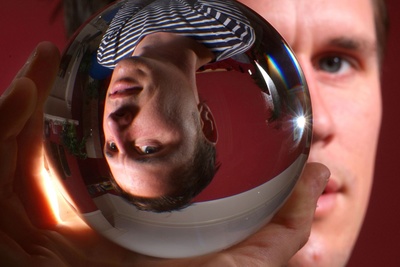 by Demelza Durston
The article that follows is based on an interview with the visual artist Luke Jerram on September 20, 2013. It took place in his offices on Park Street, Bristol, UK.
Courtesy of the author: "Luke Jerram With Sphere" 
It really creates a visual and acoustic sense of community. It gives focus to a street.—Luke Jerram, artist-producer of Play Me, I'm Yours [installation in Boston September 27th- October 18th, 2013]
Boston, with its Berklee College of Music and historically thriving music scene, shouldn't be surprised when it awakes on Friday morning to find hand-painted pianos have been scattered across familiar urban streets and landmarks. For the past 16 years since his graduation from the University of Wales, Cardiff (1997), Luke Jerram, an internationally active visual artist based in Britain, has long been...
©2018 Art New England, All Rights Reserved
Designed and Developed By: T. Montgomery