ANE Portfolio Posts
Nov 25, 2014

Purrrformance Piece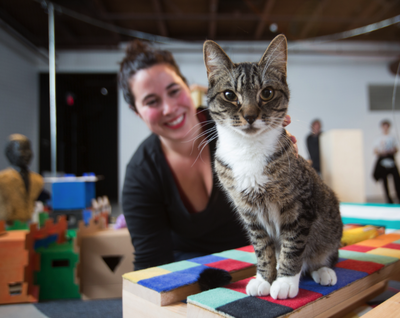 by Donna Fleischer
Rhonda Lieberman is breaking down barriers between art and humanitarianism with her Cats-in-Residence Program at Real Art Ways, Hartford, CT. Originally part of the greater exhibit The Cat Show at White Columns Gallery in New York, the Cats-in-Residence Program is part performance piece, part interactive exhibit and part cat adoption program.
For the latest iteration of the exhibit, rescue cats were carefully chosen from Connecticut Cat Connection and placed in a kitty playground, a large netted circle filled with food, toys and obstacle courses. Architects Gia Wolff, John Hartmann and Lauren Crahan designed the habitat. Other artists contributed sculptures on which the cats can play. The netting surrounding the structure is double bound to make climbing easier for the cats, and a variety of structures allow for additional exploration.
Viewers can stand...
©2017 Art New England, All Rights Reserved
Designed and Developed By: T. Montgomery