ANE Portfolio Posts
Jun 11, 2013

Biennale Dispatch #2/2: Thoughts on the Art of the Poetic Protest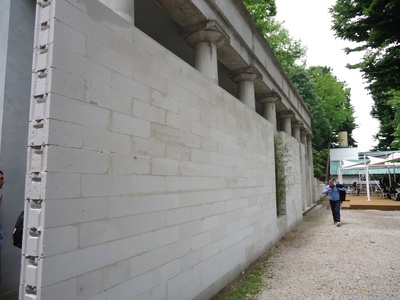 Fran Siegel
These are tense times throughout the world, and as the Venice Biennale might well be considered a form of cultural Olympics, the stakes here could be high. This is why many were surprised at the offensive tone of Danish minister of culture, Marianne Jelved, in her speech that inaugurated the provocative pavilion of artist Jesper Just. Ms. Jelved explained that walling off the front of the Danish pavilion was at odds with the mission of culture and that this work portrayed Denmark as isolationist, blocking out the outside world. Viewers were guided instead to enter the multi-roomed video work through the back.
Jesper Just- View of the former front of the Danish Pavilion
Catty-corner to the Danish pavilion is artist Sarah Sze's contribution for the US. Triple Point is housed in the Palladian style building with its rotunda entrance blocked,...
Jun 4, 2013

The 55th International Art Exhibition of The Venice Biennale Opens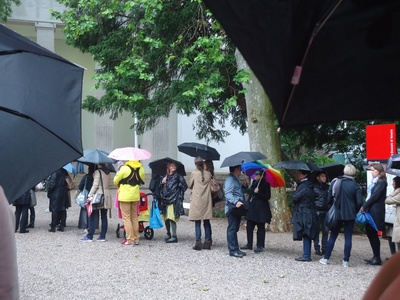 Fran Siegel
I attended the 2013 Venice Biennale preview during May's last 3 days which did not resemble the shimmering glam of yesteryear. Instead, clusters of make-shift raincoats and umbrellas soggy shoes, and layered mismatched outfits meandered through town hoping to stay warm and dry amidst the downpours. Despite only two years to prepare and the high curatorial bar set by dOCUMENTA 13 in Kassel last year, Artistic Director Massimiliano Gioni chose the ambitious title "Encyclopedic Palace" based on his pseudo-surrogate Marino Auriti, (also an Italian American) who filed a patent in 1955 for an imaginary museum that could "house all world knowledge." Gioni used the framework of this "temporary museum" to speak about the channeling of images in an information age, artistic obsessions, surreal dreams and hallucinations, and ultimately the transformative power of the imagination. Unfortunately as the manic organization of several artists'...
©2018 Art New England, All Rights Reserved
Designed and Developed By: T. Montgomery