ANE Portfolio Posts
Jan 26, 2015

Artist Textiles: Picasso to Warhol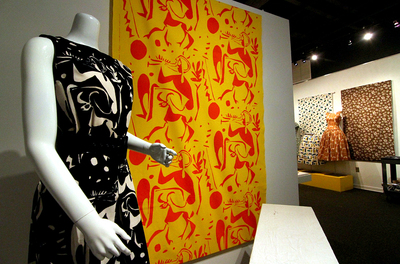 by Frances J. Folsom
The American History Textile Museum in Lowell is the ideal setting for Artist Textiles: Picasso to Warhol (on view through March 29). The museum is housed in a 19th century building that was the Kitson Machine Shop, a textile mill that prepped cotton.
Why Lowell? In 1821 Boston businessmen Nathan Appleton, Patrick Jackson and Amos and Abbott Lawrence founded the Merrimac Manufacturing Company building mills to produce textiles, warehouses for storing them and a railroad for shipping and receiving. They brought in engineers to build canals for harnessing the power of the Merrimac and Concord Rivers and Pawtucket Falls.
Their call for workers went out to the surrounding farmlands and as far away as Europe. Hundreds of workers, mostly immigrants, signed up to work in the mills. The Merrimac Manufacturing Company built houses, churches,...
©2018 Art New England, All Rights Reserved
Designed and Developed By: T. Montgomery