ANE Portfolio Posts
Aug 19, 2013

Reading the Ruins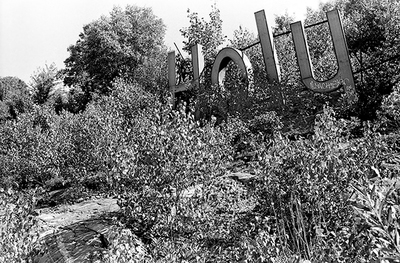 Holy Land: Photographs by Joy Bush Through September 8, 2013
Mattatuck Museum Waterbury, CT 203-753-0381 www.mattatuckmuseum.org
---
by Stephen Vincent Kobasa
Joy Bush, Holy, 1997. Image courtesy of the artist.
A Holy Land laid waste seems closer to the truth somehow, if one thinks only of the present day in which the square outside the Church of the Nativity in Bethlehem has been filled with tear gas, and a thirty-foot wall marks the western border of Jerusalem. But the inaccurate model of that landscape spread across nearly twenty acres of a hillside in Waterbury, CT, was not intended—by John Greco, a Waterbury attorney who began its construction in 1955—to be a lesson in current events. Neither did he imagine it becoming a long, continuing history of decay after its closing thirty years ago.
Dec 27, 2012

Beast in the Living Room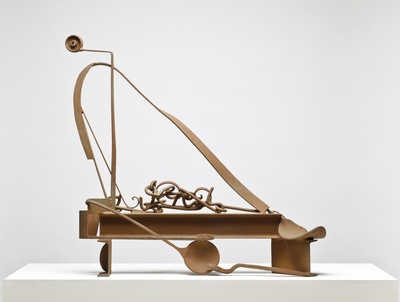 By Stephen Vincent Kobasa
Is there any sculptor so resistant to domestication as Sir Anthony Caro? The reality of this fact is, perhaps unintentionally, made clear in a concise retrospective currently at the Yale Center for British Art.
Anthony Caro, Catalan Scrawl, 1987–88, steel, rusted and fixed, 41 x 40 x 13". Private collection, London.
The Yale installation reads like a roadside menagerie with an assemblage of too small cages in which animals pace frantically back and forth on the way to madness. More benignly, it appears like a latter day natural history cabinet with its species-specific groupings of objects presented as coffee table artifacts. The radical edge balancing of these works, resentful of their pedestals, suggests an advertisement for executives' office toys. They are gizmos deployed with a preference for their illusory...
©2018 Art New England, All Rights Reserved
Designed and Developed By: T. Montgomery