ANE Portfolio Posts
Apr 22, 2016

Counterforce in the World: Broadsided Press responds to the Flint, MI, water crisis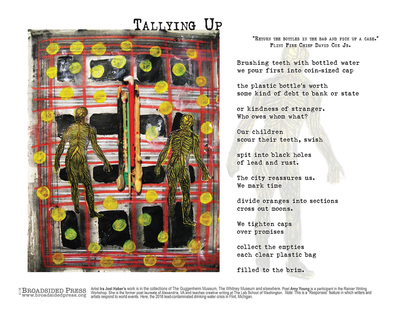 Tallying Up. Poem by Amy Young, art by Ira Joel Haber, a Responses feature from Broadsided Press.
By Susan Rand Brown
Poet and naturalist Elizabeth Bradfield has lived on the Outer Cape for several decades though her focus has long been global. She came of age aware of our interconnected eco-systems and opened doors through poems published with ink and paper and, for the past decade, through Broadsided Press—an innovative and public-spirited literary project that combines poems with visual art. A new edition, consisting of a single poem visually embedded in an artwork, is posted monthly, and editions from 2005 are archived on an easily navigated website.
While distribution is paperless and mostly achieved using crowd sourcing, readers are also encouraged to distribute content the old-fashioned way. (The term "broadside" was familiar in Shakespeare's age, when...
Jul 29, 2013

Thoughts on encountering paintings by Jim Peters, Figurative Revisionist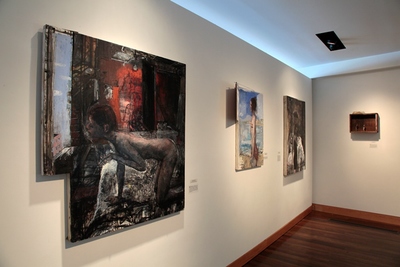 By Susan Rand Brown
For a painter like Jim Peters, "on the scene" in galleries and museums since the late 1970s, to have his art ignored—that is, seen but not seriously considered—would be cruel punishment. No need to worry. His paintings have never been wallflowers. Peters' figures are hard to ignore, even as acolytes, questioning or straddling the fence. They are women and men, positioned in the dingiest of (bed)rooms, windows darkened and seemingly blocked, where they read and lounge pre- and post-coitus—the aureole around which Peters' coal-dark scenarios revolve.
Given the postcard-like work that flourishes in summer galleries like so many Cape Cod cottages in July, the two Jim Peters exhibitions in Provincetown's East End right now, the retrospective curated by John Wronoski at the Provincetown Art Association and Museum (through August 11) and the other at the artSTRAND Gallery (through August 7) speak highly for the future of serious painting,...
©2018 Art New England, All Rights Reserved
Designed and Developed By: T. Montgomery