Avant-garde: Harold Garde in Boston
« back to Portfolio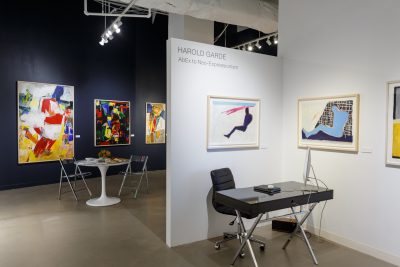 By Olivia J. Kiers
Fame is notoriously fickle, especially in the arts. Even so, it is surprising that 94-year-old painter and printmaker Harold Garde remains unknown to many in the art world, despite a long career that embraced pivotal moments of 20th-century art history. In 1949, Garde completed a BA in fine arts on the GI Bill at the University of Wyoming, Laramie, where he studied with leading abstract expressionist George McNeil. He began painting in New York in the early 1950s—years defined by fellow abstract expressionists Pollock and de Kooning. In the '80s he was drawn to Neo-Expressionism, creating works reminiscent of Philip Guston or Jean-Michel Basquiat. Today, he still paints regularly from his homes in Belfast, ME, and New Smyrna Beach, FL.
A three-part exhibition in Boston's Financial District, at the tower-lobby gallery @artlery160, aims to give Garde his long-awaited due. Curated by Edward Robinson, Harold Garde: AbEx to Neo-Expressionism (through February 2, 2018) showcases the depth of the artist's fascination with pure paint, his repertory of figurative symbols, and his experimental "strappo" monotype prints. Each of the three, back-to-back shows that comprise the exhibition are subtitled after phrases from Garde's own poems: "Some Risks are Rewarded," "Tangle and Unwind," and "Piece to Piece."
While Garde does more than merely dabble in literary disciplines—he is a published poet and produced playwright—he differentiates between his visual art-making and all other pursuits. "The visual arts are separate. Two-dimensional painting and printmaking is like nothing else. You can see the entirety of the work at once, which is very different from experiencing a novel, music, or anything that progresses through time… A painting is an entity."
During a visit with the artist at @artlery160, the conversation was constant and energetic. Garde is spry for his age, and as we looked around the gallery, he called out certain themes or symbols upon which he has relied throughout his career. "I love to work in series," he said. "When a theme comes, like a chair or a face, I present it over and over. It becomes a formula to present the art. First you see a face in a painting, but then you see the painting within the face—that is exactly what I want."
This fixation on the materiality of paint goes beyond an interest in style. It is the core of Garde's entire attitude toward subject. "My problem as a painter who wants to engage the viewer is, I can't introduce an emotional edge because I don't want to illustrate my feelings," he explains. "Instead, I stimulate interest by leaving the work open-ended somewhere, and juggling form and color into a kind of meaning… In the end, it's what you don't put into a painting that makes it authentic as art. These are paintings, not renderings."
Whether viewers first see paint or a face, Garde's primary colors and dynamic compositional tensions throughout the gallery will keep their gaze lingering. Robinson has done impressive curatorial work by selecting paintings that convey a series of stylistic and formal arcs, and successfully juxtaposing works often separated by 30 or more years. Bostonians should consider themselves lucky—they have a chance to experience all three installations this winter. It is an incredible opportunity to engage with the work and to change the status of an undeservedly lesser-known 20th- and 21st-century artist.
---
Image 1: Installation view of Harold Garde: AbEx to Neo-Expressionism. Photo: Stephanie Arnett
---
Nicely written article on a very talented and ground breaking artist. Thank you!
Posted by: Mark Kuzio On: Nov 10, 2017 8:32 am
Lovely article. Lovely photograph. Much appreciated. I thank you all. Sincerely Harold Garde
Posted by: Harold Garde On: Oct 26, 2017 4:37 pm
©2017 Art New England, All Rights Reserved
Designed and Developed By: T. Montgomery