Film Preview: YARN
« back to Portfolio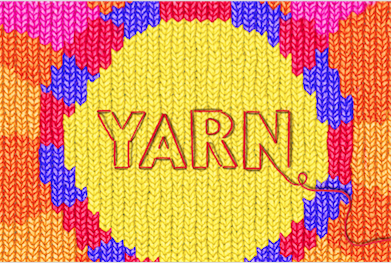 Title from YARN: The Movie. Compass Films.
By Olivia J. Kiers
Directed by Icelandic animator Una Lorenzen, YARN: The Movie is a deeply philosophical, surprisingly energetic documentary. While yarn is visually present on screen for most of the film, the real centerpiece is yarn-based creativity and how it serves basic human needs to speak out, interact, strive, play and ponder.
YARN is narrated by award-winning author Barbara Kingsolver, whose voice brings an insistent poetry to the overall feel of the film, a nice balance to Lorenzen's stop motion interludes in which yarn snakes across the screen like an itch that won't go away. These animated moments are a suitable framing device—like knitting or crocheting, they construct a film that is both cyclical and relentlessly forward-looking. YARN follows the endeavors of three different yarn artists and one yarn-based performance of a Swedish circus. From the small but determined street interventions of Reykjavik "yarn graffiti artist" Tinna Thorudottir Thorvalder, to the soaring crochet playgrounds built by Toshiko Horiuchi MacAdam, all projects in YARN move beyond mere craft and towards statements about the fabric of life itself. This is a documentary that offers incredible food for thought, moving deep into philosophical territory. This philosophizing never feels forced; it is the natural result of the type of contemplative, repetitive and deliberate action that working with yarn entails.
In the film, yarn is colorful and so are the people. There is never a grey moment on screen, ensuring that, whatever the audience's familiarity with yarn and its myriad uses, they will be entertained. Yet, this film's value must be measured in more than entertainment. It is a dazzling hymn to resilience and an intoxicating call to action.
YARN: The Movie premieres in the Boston area Saturday, June 25 at 1 p.m. at the Scandinavian Cultural Center in West Newton, MA. http://scandicenter.org/event/screening-yarn-the-movie/
---
No comments yet
©2018 Art New England, All Rights Reserved
Designed and Developed By: T. Montgomery