Shedding Light on Bridge Repertory Theatre's Dark Room
« back to Portfolio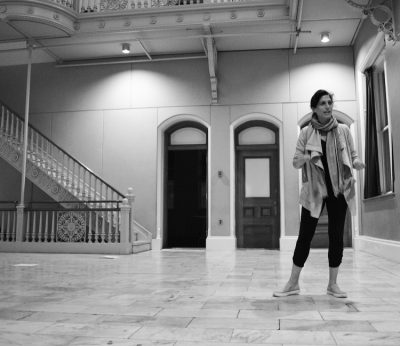 By Natasha Bonfield
Bridge Repertory Theatre's Dark Room begins in shadow, a sliver of bright light emerging from a barely cracked open door. A young woman stands partially illuminated, her gaze fixated on something we cannot see in a far corner of the room. She starts her ascent, slowly, wordlessly up a twisted flight of stairs.
Under the guidance of director and Bridge Rep founder Olivia D'Ambrosio, this is what the audience of the third workshop of Dark Room is led to imagine. An actor does stand before us, embodying the character of photographer Francesca Woodman, but that is the extent of the scene setting; the rest is left up to our imagination. The space Bridge Rep inhabits at the Cambridge Multicultural Arts Center is bright and spacious, more Versailles ballroom than darkened warehouse, currently lacking the somber atmosphere a play like Dark Room requires. It is here that D'Ambrosio encourages the audience to envision the endless possibilities available to a production still in its first moments of development.
Settling into their first year in a singular venue, Bridge Rep's past five seasons of work were performed on different stages around Boston. They are the first in-residence theatre company at the Multicultural Arts Center, and it is easy to see why they chose the space; large windows span floor to ceiling, and the evening I attend a dusky sunset fills the room with a warm glow. An ornamented staircase leads from marble floor to a wraparound interior balcony, particularly useful for the tableau explored during the night's hour-long workshop. One of a series continuing into next spring, Bridge Rep is giving audiences the unique opportunity to "peek behind the curtain" with these public workshops, culminating in a full production of Dark Room in July 2018.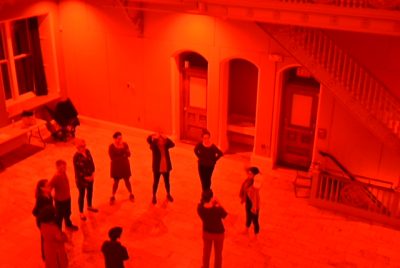 The actor repeats her deliberate movement up the staircase, stopping only when D'Ambrosio calls out to pause, or to try it again backwards. A group of ten ensemble members rehearse their motions around her: a raised arm, a slow retreat against the wall. Because Dark Room is the only play Bridge Rep is producing this season, there is ample time to spend on these small, expressive moments. This decision arose from D'Ambrosio's desire "to produce a play giving it proper time, space and resources, rather than spread those resources thin between a series of shows." It is a unique practice, dissimilar to most Boston-area theater companies that produce between three and seven plays per season. During these early months, the play's actors have not been officially cast, and the workshops are the main opportunity for active work on the show. "In between I let my brain marinate," D'Ambrosio says.
"Marinate" is an apt word to describe this workshop's process. The choreographed movement is slow and purposeful, and the discussion that follows implies a world of careful consideration prior to this audience's arrival. George Brant's play Dark Room is a series of vignettes inspired by Woodman's photography, much of which features herself, mirrors, and long-exposure techniques to achieve an ephemeral, otherworldly quality. Woodman killed herself at 22, and any exploration of her work is often framed by this fact. This is not the case of Dark Room; D'Ambrosio does not disclose Woodman's suicide until hallway through the workshop, and the final production will have a similar delayed reveal. D'Ambrosio wants to avoid romanticizing her death, and instead create a "poetic meditation" on the phenomenon of suicide.
The audience is intimate, a group of ten artists, actors, and Bridge Rep supporters, as well as an excitable Dachshund belonging to the production's dramaturg. At the start of the workshop, D'Ambrosio affectionately refers to three women in the front as "Dark Room groupies." They have attended the past two sessions and are already invested in the production's evolution, providing a built-in fan base long before most companies have begun marketing campaigns. Others in the audience are newcomers, patrons of Bridge Rep's past productions and seeing these moments from Dark Room for the first time.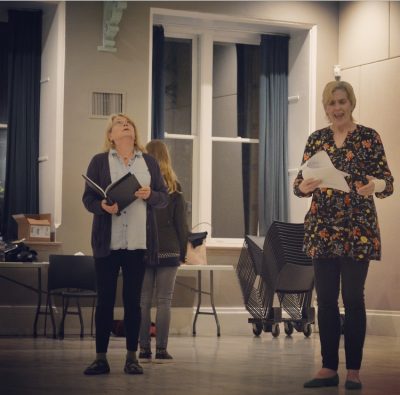 Brainstorming between audience, director, and actors occurs between the mini scenes. D'Ambrosio asks the best way to move the audience from one side of the room to the other, and fields suggestions from actors and audience members alike. There is no hierarchy here, and D'Ambrosio is especially eager for opinions from new guests. "I have no ego in this," she says, and her genuine reception to every opinion proves this to be true. As newcomers and workshop veterans exchange visions for the production with increasing enthusiasm, the excitement borne from collaboration is palpable—and all without set, cast, or scripted words.
The next workshop is scheduled for January, the final taking place in March. An audience member attending one of these should not expect costumes or fully-formed pieces, but should be prepared to witness the incredible synthesis of this production's moving parts. These workshops are primarily exercises in imagination. I found myself enraptured by the ten women onstage and D'Ambrosio's occasional narration, letting the world of the play expand and contract around me. "Simple but not simplistic," says one audience member of the scene before us—a phrase as characteristic of Woodman's photography as the collective envisioning of the workshop.
---
All images: Esme Allen
---
No comments yet
©2018 Art New England, All Rights Reserved
Designed and Developed By: T. Montgomery