A Tale of Two Ambitious Art Schools
A few years ago, it looked like the worst of times when MassArt and the Art Institute of Boston each drew up multimillion-dollar plans to enlarge their schools, increase their galleries, and reshape their educational programs. The economy had tanked, unemployment had risen, and government funding had evaporated. Even so, the public and their alumni stood stalwartly behind them. Both schools will be breaking ground on major projects this fall.
In 2010, Massachusetts College of Art and Design embarked on a $140 million transformation of what had been largely a commuter art school. Work began on a residence hall, creating 493 beds; a dining hall; workspaces; as well as a campus center. With those projects nearing completion, attention shifts now to gallery renovations and the new Center for Design and New Media—a $33 to $34 million project. Dawn Barrett, MassArt's new president, says Governor Deval Patrick agreed to fund the building in its entirety, recognizing that "design and new media are our contributions to a creative economy."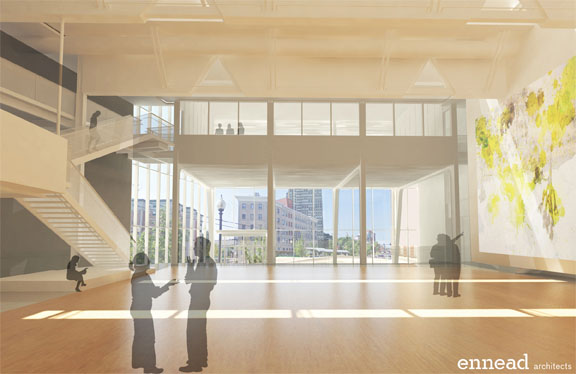 Rendering of the Massachusetts College of Art + Design's
new gallery and community center.
The center will be the hub of film, video, and animation education, as well as the base for the Dynamic Media Institute, MassArt's MFA design program. As Barrett points out, anyone who has attended biennials over the past few decades understands that today's contemporary art defies traditional labels. "It's not just a painting. It's not just a film," says Barrett. "We have visual artists dealing with sound or dealing with software in their work." The need today is for more interdisciplinary art study.
Officially the center breaks ground this fall, but completion is still two years away. Barrett will use the time to map out programming. "There needs to be porosity between the disciplines, with a departure point," she says. "I know from higher-ed administration, once the structure is in place, it's hard to undo. From the onset, ours is collaborative and flexible."
Barrett continues, "Any higher-ed administrator would give their eye teeth to have a blank slate. Given that we have it, we're able to conceive the best educational practices today."
The fourth arm in MassArt's building plan is a renovation of the Bakalar & Paine Galleries (now occupying a former Boston College library building). Since the new gallery will open up on Huntington Avenue, "it will serve as a beacon, instead of finding us by a breadcrumb trail," says Barrett. "I expect our attendance to double, which will deepen students' experience."
Across town, Dean Stan Trecker of the Art Institute of Boston (AIB), which has been located in the same Kenmore Square building for the past forty years, holds architectural plans for a $40 million complex developed for Cambridge's Porter Square. AIB, founded in 1912, joined Lesley University in 1998, but has remained geographically estranged from the campus. New construction, which begins this fall, will set AIB next to Lesley's University Hall, on Massachusetts Avenue in Cambridge, and it will become known as the Lesley University Arts Center.
At the core of AIB's new buildings is a revamped historic church, housing the John and Carol Moriarty Arts Center Library, with twenty-four-foot ceilings and original stained glass. It will be joined to a new four-story educational building and gallery via a three-story glass connector. The new gallery will triple extant exhibition space. Outdoor art installations "will allow the art to spill onto the street," says Trecker.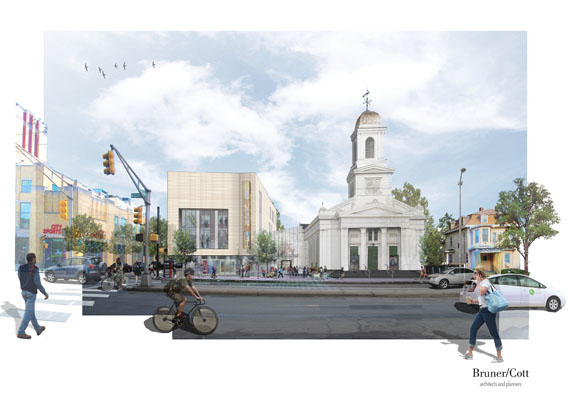 Rendering of AIB's new campus on Mass Ave.
 
The marriage of AIB and Lesley appears to be complementary. Historically, AIB has approached art education mindful of its many practical applications. Technology is taught across the curriculum. All students are required to have laptops, and every art department uses digital applications.
Lesley has long approached education in an interdisciplinary way. A Lesley research study, funded by the Ford Foundation, shows that integrating arts into all curricula deepens students' skills in creativity, problem solving, collaboration, and self-direction. Similar to Barrett's call, Matthew Cherry, Lesley's senior associate dean of academic affairs, describes their educational approach as "porous silos, where people can breathe in and out." He envisions opportunities for art students to design their own programs through interdisciplinary study, pursuing game design or time-based arts—areas that are not currently designated majors.
"This opens up a whole lot of opportunities to students," says Trecker. "We find students more and more are working across the disciplines."
There is a consensus between the sentiments of administrators at these powerhouse schools. Both institutions are enthusiastically building facilities to expand diversity in art education and cross-curricular study. Barrett asks rhetorically, "Why not design for the future, because that's where we'll be living?"
_________________________________________________________________________________________________________
Debbie Hagan is former editor-in-chief of Art New England and a freelance arts writer and editor.
 
©2018 Art New England, All Rights Reserved
Designed and Developed By: T. Montgomery