Beyond Walls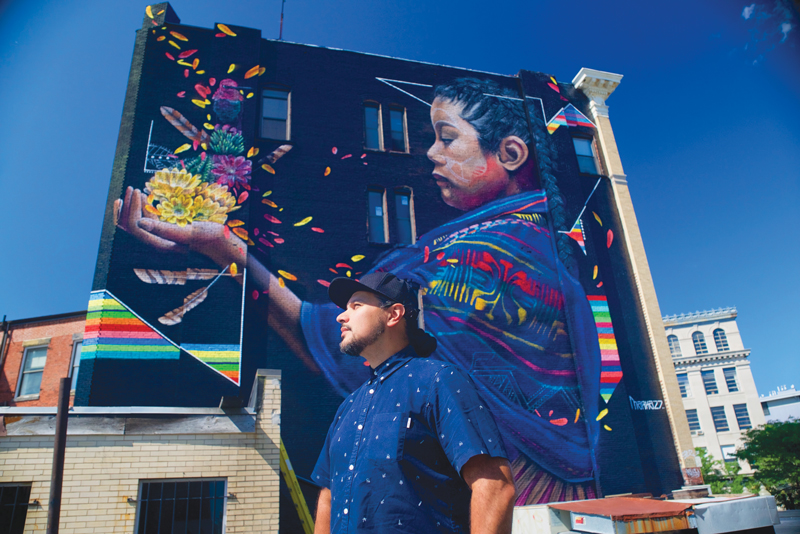 As Al Wilson walked around Lynn's Central Square recently, everyone wanted to shake his hand. "Tell me, what can I do to help you?" proffered one kindly local. "Hey, don't I know you? Why do you look so familiar?" asked another. Wilson is the founder and executive director of Beyond Walls, a Lynn, MA-based nonprofit working to regenerate the city's downtown through public artworks. In July, the organization held its first Mural Festival, with 20 graphic artists painting 15 walls over the course of ten days, and culminating in a block party (co-hosted with the Lynn Museum and Lynn Arts) that attracted more than 2,700 attendees. From welcoming crowds to securing permits to returning borrowed ladders, Wilson's hands-on approach has made him a familiar face about town—and somewhat of a local hero in the so-called "City of Sin."
Changing Lynn's narrative is no small task. Visitors have long been deterred by high crime levels, and underpasses inhibit lingering downtown after dark. A Mass Development study from summer 2016 asked residents which safety improvements they wished to see in the city: Public art and adequate lighting won out, followed by walkability and longer business hours. Beyond Walls used this study to prioritize its ambitions, launching the call for mural proposals in early 2017. It also identified close to 75 potential walls in the downtown area, whose owners were then encouraged to sign up as mural hosts. Ultimately, Wilson and his wall committee (comprising residents and business owners) selected designs they felt were both family-friendly and representative of Lynn's diverse cultural and ethnic identity. The artists came from as far away as the Dominican Republic and Puerto Rico, and as close as Swampscott and Boston. Several walls were reserved for local talent, including the Good To Go mural team from Raw Arts, an arts therapy and education center for children and young adults, as well as the graffiti artists Temp and Relm, whose designs graced Lynn's walls in the 1980s and '90s.
During the festival, the 20 commissioned artists could be seen high up on mechanical cranes and down low on the ground, painting their designated walls with the aid of renderings, or from memory by counting bricks. For locals, it was a chance to meet the artists and watch as vivid images gradually evolved on the faces of apartment blocks, churches and clinics.
A young woman swathed in white (a modern-day Olympia) reclines before the Food Project's community garden, a sustainable urban farm project maintained by local teens. The wall is by Fonki, the famed Montreal graffitist, whose work has shown at Christie's auction house, as well as on the backsides of abandoned lots. Two murals on Spring Street, one by Puerto Rican muralist David Zayas, the other by Mexican-born, New York-based Marka27, converse, with the flowers from one drifting onto the other, as if blown by a gust of wind; on Munroe Street, a stone-faced Black Madonna, by Boston-based Cedric "Vise" Douglas and Julez Roth, winks when viewed with a special app by Layer.
It is noticeable that the male-dominated lineup of artists chose overwhelmingly to depict women in various states of "becoming" (hair rollers included). The effect is powerful: A band of daughters standing watch over the city.
Most recently, Beyond Walls secured an active license from the MBTA to install dynamic LED lighting under the Central Square, Washington and Market Street underpasses. This project, which received a Barr Foundation grant, provides a creative solution to public safety, with full-color spectrum washes flooding notorious crime hotspots. In the coming months, Beyond Walls will also mount 12 vintage neon artworks, which once advertised local businesses and that now belong to a single collector. The neon signage will further illuminate Lynn's business district, while shining a light on the city's former industries.
Beyond Walls is now in the midst of conducting an economic impact study of its projects on downtown Lynn. Yet already, the word on the street is that business is up, local cafés are hiring extra staff and there's a noticeable increase in visitors. Members of a local church have even taken to congregating outside one of the murals after Sunday service. "LOVE," the wall commands. And they obey.
Beyond Walls
Lynn, MA
beyond-walls.org
---
Cerys Wilson is a contributing writer to Art New England and Independent Magazine.
---
Image: Marka27 and his mural at 31 Exchange Street.
©2018 Art New England, All Rights Reserved
Designed and Developed By: T. Montgomery