CMCA Biennial Brings Emerging Artists to the Fore

Jan Owen, Mysterious Affinity, 2013, ink and acrylic on Hollytex polyester; sewn book with paper. Cover binding by Alison Kuller. 11 x 5½".
This year's Center for Maine Contemp-orary Art Biennial Exhibition is likely the last in its Rockport home before it decamps to a brand new facility in neighboring Rockland in 2016. Its esteemed jurors are Jennifer Gross, chief curator of the deCordova Sculpture Park and Museum in Lincoln, MA; and Deborah Weisgall, an arts and culture writer who has been published in the New York Times, the Atlantic, Esquire and the New Yorker. Both have strong ties to Maine's visual arts community and are longtime admirers of each other's work. Gross is the former director of the Institute of Contemporary Art at the Maine College of Art, and Weisgall has previously written about Gross's curatorial efforts when she was curator of the artist-in-residence program at the Isabella Stewart Gardner Museum.
This year's biennial broke away from the "half juried, half invited" format of 2012, with a return to its more inclusive "open juried" concept, used since its inception in 1978. 475 artists applied, most emerging and relatively unknown artists.
Of note, 18 of this year's biennial artists are women and ten are men, which could explain the easy and fluid influence of fiber and textile that's intertwined in this year's exhibition. All chosen artists claim strong ties to Maine, most living in the more populated southern and midcoastal areas.
What jumps out right away about this year's biennial is the decided scarcity of traditional painting, with the exception of Scott Davis's timeless acrylic abstract, Sojourner, and three linear encaustics by Munira Naqui.
Other artists' abstract works include Bridget Spaeth's liminal wall reliefs, and Adriane Herman's sticky notes that have been enlarged and burnished for all eternity.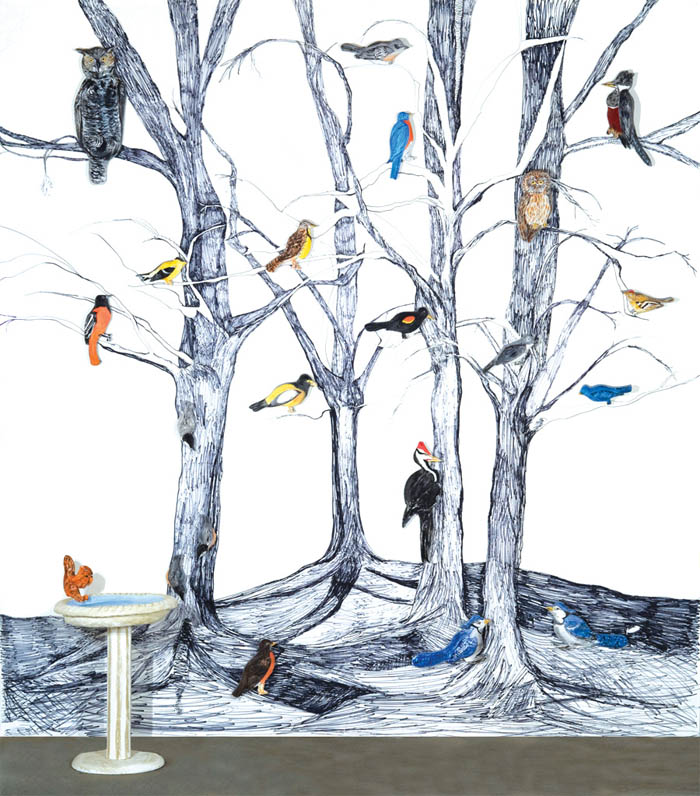 Barbara Sullivan, Bird Guide, 2011, Sharpie drawings with fresco objects attached. 120 x 108 x 12″.
Perhaps only to be expected in a state with such compelling natural beauty, many of the artworks selected are responses to the natural environment, such as Emily Brown's masterful ink-wash drawings of grasses and trees and Anne-Claude Cotty's artist book Flowers Open Endlessly Into. Other examples of nature-inspired works include Sharon Townshend's ceramic birch-bark reliefs, Leah Gauthier's small mixed-media sculptures incorporating live plants, Cynthia Davis's cut-paper Thicket and Jeff Woodbury's wax rubbings on paper from his "beetlerunes" series. Dennis Pinette's hauntingly beautiful graphite drawings of industrial sites and John Knight's colorful pencil and acrylic drawings of common weeds arouse a frisson of excitement over more typical Maine landscapes.
Photography is also strongly represented with notable inclusions by Jeffery Becton, Cole Caswell, Linda Mahoney, Fred Michel, Jordie Oetken and Jennifer Wilkey. Caswell's tintypes point to a resurgence of historic processes seen in Maine and elsewhere. With Transient Salesman, he affords us a vicarious look at the bohemian counterculture of hipsterism that exists with effortless cool on the margins of Americana.
An emphatic strain throughout this year's biennial is work that blurs the line between fine art and craft, a current trend seen throughout the state. In this category is Susan Dewsnap's sculptural slip and glazed stoneware vessels, Meryl Ruth's wildly animated baroque teapots, Jan Owen's many-layered calligraphic book Mysterious Affinity, and Daphne Taylor's exquisitely stitched Quilt Drawings—all absolute showstoppers.

Susan Dewsnap, Inset Lid Jar 3, 2014, stoneware, slips, and glazes. 6 x 6″.
Two prominent sculptures are Adam Manley's Armada/Regatta, a totally disparate rocking creation, and Sean O'Brien's clever nod to Buckminster Fuller, Bear Island Boat. Unlike O'Brien's one-man boat, which can actually float, Manley's is a fantastically useless thing that appears to be sailing absolutely nowhere on rockers that can only imply a steady, monotonous wave motion. A ship made of banded and bundled masts consumes every inch of its deck from stem to stern with signal flags reminiscent of a used-car lot.
Perhaps not surprising given the increasing frequency with which artists make site-responsive works, the biennial has more mixed-media installations than in the past. These include Shannon Rankin's large-scale wall piece Sights, created from cut-paper maps; Lauren Gillette's text-based work Things I Did; Barbara Sullivan's delightful Bird Guide, a wall installation with fresco birds in Sharpie-drawn trees; and Stephanie Cardon's crocheted hanging sculpture TransAtlantic and her ironic Lyre bench. Cardon's bench is fantastic in its simple irony, brightly colored strands of yarn strung tautly between concrete towers that belie rest.
Maine benefits from a broad aesthetic, as evidenced by the wide array of media included in this biennial, and artists at all career stages carrying forward the state's rich artistic legacy. The CMCA Biennial is a baseline for contemporary art in the state, region and beyond.
Andres Azucena Verzosa is an active proponent of New England arts and culture. He is co-editor of the forthcoming Art in Maine: Contemporary Perspectives (University of Maine Press, 2014).
©2017 Art New England, All Rights Reserved
Designed and Developed By: T. Montgomery