Shannon's Fine Art Auctioneers
Shannon Sets Records and Reports Strong Sales
Bidders spent $3.8 million at Shannon's Fine Art Auctioneers in Milford, Connecticut, on October 28, 2010, making it one of the most successful sales of New England's fall auction season. The top lot, selling for an applaud-worthy $552,000, was a trompe l'oeil by nineteenth-century American artist William Michael Hartnett. Perhaps his most famous image, reproduced many times, The Golden Horseshoe depicts a good-luck symbol made of rusty iron, not gold, hanging on a roughhewn wall. The irony is clear; it has seen luckier days.
Shannon's pre-sale estimate had been $300,000–$500,000 for the oil on canvas. That's not necessarily what it was expected to bring, but what comparable examples have brought. In any case, the result was comfortably well above it.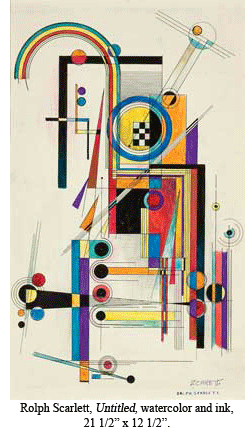 Works by abstract artist Rolph Scarlett (1889–1984) also became sales highlights. Five were offered, and all made their estimates or did much better. The largest, a three-and-a-half- by nearly four-and-a-half-foot geometric, was expected to sell for $25,000–$35,000. Instead, it soared to $84,000. That's the new record for any Scarlett work sold at auction. The smallest one, a roughly twenty-by-twelve-inch untitled watercolor and ink, fetched $24,000 against an estimate of $7,000–$10,000, and that's another new record, for a Scarlett work on paper.
Less than six years ago, a New York Times critic called Scarlett "little-known." The Canadian-American painter and designer of stage sets, industrial products, and sculptural jewelry had once been a favorite of Hilla Rebay, founder of the Museum of Non-Objective Painting, which eventually became the Solomon R. Guggenheim Museum. But, the Times noted, his "star waned" with Rebay's departure from the Guggenheim in the early 1950s. Now, said Gene Shannon, auction house owner, "Scarlett may be the next hot modernist. The scuttlebutt is that there will be a book about him and a major museum show of his works coming soon."
A 1994 watercolor by Andrew Wyeth (1917–2009)—a scene of a Maine landscape seen through a window—came in at $228,000, but considering its $200,000–$300,000 estimate, its price was a relative bargain for the unnamed American institution that got it. Consigned to the sale by a private Georgia collection, it had been on extended loan to the Georgia Museum of Art between 1996 and 2007. There's nothing to base it on, but a hopeful hunch is that it's back in the hands of that museum.
Not many sales can boast works by three generations. This one did, offering an unsigned pencil drawing of covered wagons by N.C. Wyeth (1882–1945) and a portrait of Andy Warhol in mixed media by Jamie Wyeth (b. 1946). It's no surprise that Andrew's watercolor far exceeded each of them. The sketch sold for $7,200, less than half of its top estimate. Had it been signed, it may have gone for more. The portrait of the man considered by Jamie to be among his greatest influences, estimated at $25,000–$35,000, failed to sell. Estimates commonly reflect the auction house's reserve (i.e., the lowest price the seller will take). Usually, it's two-thirds of the lower number. When it comes to setting an estimate for something unique, as that Warhol portrait was, there are no useful guidelines, and considering the outcome, the consignor erred on the aggressive side.
But as auction disappointments go, it was a small one. The sell-rate on the sale's approximately 280 lots was a respectable seventy-six percent. The only painting of real consequence that did not find a buyer was a nineteenth-century Connecticut landscape by John Henry Twachtman estimated at $125,000–$175,000. "So what was most rewarding to me was that virtually all the good stuff did really well," said Shannon. "It is very satisfying. It's beyond money. The market is still there."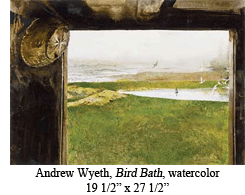 It's there, but changing, and that has sparked change at this auction house. For its first thirteen years, Shannon's twice-yearly sales were held in a rented space in Greenwich, Connecticut. After its spring sale in 2009, Shannon decided to expand his long-time Milford headquarters and hold sales there instead. One reason for going home, as it were, was the deteriorating condition of the Greenwich facility. At Shannon's last sale there, on October 29, 2009, the roof leaked during the preview and banks of lights had to be shut for safety's sake. Worse, Shannon came within a hair's breadth of having the auction itself shut down by the town fire marshal. "We will not be auctioning there anymore," Shannon had declared that day.
Other aspects of the Greenwich venue were becoming a liability, too. "There are ten reasons why a truck could wind up in a ditch on I-95, and the whole auction is in that truck," the auctioneer said. "Also the staff is much less taxed now that we're in Milford. We used to have to recreate our computer systems, our phone systems, in Greenwich. We had an eight-man crew that took over two days to put up the walls and lights."
He continued, "I felt that Greenwich was an important part of becoming established," as New York dealers could easily take the train to preview and/or attend the sale in person. "Now the auction world has become so globalized, it's virtually all phones and Internet. I think they accounted for over ninety percent this time."
Asked if there was any downside to no longer being in Greenwich, which is about forty miles from New York, while Milford is almost double that distance, he said, "We expect to lose some from down there, but we've already picked up people from Providence, Boston, and Hartford."
Shannon's next sale is scheduled for April 28, 2011. For more information, contact the auction house at (203) 877-1711 or www.shannons.com.
_______________________________________________________________________________________________________
Jeanne Schinto of Andover, Massachusetts, has been an independent writer since 1972. She is currently a regular contributor to Maine Antique Digest, covering sales, auctions, and trends in the trade.
 
©2018 Art New England, All Rights Reserved
Designed and Developed By: T. Montgomery