Alia Ali: Borderland
Emery Community Art Center, University of Maine at Farmington • Farmington, ME • umf.maine.edu • Through November 13, 2017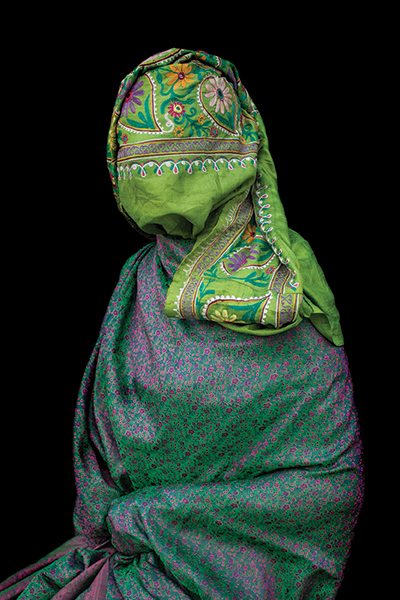 In Alia Ali: Borderland, the young Yemeni-Bosnian-American artist who was born in Austria offers 12 remarkable portrait-like photographs of figures covered from the waist up in layers of colorful fabric. We cannot see their faces or features, creating the feeling of hooded suffocation, yet the textiles are exquisite, even glorious in color and design.
The figures were photographed in 11 different regions in the world, within eight countries, including Mexico, Indonesia, Vietnam and India. Ali spent four to six weeks with artisans in each locale learning how to make the textiles and researching the symbolism of specific colors, forms and embroidery patterns. She worked with the artisan and the community to select
the garments.
None of the cloth was cut or sewed; Ali tried to keep the presentation as "honest" as possible, "from who is underneath, to the natural light used, to the fold, and so on." The individual on the other side of the fabric, she notes, "questions the very nature of belonging and interrogates the binary of home and exile." The fabric shields "undocumented" individuals, unidentifiable except for the details displayed, such as color, symbolism and texture.
Whatever their political or cultural purpose, these works are beautiful and meticulously presented. The 42-by-28-inch pigment prints on cotton rag are covered with a UV protective laminant and mounted on aluminum Dibond. The artist's dedication to honoring diverse cultures is matched by her artistic wherewithal.
The installation includes three hanging textiles and three benches partially covered in cloth, which offer an experiential element. The patterned textiles are from Nigeria, whose wax print designs are now largely produced in Europe. "Colonialism seeps its way into everything," Ali observes.
A graduate of the United World College of the Atlantic, Ali holds a BA in studio art and Middle Eastern studies from Wellesley College. Her installations and artistic interventions have taken place in Morocco, United Arab Emirates and Japan. She is a global artist taking on immense issues, including identity and mental and physical spaces of confinement. Her borderland is mesmerizing and provocative.
---
Image: Alia Ali, BORDERLAND series, 2017. Courtesy of the artist.
©2017 Art New England, All Rights Reserved
Designed and Developed By: T. Montgomery