Alison Williams: Glass House #3
Artspace • New Haven, CT • www.artspacenh.org • Through September 9, 2011
Alison Williams is an artist who endeavors to blend the imperatives of the horticulturalist with the tropes and mannerisms of contemporary art. Williams, a longtime gardener, uses her work with plants and earth, melded with her inclinations as an artist, to traverse the boundaries and conventions of both of these realms.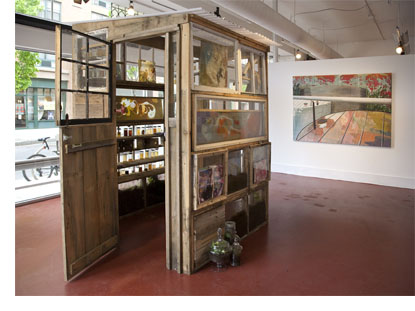 For the group exhibition Marie Celeste, at Artspace in New Haven, Connecticut, Williams contributed Glass House #3, a rough-hewn assemblage of found and repurposed doors, windows, and panels—drawn from the voluminous waste stream of discarded materials that come together as an idiosyncratic whole—a gardener's shack in the middle of the gallery.
The title of the show is drawn from the story of the eponymous ghost ship of the 1870s whose crew mysteriously disappeared, but whose valuable cargo was found undisturbed. Today the term "Marie Celeste" is a euphemism for disorders in the natural world that set the balance of things askew, and harkens to a linked domino fall of related natural system failures. This theme has a varied bearing on the work included, but Williams's contribution is on the optimistic end of the spectrum.
Perceived in the round, Glass House #3 looks the part of the odd, ramshackle apparition whose genesis is firmly rooted in inspiration rather than structural soundness or durability. It's an inviting space that prompts a contemplative response, and walking inside is like being in the artist's erstwhile studio.
With its jars of dried flowers, vials of colored liquids (presumably flower extracts) and terrarium-like panels filled with living plants and moss, Glass House #3 is like a sylvan cabinet of personalized mytho-poetic curiosities hinting at the obsessive tinkerer or the intent, backyard, modern-day Gregor Mendel.
Williams is obviously drawn to the wonder and beauty of the elemental life cycle that plants embody, and her carefree manner of framing that wonder does no harm to the conveyance of that idea. Metaphorically spun into the title of her work, however, is the more disquieting evocation of transparency—that the glass is there to be looked through to see the evident precariousness of our environmental balance.
©2018 Art New England, All Rights Reserved
Designed and Developed By: T. Montgomery