Underground Mural Project
Underground at Ink Block • Boston, MA • undergroundinkblock.com • Ongoing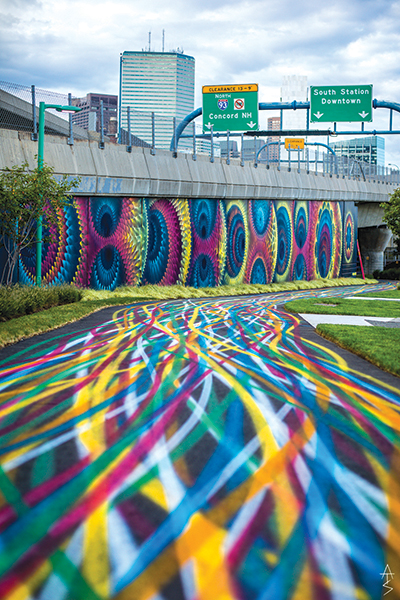 Ever since British artist Banksy stenciled his way into hearts and minds in the early 2000s, graffiti has evolved into more than a subversive act. Today's street artists are usually commissioned, and as a result, the art is more an act of beautification and unification than of provocation. Such is the case with Boston's newest public art effort, the Underground Mural Project.
Unveiled in early September beneath the eight-acre overpass connecting Boston's South End and South Boston neighborhoods, the murals offer respite from the noise and movement above and an aesthetic focus to the new Underground at Ink Block urban park and parking facility. Doug Weathersby's rainbow path guides visitors into, through and around the park, its continuous stripes mimicking the flow of traffic while visually harmonizing with the murals.
Curated by Liza and Victor "Marka27" Quinonez of Street Theory, the seven murals comprise more than 150,000 square feet of concrete, and feature a who's who of today's street artists: Cey Adams (New York, NY), Don Rimx (Puerto Rico), Hoxxoh (Miami, FL), Upendo Taylor and Vyal One (Los Angeles, CA), and Boston-based "Imagine 876," Marka27, Problak, Percy Fortini-Wright, Ewok MSK and Thy Doan. Taken in as a whole, the murals offer a multiplicity of artistic voices. Vyal One's Good Looking Out mesmerizes with its palette of jewel tones, gigantic eyes peering from the layers of abstracted forms and airborne bubbles. Bookending the park, Hoxxoh's Wicked has a similarly intoxicating effect with its length of overlapping bursts in turquoise, sapphire and neon green tunneling into a dark center. Between these, Fortini-Wright's provocative Holy Mackerel, with a rabbit perched atop a giant fish, is more reminiscent of traditional street art with its graffiti overtones and symbolic imagery.
As the park's visual centerpiece, the collaborative DRxM27XPB (Don Rimx, Marka27 & Problak) depicts a dark-haired dancer, graceful arms winging across the vast mural surface as strings of beads dance around her. She is both monument and familiar. "We wanted to paint something that was cultural, that celebrated movement. Music is one of those things that connects everybody," said Victor Quinonez. The Underground Mural Project promises to do just that.
---
Image: City view of Boston coming over the West Broadway bridge from South Boston. Artist: Hoxxoh. Artist home: Miami, Florida. Photo: ATS Photography
©2018 Art New England, All Rights Reserved
Designed and Developed By: T. Montgomery