Classifieds
RSS
Art Supplies
Artist Live / Work Studios
Call for Artists
Call for Entries
Career Services
Framing
Giclée Services
Graphic and Web Design
Photography and Printing
Rentals
Services
Art Supplies
Fifty five-drawer metal flat files
Brockton, MA. $250 each. (508) 631-7962.
Artist Live / Work Studios
Artist Live/Work Space
For Sale - Artist Live/Work space in Davis Square Somerville. Mix-It Studios on bike path. 1250 sq.ft live space with 13 south and west facing windows and 11 ft. ceilings plus 650 sq.ft. work space with 8 ft. ceilings and north and west windows. Offered at $819,000. Contact 857-399-7621 or 1masonart@gmail.com
Call for Artists
Call for Artists: FIRST STREET GALLERY
a contemporary nonprofit gallery in NYC's Chelsea district, is accepting applications for its newly created Affiliate Membership. Includes participation in Annual Affiliates Exhibition, website representation and more. Visit them at firststreetgallery.org/opportunities/
membership for details and online application. (646) 336-8053.
 
Call for Entries
Art League RI
OPEN JURIED REGIONAL EXHIBIT, The VETS Gallery, Providence, RI. January 28–March 19, 2016. Top award: $1,000. Juror: Dominic Molon, RISD Museum. Deadline: December 1, 2015. Download prospectus: artleagueri.org/alri_events.php.
ArtsWorcester and Worcester Center for Crafts
call for Now: New Works, New Artists, a juried exhibition of artists born since 1975 and based in Worcester County or towns of Lowell, Stow, Hudson, Marlborough, Framingham, Ashland, Hopkinton, and Holliston. All artistic and craft media eligible. Deadline: January 15th, 2016. First Prize: $250, and the opportunity of curating a show OR having a solo exhibit at the Krikorian Gallery; Second Prize, $150; Third Prize, $100. Juried by Roger Hankins, Director of the Cantor Art Gallery at Holy Cross. All submissions and fee payments must be made through artsworcester.org/calls-grants.
B.J. Spoke Gallery
Huntington, NY: EXPO 35 competition. Juror, Mary Potter, Whitney Museum of American Art. For details see
bjspokegallery.com/juried-competitions/
expo-35. Deadline November 28, 2015. $35 entry fee.
Boston Biennial 4: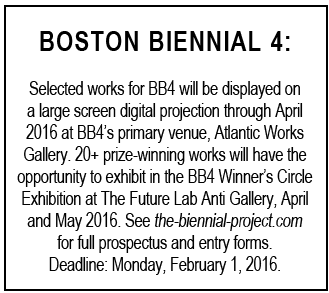 CALL FOR ART: SYMMETRY EXPOSED
fundraiser for Breast Cancer, opens May 6, 2016. Submissions are restricted to photographs of breasts or chests from shoulders to lower ribs, male or female, adorned or unadorned. Photos must be in 8-by-10-inch black frames and hang-ready. Entry fee: $20. Deadline: April 15, 2016. Work must be delivered by May 2, 2016. 42maple.org.
CALL FOR ARTISTS: 2016 Summer Soirée Exhibition.
An Investigation of How Artists Use the Color White or Lack of Color in their Work. The 6th Annual Summer Soirée exhibition investigates artists' use of white in their artwork. Why is white, lack of color or a muted palette important or a central theme of the work? Is there a special significance to the color white in your work? Open to all mediums, including video and installation. Jurors: Nezka Pfeifer, Curator, Everhart Museum and Rita Reamer, Designer. Entry Deadline: January 15th, 2016. Entry Fee: $25 Recipients notified: March 15th. Summer Soirée & Exhibition Opening: July 2nd, 2016.
Exhibition End Date: August 20th, 2016. Selected artists receive two complimentary tickets to Soirée. Please visit their website for parameters: jamestownartcenter.org.
Call to Artists:Cash Awards- Juried Exhibit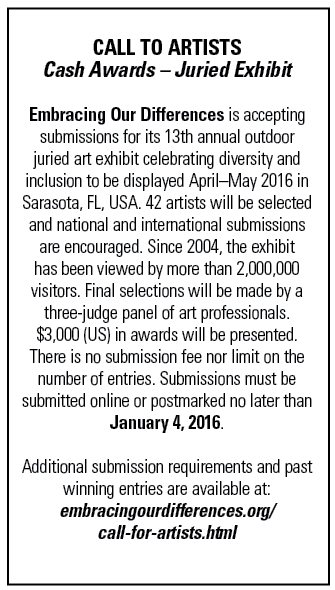 DEADLINE: SATURDAY, DECEMBER 5TH, 2015
PUBLICARTRI.COM
Maud Morgan Arts

 
The State University of New York Potsdam
Potsdam Prints Juried Show, February 4–March 26, 2016. Guildlines: $30.00 submission fee (please check potsdam.edu/museum for details). Artist must be 18 and older. Work must be produced from 2013–2015. Submissions are due on November 13, 2015, by email, sunypotsdamartmuseum@gmail.com, individual pdfs (not jpeg). Artwork must be delivered in person or shipped UPS by January 15, 2016. Medium: All print media—no pure photography/no reproductions. Juror: Harvey Breverman, SUNY Distinguished Professor Emeritus, SUNY @ Buffalo.
Career Services
ART NOW MANAGEMENT
Consultant with over 25 years of Art World Experience: An MBA in Marketing from NYU, a former gallery owner, a degree in Art History from Columbia University, and a graduate of MoMA. Expert career guidance. Pragmatic and helpful. For more info please visit artnowmanagement.com;
call (917) 446-1028 or email:
ellen@artnowmanagement.com.
Critique/Mentoring
sessions available. Constructive, tangible feedback and support for artists working in any medium. Call Robert Siegelman at (617) 524-7737, or
bob7737@earthlink.net.
Critiques and Guidance
All levels and media. Small critique groups. Insightful support and guidance. Or one-on-one in your place or mine. Email: loistarlow@gmail.com.
Feeling stuck with your art career?
want guidance? Artist Coach and Agent Gwenda Joyce helps artists take decisive action and get their greatest art out into the world.
artambassador.net. Apply for a free consultation at artambassador.net/apply-here.
Framing
Giclée Services
Graphic and Web Design
Big Picture Communications
Websites, print design and writing for artists. Mary Bucci McCoy, bigpicturecommunications.com. (978) 810-8294.Artopia: High-resolution photography of paintings, sculpture. Difficult subjects a specialty. Also virtual reality studio/gallery/portrait panoramas, art book design/publishing. Boston area.
artopia.net. (781) 665-1122.
Photography and Printing
Artopia
High-resolution photography of paintings, sculpture. Difficult subjects a specialty.
Also virtual reality studio/gallery/portrait panoramas, art book design/publishing. Boston area.
artopia.net. (781) 665-1122.
Rentals
ARTISTS – Be Inspired!
Affordable spaces, great community. Work only STUDIOS – 24/7 access. Free parking. Live/work LOFTS – Artist only building. Pet friendly. Western Avenue Studios & Lofts, 122 and 160 Western Avenue, Lowell, MA. (978) 710-8605, westernavenuestudios.com.
Services
Abstract painter
Steve Barylick, holding a BFA in painting from Massachusetts College of Art and a Certificate in Art History from the School of Fine Arts at Boston University, is available for commissions, corporate or private. Visit
stevebarylick.com or call (781) 267-2316.
©2015 Art New England, All Rights Reserved
Designed and Developed By: T. Montgomery