Classifieds
RSS
Call for Artists
Call for Entries
Call for Membership
Career Services
Photography and Printing
Call for Artists
Call for Entries
Small Work Salon 2017
Small Work Salon 2017. The Chandler Gallery at Maud Morgan Arts,
Cambridge, invites Boston area artists to submit work for an exhibition juried by Howard Yezerski, a well-known gallerist with decades of experience in Boston's contemporary art scene. Submit any 2D or 3D media configuration
measuring a maximum of 14 inches on the longest dimension or 14 x 14 x 14
inches. Submission deadline: February 1, 2017. Show dates: March 20–April
14, 2017. Information, prospectus, and entry form pdf: maudmorganarts.org.
Call for Membership
Career Services
ART NOW MANAGEMENT
ART NOW MANAGEMENT. Consultant with over 25 years of
Art World Experience: An MBA in Marketing from NYU, a former gallery owner, a degree in Art History from Columbia University, and a graduate of MoMA. Expert career guidance. Pragmatic and helpful. For more info please visit artnowmanagement.com; call (917) 446-1028 or email: ellen@artnowmanagement.com.
Critique/Mentoring
sessions available. Constructive, tangible feedback and support for artists working in any medium. Call Robert Siegelman at (617) 524-7737, or robert.siegelman@gmail.com.
Lois Tarlow: Critiques and Guidance
All levels and media. Small critique groups. Insightful support and guidance. Or one-on-one in your place or mine. Email: loistarlow@gmail.com.
Photography and Printing
Artopia
High-resolution photography of paintings, sculpture. Difficult subjects a specialty.
Also virtual reality studio/gallery/portrait panoramas, art book design/publishing. Boston area. artopia.net. (781) 665-1122.
John Polak Photography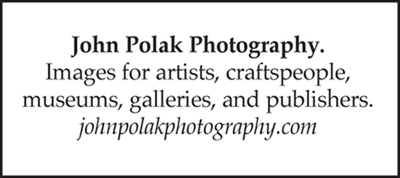 ©2016 Art New England, All Rights Reserved
Designed and Developed By: T. Montgomery