Classifieds
RSS
Call for Artists
Call for Entries
Career Services
Giclée Services
Photography and Printing
Press Repairs
Call for Artists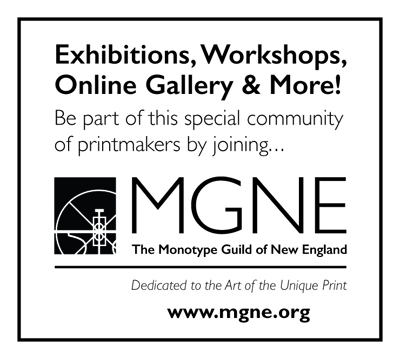 artspecifier.com,
a website linking artists directly with designers, collectors, art consultants, buyers, other industry professionals is very actively seeking full-time professional artists in all media for consideration in joining their curated website. Reach the key decision makers who are designing hotels, hospitals, corporations, restaurants, casinos and private residences and collections through artspecifier.com. If you are looking for publishers, gallery representation, or inclusion in public art projects, this site is for you. Register or sign-in to view the work of their current members. Members can upload images, create a page and link it back to their own website all on the same day. artspecifier.com takes no commissions for any sales created. See artspecifier.com/artist-membership-how-to-apply-cms-279. For more information: Joyce Creiger at joyce@artspecifer.com.
Cultural Alliance of Medfield
Calling Artists, Designers and Creative Entrepreneurs: December 2 Holiday Stroll juried show and sale in Medfield, MA. Free to apply, deadline Aug. 19. medfieldculture.org for information.
Call for Entries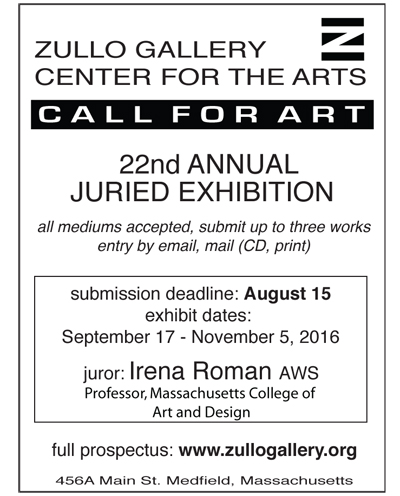 13th Annual Blanche Ames National Juried Exhibition
Deadline July 10, 2016. $2000 in awards. Juror: Todd Bartel, a distinguished artist, educator and Director of the Thompson Gallery, Weston, MA. Exhibit September 20 to October 8, 2016. Ames Mansion Museum, Borderland State Park, North Easton, MA. Open to all living artists 18+ residing in the USA. All mediums including photography. Full color catalog. Download prospectus at friendsofborderland.org or send SASE to BANJAE, 66 Massapoag Ave., Sharon, MA 02067.
Call to Artists: GALATEA FINE ART
The Seventh Annual New England Collective Juried Exhibition at Galatea Fine Art in Boston's SOWA Art District. August 3-28. All media. Juror: Julie Burros, Chief of Art and Culture for the City of Boston. Entry deadline: July 10, 2016. For prospectus: galateafineart.com. (617) 542-1500.
Call to Artists: LOADING DOCK GALLERY
are invited to submit to ALIENATION—the annual juried show at Loading Dock Gallery in Lowell, MA. $2750 in cash prizes. Submission deadline August 1, 2016. Complete information at theloadingdockgallery.com.
Catharine Lorillard Wolfe Art Club, Inc.
120th Annual Open Juried Exhibition at the National Arts Club, NY. November 29–December 16, 2016. Open to women artists. Media: Oil, Acrylic, Watercolor, Pastel, Graphics and Sculpture. More than $10,000 in awards. Entry fee: $40/Members, $45/Associates, $50/Non-Members. Online entry deadline is Oct. 3, 2016. Submit your entries at showsubmit.com; download the prospectus at clwac.org.
Imago Foundation
11th Annual Open Juried Exhibit Mixed Media, September 15–October 23, 2016. Reception: September 23. Seeking artworks created with mixed media. Juror: Santiago Cucullu, an internationally renowned artist. Cash Awards: Best in Show $1000. Deadline: Midnight, July 31. Enter your images online at onlinejuriedshows.com/Default.aspx?OJSID=8634.
 
Provincetown AIDS Memorial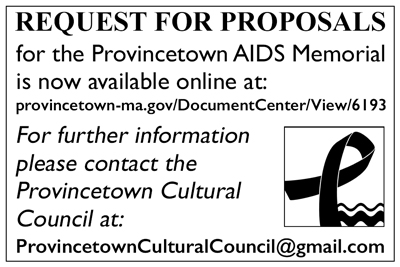 Smithtown Township Arts Council
is actively seeking entries for its 35th Annual Juried Photography Exhibition at the Mills Pond Gallery. Exhibit dates: September 24–October 23, 2016. Juror: Lisa Elmaleh. Open to local and national photographers. Prospectus at stacarts.org (631) 862-6575, or gallery@stacarts.org.
Career Services
ART NOW MANAGEMENT
Consultant with over 25 years of Art World Experience: An MBA in Marketing from NYU, a former gallery owner, a degree in Art History from Columbia University, and a graduate of MoMA. Expert career guidance. Pragmatic and helpful. For more info please visit artnowmanagement.com; call (917) 446-1028 or email: ellen@artnowmanagement.com.
Lois Tarlow: Critiques and Guidance
All levels and media. Small critique groups. Insightful support and guidance. Or one-on-one in your place or mine. Email: loistarlow@gmail.com.
Robert Siegelman
Critique/Mentoring sessions available. Constructive, tangible feedback and support for artists working in any medium. Call Robert Siegelman at (617) 524-7737, or robert.siegelman@gmail.com.
Giclée Services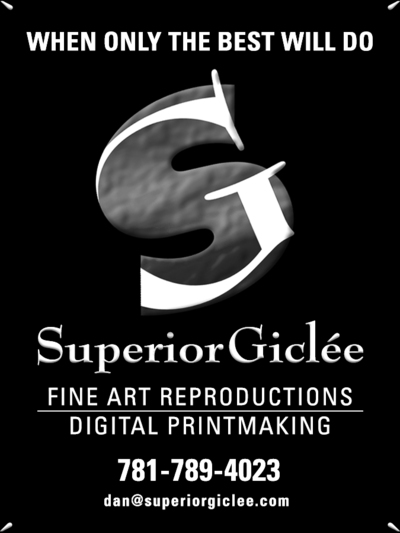 Photography and Printing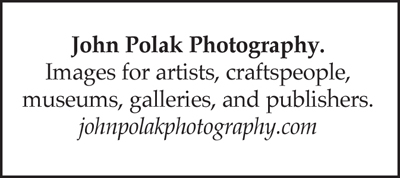 Artopia
High-resolution photography of paintings, sculpture. Difficult subjects a specialty.
Also virtual reality studio/gallery/portrait panoramas, art book design/publishing. Boston area. artopia.net. (781) 665-1122.
Press Repairs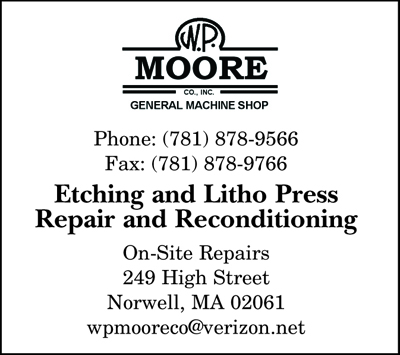 ©2016 Art New England, All Rights Reserved
Designed and Developed By: T. Montgomery