Classifieds
RSS
Art Supplies
Call for Artists
Call for Entries
Career Services
Grants
Photography and Printing
Art Supplies
Moving must sell!
American French Tool etching press for sale $4,000 plus shipping. Great condition! Please contact Maria (617) 571-2622 or email mpagnani@comcast.net.
Call for Artists
Call for Entries

14th Annual Blanche Ames
14th Annual Blanche Ames National Juried Art Exhibition. Deadline: July 8, 2017. $2,000+ in awards. Juror: Theresa Ganz, artist and assistant professor of visual arts, Brown University. Exhibit September 12 to October 3, 2017 Ames Mansion Museum, Borderland State Park, North Easton, MA. Open to all living artists 18+ residing in the USA. All mediums including photography. Full color catalog. Download prospectus at friendsofborderland.org or send SASE to BANJAE, 4 Essex Rd. Sharon, MA 02067.
Call for Artists
The Eighth Annual New England Collective Juried Exhibition at Galatea Fine Art in Boston's SOWA Art District. August 2–27, 2017. All media. Juror: Charles Giuliano, publisher/editor of the Berkshire Fine Arts Journal; critic, writer, teacher, curator, artist. Entry deadline: July 10, 2017. For prospectus: galateafineart.com. (617) 542-1500.
NEW HAMPSHIRE ART ASSOCIATION
now accepting open registrations for annual Wet Paint-Out Weekend. Plein air event will be held July 21–23, 2017 in Portsmouth, NH. Juried, cash prizes, exhibit and sale. For more information contact NHAA at (603) 431-4230 or nhartassociation@gmail.com.
Career Services
Critique/Mentoring
sessions available. Constructive, tangible feedback and support for artists working in any medium. Call Robert Siegelman at (617) 524-7737, or robert.siegelman@gmail.com.
Lois Tarlow: Critiques and Guidance
All levels and media. Small critique groups. Insightful support and guidance. Or one-on-one in your place or mine. Email: loistarlow@gmail.com.
Grants
August 1 Deadline for Artist's Resource Trust (A.R.T.) Fund.
Grants available in painting, sculpture, printmaking or mixed media to mid-career artists with financial need in New England and Columbia and northeast Dutchess counties, NY. Nonprofit organizations wishing to show, commission or purchase work by mature artists living in New England may also apply. Grants range from $2,000 to $10,000. Applications and artwork must be submitted online. Learn more at berkshiretaconic.org/art. Deadline: August 1.
Photography and Printing
Artopia
High-resolution photography of paintings, sculpture. Difficult subjects a specialty.
Also virtual reality studio/gallery/portrait panoramas, art book design/publishing. Boston area. artopia.net. (781) 665-1122.
John Polak Photography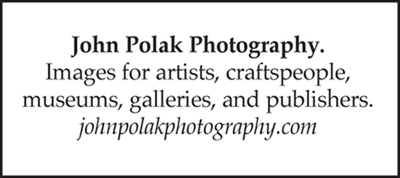 ©2017 Art New England, All Rights Reserved
Designed and Developed By: T. Montgomery