Beyond Joseph Beuys: Feeling the Felt
Wearable Art in the Western Avenue Studios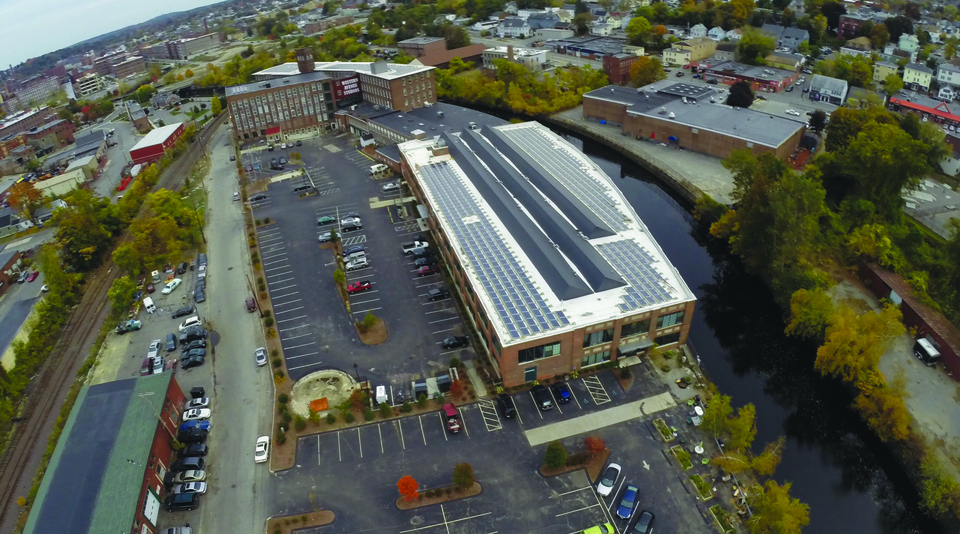 Drone view of Western Avenue Studios,
Lowell, MA. Photo: John Wren.
Joseph Beuys created sculpture, drawings, and performances, yet one of his most famous works, Felt Suit, is an iconic example of Wearable Art. Beuys made 100 copies, modeled on one of his own suits but with longer arms. Displayed on a hanger, it is a sculpture, yet when the artist actually wore Felt Suit as part of his performance "actions" he transformed a humble material into something distinctive, suggestive, reformist.
Wearable Art allows us to enrobe ourselves in something genuinely handmade, experiencing art in a unique way. Where do you find it? Look where the artists live and work and today, one of the most vibrant artist communities around is Western Avenue Studios (WAS) in Lowell. The town of Lowell was a center of the American textile industry during the Industrial Revolution. This former brick mill building was renovated in 2005 to become studio space for more than 300 artists who work in a variety of media. In June 2012, 50 new live/work spaces were added for artists in an adjacent building. WAS features a café, a performance area, a cooperative gallery, and offers Open Studios on the first Saturday of every month. With rents at $1.00/square foot, one third the price of Boston, Lowell has become a highly desirable destination for artists seeking affordability and community.
Nestled in this warehouse of textile history in a south-facing studio is artist Barbara Poole. Felt is her medium for dramatic coats, scarves, capes and hats for her company, B.Felt. Outside her studio is the dramatic, eye-catching installation, Invasive Species—large strips of green felt hang from the walls along with three-dimensional felt sacs resembling an underwater kelp forest. Poole's background as a painter is apparent in her use of colors, her deft layering of fabrics, and interest in texture. Her bold coat designs have no seams, and are reversible with a variety of patterns inside and out. Featuring large shawl collars and flared shapes to flatter a woman's form, Poole believes these theatrical designs "never go out of style." Scarves can incorporate felt with strips of silk and other fabrics joined together by a physical process, or consist of blended layers of colored wool with holes and nobs of fabric. Her whimsical hats are equally sculptural and inventive, surprisingly warm and comfortable.
Antoinette Indge sews original clothing designs for her company, Cinderloop. Her subtly sophisticated dresses and shirts are often asymmetrical. Fabrics, often jersey knit, are draped to flatter a woman's body through the use of tucked and stitched folds. Ribbon circles sewn into the fabric add an interesting design element and a handmade finish that Indge describes as "definitely not factory friendly." This crucial distinction separates Wearable Art from mere garments. The emphasis is on being crafted by hand, made in small quantities, with the ability to add details not easily reproduced. This may well result in a Wearable Art object.

Antoinette Indge, Cinderloop, drape dress, indigo rayon lycra with cobalt stitching. Photo: Jeffrey Engel.
All fashion now is sensitive to recycling, and Jeanne Osborne maybe is the ultimate recycler. She takes old jackets and redesigns them by adding ruffles, interesting buttons and embellishments; she projects this eclectic style in her hat and handbag designs as well. Other Wearable Art makers at WAS include Ann Lee who uses surface design techniques and beautiful fabrics to embellish jackets, and Leanne Tremblay's meticulously crafted hand-knit scarves.
No ensemble is complete without jewelry and WAS is home to many practitioners. Heather Wang uses real twigs as models for her bangle bracelets. Twig wood is burned away in the fabrication process, making each brass bangle with silver flowers unique. Less dainty is Liz Stewart's Unisex Jewelry made with hardware. She weaves hex nuts into flexible, tarnish-free bracelets for her company, Lush Beads Industrial.

Barbara Poole, Winter Frost Coat, 2011, seamlessly hand felted using 100% organic merino wool, repurposed silk and other textiles. Photo: Greg Brown.
Metals may be precious, yet even humble fabrics like felt can be remarkably transformed in an artist's hands. Poole notes, with a nod to Joseph Beuys, "from wood, soap and elbow grease, one can create beautiful pieces of Wearable Art." Western Avenue Studios has taken Beuys's idea that creative activity enables a society to flourish and grow in ways beneficial to all and made it a reality.
Lowell is truly thriving. After wandering through Western Ave, continue onto the American Textile History Museum—an extraordinary resource for textile art, production and invention—for a look at Flowers in the Factory. The nearby New England Quilt Museum—whose collection boasts more than 400 antique and contemporary quilts showcasing the history of American quiltmaking—is featuring Quilts Japan. Kudos to Lowell for having a vision for the arts as a creative economy worth supporting.

Betsy Keeney, Gingko Leaf Necklace, 2013, metal jewelry (sterling silver), gingko leaf pendant, 2¼" across. Photo: Anna Turgeon.
Susan Mulski is an independent arts writer living in Brookline, MA.
©2017 Art New England, All Rights Reserved
Designed and Developed By: T. Montgomery