Boston Cyberarts Festival
Back to the Future: Boston Cyberarts Festival
Our lives are more cyber now than ever. Between cell phones, social networking, GPS, online shopping, online banking, digital cameras, digital cable, and the nonstop churn of new technologies infiltrating medicine, entertainment, and security, hardly an hour goes by when we're not engaged in some cyber activity, beknownst to us or not.
This year's seventh biannual Boston Cyberarts Festival, though, is looking back to some distinctly analog technology.
For founder George Fifield, the term 'cyberarts' was never meant to include only digital work.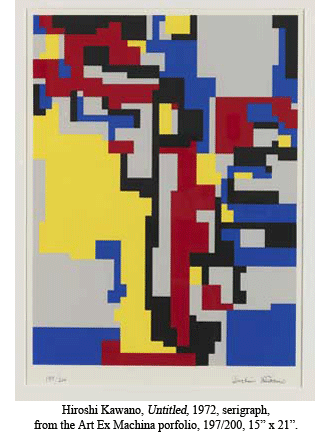 "For me it's a catch-all," he told Art New England. "If you're just talking about art made with computers, you'd refer to it as 'new media.' For art made with technology in music, you talk about 'electronic music.' In dance, you'd say 'dance and technology'—they don't have another name for it. Cyber is the word that allows me to catch all of this stuff."
"Cyberart isn't just digital, screen-based work," says Heidi Kayser, who became assistant director of the festival when it merged with her artist collective-turned-gallery Axiom Center for New and Experimental Media last January. "It's so many other things. But I don't think we have a better word for it."
Fifield conceived of the festival in 1997 "to celebrate the fact that Boston was an incredible center of artists working in new technologies, and yet this fact was basically unknown," he says. "If you asked people back then what was Boston's biggest contribution to the arts, they probably would say expressionist painting. And yet these incredible, internationally known artists were living here."
Fourteen years later, the festival has become what Fifield calls "the largest collaboration of arts organizations in New England." Every other year, he and his team put together an anchor show with a different theme—this year it's BEHOLD: Sight in New Media, an exhibition of how we see machines, they see us, and we see each other," says Fifield. It's taking place at Atlantic Wharf on Fort Point Channel, and area arts organizations are invited to contribute programming. "Every organization programs within their own mission, budget, and timeframe," Fifield says. "It's this collaborative nature that makes it work. We're able, on a relatively small budget, to put a really big festival on."
Because of the noncentralized planning, themes tend to be accidental rather than imposed, Fifield says, "but usually every festival, threads pop out." This year, even though half of the festival's programming had yet to be confirmed at press time, one theme had already emerged: cyberart history.
MIT's List Visual Arts Center will have the first U.S. museum survey of underrecognized video art pioneer Juan Downey, who, along with Bill Viola, Nam June Paik, and William Wegman, was among the artists fostered by the groundbreaking New Television Workshop founded at WGBH in the 1970s.
The Goethe-Institut is bringing a collection of German video art from the past forty years, and at the DeCordova Sculpture Park + Museum, Fifield, who previously served as the museum's curator of video and then of new media art, will curate Drawing with Code: Work from the Anne and Michael Spalter Collection, on view through April 24, featuring true cyberart dating back to the 1950s. Included will be Ben Leposky's open-shutter photographs of patterns he programmed with oscilloscopes, and Lillian Schwartz and Stan VanDerBeek's experiments drawing and animating with computer code in the 1960s.
Though it may seem anachronistic to look back to these early works, in an age when anyone with a computer or smartphone can whip up a digital creation in minutes, our hyper-cyber, tech-savvy age may be the best time to appreciate them.
"At the time, the art world had all sorts of issues, because they didn't understand what working with code meant. No one did, except the few people who were struggling to learn Fortran," a programming language developed by IBM in the 1950s for scientific and engineering purposes, says Fifield.
Part of the joy of any new media is watching as artists move from discovering it to adopting it as just another tool for expression. "Pretty much any kind of new technology that comes on board that's capable of some sort of expressive use, artists are there right away," says Fifield. "There were artists on the web before there was porn."
That doesn't mean the first work is any good as art, says Kayser. "Sometimes the craft isn't as good, or the concept isn't as deep, or the subject matter isn't as important."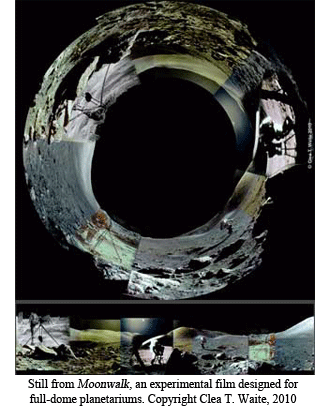 Kayser hopes this year's festival will feature both artists who have internalized older "new technologies" and forward-thinking colonizers of new ones.
In addition to her assisting in coordinating this festival, Kayser is curating a show of kinetic art at Axiom that "runs the gamut from robotic art to really mechanical work to conceptual art that's not about the kinetics. There might be a couple of pieces that are more about the gadgetry and flashiness and the wow factor, but there are a lot of other artists who are trying to hide that part a little bit more."
As always, the festival will also include dance, electronic music, and digital literature, with offerings ranging from the Museum of Science's premiere in its new facility of Moonwalk, an experimental film designed for planetariums whose rough cut won the IBN Innovation Prize at the 2007 festival, to the Brandeis Electro-Acoustic Music Studio's twelve solid hours of international electronic music on April 30.
And this year, for the first time, the Cyberarts programming won't end with the festival. Boston Properties, manager of the Atlantic Wharf space being used for CyberartsCentral, has contracted Boston Cyberarts to program a year's worth of events in the space. Working with Dan Hirsch, former music programmer for the MFA, now with ArtsEmerson, and Alissa Cardone, organizer and choreographer with Critical Moves and Kinodance, Fifield and Kayser will organize three exhibitions, three concerts, and three dance performances. Stay tuned for details.
For a complete, updated schedule of events, go to bostoncyberarts.org.
____________________________________________________________________________________________________________
Kris Wilton is a freelance writer and editor based in Cambridge, Massachusetts. Her writing has appeared in Modern Painters, Art+Auction, ARTnews, Emerging Photographer, Slate, and the Village Voice, among other publications.
 
©2018 Art New England, All Rights Reserved
Designed and Developed By: T. Montgomery