Flash Forward and Boston
2012 FLASH FORWARD FESTIVAL
Salt Institute for Documentary Studies
Portland, ME
www.flashforwardfestival.com
March 2-May 4, 2012

A big, flashy festival is coming to town, and it's coming from Canada. For the second year in a row, the Toronto-based Magenta Foundation's Flash Forward Festival is traveling to Boston with a series of exhibitions, parties, lectures, and discussions that range from professional guidance to lessons in theory and practice. After a March stop-over in Portland at the Salt Institute for Documentary Studies, the festival opens in Boston in early June, just as summer is beginning to show through the last shades of New England-spring gray and the hopes and ambitions of the city's youthful denizens are at their highest.
Since 2005, The Magenta Foundation has been publishing its annual Flash Forward book of "emerging" photographers, and it has grown from covering only Toronto and New York City to the whole of Canada, the United States, and United Kingdom. In 2010, the foundation established the festival to correspond with each new book and launched the multi-day event in Toronto. It was such a success that Toronto-based Fairmont Hotels & Resorts last year asked to bring the festival to its Fairmont Battery Wharf in Boston.
But why our fair city? There are larger cities with larger populations of photographers. The festival's origins aren't local and its organizers were invited hear by a Canada-based multi-national chain hotel. Is Flash Forward waltzing into town like "Professor" Harold Hill of The Music Man, with its eyes on local funding? Will it dance away with our hearts? Or will it stick around and, like Hill, after falling in love contribute to the arts community? As for the Fairmont, the 150-room hotel that markets itself as "boutique" will make significant gains in caché by hosting a festival devoted to emerging photographers.
What can the Boston arts community gain from the Flash Forward Festival? Beantown does not have much to offer either locals or tourists in terms of festivals or fairs that cater to specific visual mediums or communities. The presence of countless, expanding cultural and educational institutions dominates the city's cultural intake. There is the relatively prodigious Cyberarts festival, but Boston's more like a perpetual academic conference than a Miami or Venice, which are known for their international art fairs. A 2003 study by the Boston Foundation found that Metro Boston has more arts and cultural non-profit organizations than any other metro area—including New York City, people. A cultural infrastructure that's composed of large institutions, however, creates silos.
Many, if not the majority, of Boston's most successful artists also teach in its institutions. Photographer Matthew Gamber, who was included in the latest edition of the Flash Forward book, is a gallery-represented artist, art professor, and employee in the archives of the Boston Public Library. He seems to be taking part in all that Boston offers its artist community. In the interest of disclosure, he is a former colleague of mine and someone with whom I've shared beers on several occasions. Gamber told me that each institution has its own community.
"The Magenta Foundation, being outside of Boston, it is able to pick and choose (or solicit) valuable resources from these differentiated communities," he wrote in an email.
"Flash Forward, for fine art photography, might be the only non-museum event that has the capacity to bring these disparate institutions together," he wrote. "If Boston is a series of 'clubs,' Flash Forward is one of the few 'non-club' events that is able to mix different people from the larger photography community."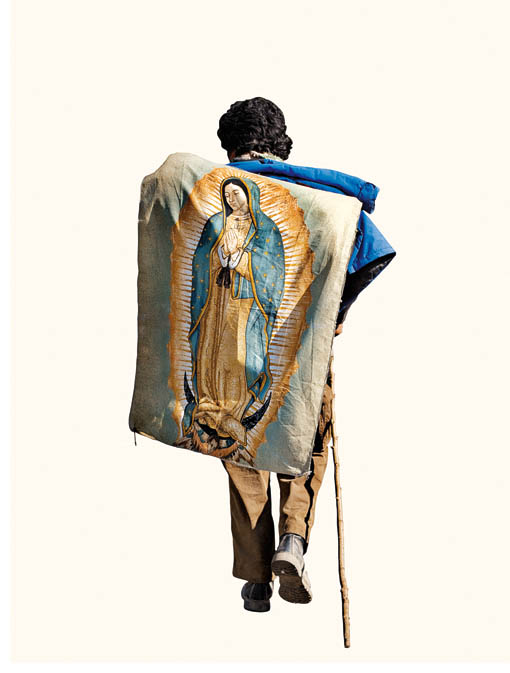 With a solid reputation and the large venue the Fairmont offers, the festival could be a catalyst for coming together. Boston-based photographer Jess T. Dugan, who was an honorable mention in this year's book, told me that being included in Flash Forward "feels in line with participating in PhotoLucida's Critical Mass in that it is a reputable contest that gets your work seen by a large group of people." The book's jurors this year included Flak Photo founder Andy Adams, Diane Smyth of the British Journal of Photography and Erin Elder of Canada's nationally distributed Globe and Mail newspaper.
Though the Flash Forward book's sources and jurors may be from relatively diverse backgrounds, the festival's organizers want to "unite the communities" that they work with, Magenta Foundation founder and festival director MaryAnn Camilleri told me. That's their "built-in template," she said. "It's really about community strength and showcasing [local] photographers…" Along with a traveling exhibition of photographers published in the Flash Forward book, the festival's organizers are planning an exhibition of local artists. Last year, the event included Fresh Works: A Sampler of New England Photographers, which was curated by local photography authorities Paula Tognarelli of the Griffin Museum and George Slade of Boston University's Photographic Resource Center.
You can't build a community without providing support and encouragement to the building blocks of that community, and in this case we're talking about artists. Boston Phoenix art critic Greg Cook wrote in his ongoing Yokelist Manifesto that "what makes a great creative community is not just lots of cool venues to look at stuff in. We must be a place that produces cool stuff too." By holding the festival at a hotel—which is a rather common practice during the the annual Scope and Pulse art fairs in Miami—the Flash Forward festival is removing the institutional aspect of the exhibition space. Admission is free and the hotel becomes an extension of public space. Though the art may suffer from the stigma of being exhibited in a hotel, the Fairmont gives the festival plenty of white space far from the taint of the decorative art that thrives in hotel rooms. The exhibition's size and rather arbitrary parameters (Why limit submissions from the US, Canada, and UK?) may put it at risk for a lukewarm critical response, but the individuals work will be good. Moreover, the emerging photographers included in the festival's exhibitions will no doubt appreciate the attention.
The Flash Forward book is designed as an opportunity for younger photographers to disseminate their work to wider audiences and perhaps get it onto the desks of gallerists or even magazine photo editors and advertising agencies. While the festival will indeed provide exposure to numerous photographers, Camilleri said it was designed to "bring industry into the conversation" for photographers trying to launch their careers. In fact, one of the reasons why Magenta expanded the Flash Forward program to include a festival was that the book was becoming a professional source for creative agencies. Though the exhibition may foreground the program's fine arts component, photographers are members of a nearly two-century-old profession. There are commercial photographers, news photographers and others that prefer to simply be called artists. Camilleri cited a statistic from her college's graduating class that illustrated a phenomenon that anyone who went to art school is familiar with. Of the forty people she graduated with, only six were practicing their profession – a number that she found rather depressing. She created the Magenta Foundation and much of its programming to help give young photographers opportunities and, perhaps more importantly, confidence.
"They're showing us what else we can do," Boston-based photographer Tara Sellios told me. Sellios is one of the youngest photographers I spoke to about Flash Forward. She only just received her BFA in 2010, but attended the 2011 festival in Boston last summer, and was published in the book the same year. She also won a Massachusetts Cultural Council Artists Fellowship and landed a solo show at the Suffolk University Art Gallery. This spring, she'll have her first show at Gallery Kayafas, her first at a commercial gallery. Sellios may be a poster child for success in the eyes of Flash Forward, but she is also an exceptional example of artistic prowess and ambition. "Boston's small," she said "At this point, we need all the recognition we can get." Hopefully, Flash Forward can answer her call, because cities like New York are beckoning.
Arlette Kayafas, of the eponymous gallery, has also shown photographers Matthew Gamber and Jess Dugan. She dreams big for the Flash Forward Festival. "My hope is that we can build on this event and include galleries, museums, and make it city wide [and] dedicate a time for Photography in Boston!" she wrote in an email.
Camilleri echoed her tone and the two are rumored to be planning an event during the festival at the gallery. She sees the future of the festival in Boston to be as large an enterprise as the Toronto Film Festival. Camilleri told me about a time not that long ago when the TFF had to give away tickets on the streets, but now it puts Toronto on a stage comparable to that of Cannes and Sundance.
"As long as you have good programming, your intentions are right, you build up a community, you show people how to work together, and you highlight a city that has so much potential, I think you're just in a win-win situation," she told me.
The Flash Forward Festival will certainly be a win for Boston if it achieves those goals.
___________________________________________________________________________________________________________
Christian Holland is a Boston- and Brooklyn-basedwriter, journalist, and essayist. He was executive editor and founding contributor of Big RED & Shiny, a Boston-based nonprofit arts journal, and now contributes to numerous arts publications. Follow him on Twitter at www.twitter.com/CRHolland.
©2018 Art New England, All Rights Reserved
Designed and Developed By: T. Montgomery