Gordon Goetemann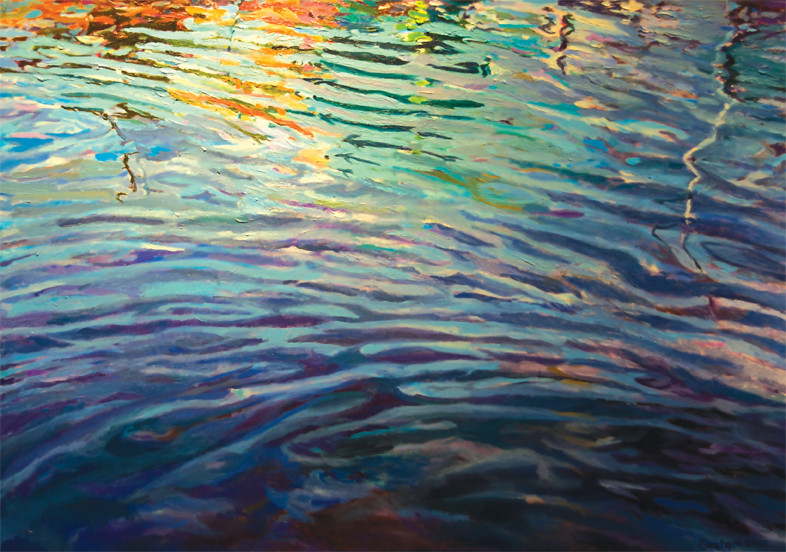 Gordon Goetemann, Harbor Water, 2014, oil, 32 x 26″.
For anyone strolling along Wonson Street, home to the famed Rocky Neck Art Colony, it is impossible to miss the building with ivy strung across the cross-hatched windows and inviting wooden benches that seems at first like a quaint seaside cottage. Actually it's the Goetemann Gallery. Since it opened 37 years ago, thousands have come to see the paintings of Gordon and Judith Goetemann.
Gordon Goetemann's introduction to Cape Ann came in 1953 when he was working on his MFA. He and a studio mate traveled to Gloucester to study under Umberto Romano who ran the Romano School of Art on Rocky Neck. Gordon would go back four more summers. "[Romano] took me where I was both technically and aesthetically," says Gordon, "and helped me advance in each."
Goetemann says his paintings fall into three distinct categories: realism, abstract and celestial island. In his realist works, his focus zooms into pools of salt water, the rocky shoreline and the rolling ocean that define Cape Ann. Bold, poetic swaths of unexpected color combinations—lavender, turquoise and burnt orange—make up his abstract works. Symbiotic and confident, each captures the unique character of the place as well as those special, fleeting moments in time. Works in the celestial island series, created also from a bright palette, are more cerebral and contemplative as the artist appears caught in wonderment.
All works reflect the passion and joy of art-making.
"I always see myself as a synthesizer of the past, working to keep it vital in terms of contemporary culture," he explains. "My expertise is in the history of the visual form. I am very conversant with realism, abstraction, romanticism, expressionism and classicism." This is the essence of Goetemann's unique voice on canvas.
Most of his paintings have sold as he completed them and now hang in patron, corporation and museum collections. For nearly a decade, he has run the Goetemann Artist Residency and Distinguished Artist-Teacher programs that attracts to Rocky Neck emerging and accomplished artists in an exchange of ideas and skills, further enhanced by workshops, lectures and exhibitions.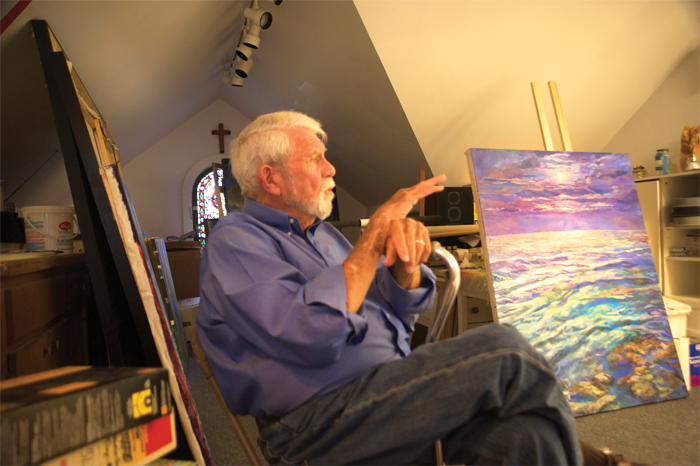 Gordon Goetemann in his studio with Meditation on Space I to the right.
Photos: Anna Kasabian.
Around the time he started the residency program, Goetemann searched for a new artistic challenge. He decided to paint one of his favorite symphonies, one he had heard for the first time back in 1956: Gustav Mahler's Symphony II (Resurrection). This turned into a six-year project—15 single-panel and triptych abstract paintings, one as wide as 12 feet. The symphony is revealed in dramatic color bands and patterns that often unveil a mysterious human form. He says, "Mahler's idea of autonomous individuals making authentic choices to arrive at essential understandings paralleled the philosophical tenets of existentialism…that influenced the thinking of artists in the abstract expressionist movement." And it impacted his thinking.
He adds, "The more I got into it, the more I got to appreciate the music—its complexities, the humanistic dimensions of it…I saw it in color. It was a wide-ranging search for me."
In their studios, the Goetemanns paint down the hall from one another. Hers is light-filled with views of the harbor and passing boats. His is smaller with just one window to the back, its natural light diffused by stained glass. He prefers this visually quiet space where he can focus.
With a brush in hand and an idea percolating in his mind, he's painting from dawn until dusk. "There is no experience anywhere else that is like it," he says. "Love would be the closest comparison…it gives me a reason for living."
---
Anna Kasabian is a freelance writer, author and ceramic artist from Manchester-by-the-Sea, MA.
©2018 Art New England, All Rights Reserved
Designed and Developed By: T. Montgomery