Helena Hernmarck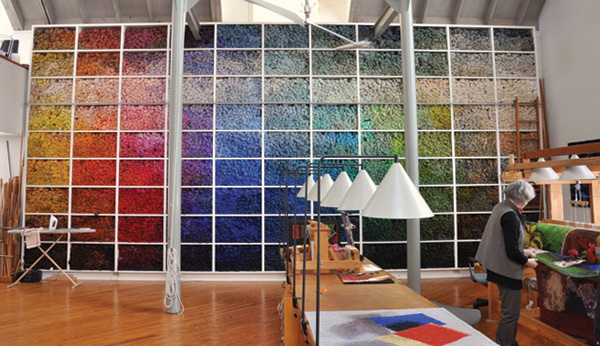 A majestic three-story wall of color rises along the entire south side of Helena Hernmarck's bright and open modern studio in Ridgefield, CT. The wall is actually a storage unit for skeins of wool leftover from the nearly 100 large-scale weaving commissions Hernmarck has completed during her remarkable 53-year career. The wool comes from a specific breed of heirloom Swedish sheep and is custom-dyed in Sweden, where Hernmarck lived from 1941 until emigrating to Canada and then to the US in 1964. The unit is organized in a way that appears both practical, with similar colors grouped together; and painterly, with groups of skeins condensing into dramatic movements of color and tone.
This painterliness continues in the mid-scale tapestries adorning the walls and floor of the studio. In one, a brown and grey trompe-l'œil composition, a handwritten envelope casts a shadow on a letter beneath it creating the illusion that the flat weave is three-dimensional. Hernmarck's is both diligent craftsperson and fine artist.
The studio is quiet except for the noise of a low radio punctuated by the regular thud of a beater, a weaving tool that presses the weave into the warp. Hernmarck's assistant, Mae Colburn, is working on the loom. She is weaving a textile that will be used as a sample for Hernmarck's upcoming project: two sets of nearly 30-foot long tapestries that will adorn an elevator lobby in a new Hudson Yards building currently rising along Manhattan's West Side. This commission will fully occupy two to three weavers at the Alice Lund Textiles studio in Sweden for the next four years. Hernmarck has had difficulty finding qualified and committed weavers in the US, which is not surprising, because Colburn's work is very different from typical contemporary American pursuits. She works deliberately, occasionally dashing up to the third floor balcony to look down on the weave because Hernmarck's designs, like pointillist paintings, often contain lush chiaroscuro effects and only resolve into images from a distance.
A common observation in the large body of critical writing on Hernmarck, who, in addition to landing commissions for the most important architects and architectural firms of her time (including I.M. Pei and Partners and Philip Johnson) has also had solo shows of her work at many internationally renowned institutions including the Museum of Modern Art in New York and the Kunstindustrimuseet in Copenhagen, is that her tapestries add depth and humanity to the glass and steel spaces that often contain them. Hernmarck's works seem to "compensate for spaces perhaps insufficient in these soul satisfying qualities," wrote Jack Lenore Larsen, a critic.
While many of her contemporaries use digital weaving processes, Hernmarck makes it clear that the soulful quality characteristic of her work comes from her staunchly low-tech approach and her commitment to respecting weaving as a meaningful, and not menial, process. ("The digital is without a soul," she says sternly.) Hernmarck's favorite design elements are photographs of nature, her own abstract watercolor paintings and old envelopes in various parchment tones. Sometimes she uses simple design principles like symmetry and basic repetition to create collages. Her strategies are refreshingly straightforward: the Hudson Yards project design comes from a photograph of trees and open sky taken behind her studio through a rectangular hole cut into a cardboard box. After she finishes  maquette, it is copied, enlarged to the exact scale of the project, and printed as a grainy reproduction that rests behind the loom.
The difference between the printout, which is grainy and thin, and the textile that is emerging as Colburn works, which is vibrant, richly tactile and full of atmospheric depth, is vast. Hernmarck and her weavers accomplish this translation using the "Hernmarck method," a free and improvisational weaving technique based on traditional Scandinavian processes. In contrast to digital, or even stricter traditional methods that ensure evenness and regularity, Hernmarck's method creates a vivid design while also capturing the vitality of the weavers. Hernmarck welcomes how, with her method, "interpretation is different every day," and she explains that "because we change our minds, that makes it beautiful." Furthermore, by suggesting that the life events that weavers inevitably experience during a long project might actually enter their work, Hernmarck invokes archetypes like the Greek Fates, mythic weavers of lives, who also use weaving to bring the immaterial palpably close.
---
Cat Balco is an artist and an associate professor of painting at the University of Hartford.
---
Image: Helena Hernmarck in her studio. Courtesy of the artist.
©2018 Art New England, All Rights Reserved
Designed and Developed By: T. Montgomery