Mixing It Up
Neel/Field and a 21st-century update at the Bennington Museum
"Eclectic" seems to be an art world buzzword these days. Museums, galleries, critics and collectors are all espousing the value of mixing and matching art across cultures and time periods, to powerful visual and conceptual effect. Not usually one to embrace trends, I'm all for this one. In fact, bringing the past and the present into dialogue and questioning traditional art-historical boundaries have long been core principles of my curatorial practice.
Bennington Museum, where I have been curator since 2005, is an ideal laboratory for my endeavor. Tracing its origins to 1852, the museum has been actively collecting since the mid-1920s. In the ensuing decades we've formed rich collections of objects and archives that document the history and culture of Vermont and surrounding regions, garnering an estimable reputation as one of New England's leading regional museums devoted to what is often referred to as "Americana."

Alice Neel, Ginny and Elizabeth, 1975, oil on canvas, 42 x 30″. © Estate of Alice Neel.
Proud of our tradition, we are also acutely aware that as time marches on and attitudes shift, so must we. To this end, for the last year and a half we have been working hard to realize a bold new vision for the museum by reinvigorating our permanent collection through carefully calculated reconsiderations of our acquisition/long-term loan strategies, the reinstallation of multiple permanent galleries, and the implementation of a bold program of temporary exhibitions and installations. Our goal is to create an inspirational friction between long-heralded historic collections and the region's more recent artistic heritage, from the mid-20th century to the present. You can now see paintings by Rockwell Kent from the early 1920s, 18th-century powder horns, an iconic 1958 abstraction by Helen Frankenthaler, a ceramic monument built for the 1853 Crystal Palace in New York and an 11 x 24 foot wall drawing by Jarvis Rockwell finished this past January—all within eyeshot of each other!
Our major exhibition this year, Alice Neel/Erastus Salisbury Field: Painting the People (July 5–November 2), serves as the perfect illustration of how we are putting new strategies into practice by building on the strengths of our collection while simultaneously moving forward into new territory. The exhibition will juxtapose portraits by Erastus Salisbury Field, one of America's best-known itinerant painters active during the 19th century, and Alice Neel, one of the most acclaimed American artists of the mid-20th century. It is my hope that this unusual pairing will cause visitors to the museum an initial shock, or at least a mild confusion, forcing them to ask, "Why?" There are many answers to this seemingly simple question.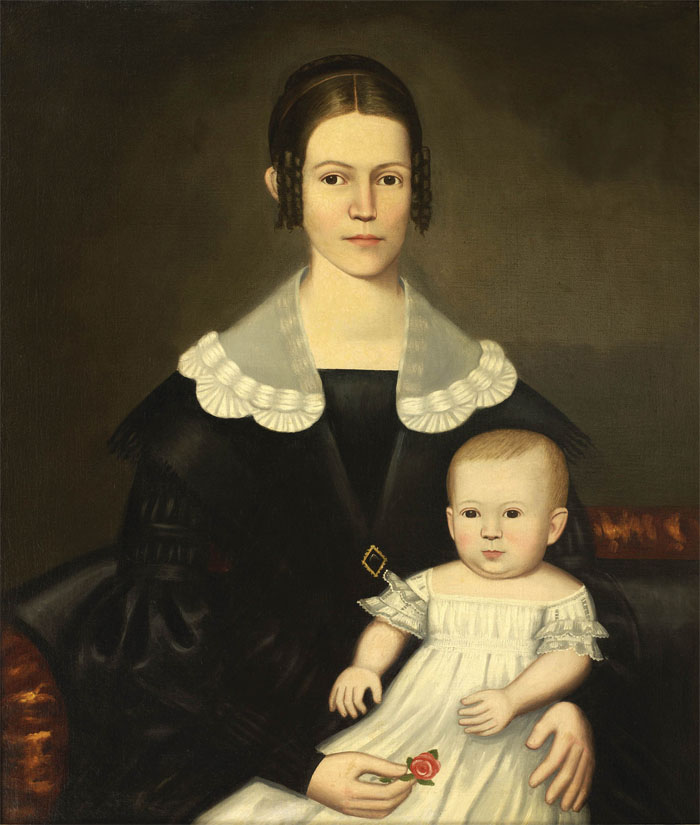 Erastus Salisbury Field, Woman and Child, c. 1840, oil on canvas, 34¼ x 29¼". Bennington Museum Collection.
 
In the fall of 2012, shortly after Robert Wolterstorff assumed his position as executive director of the museum, we began brainstorming the upcoming schedule of temporary exhibitions. An idea that kept rising to the top of our list was an exhibition of portraiture. I wracked my curatorial brain trying to devise an interesting twist or new angle that could add excitement to this well-trod theme. As I developed a checklist of possible works that were either represented in our collection or easily accessible as loans, two artists kept sticking out: Field and Neel.
Field is represented in the museum's collection by nine portraits, all depicting sitters from Bennington County. Among these are at least three paintings that rank amongst the artist's best work, including portraits of a three-year-old Luman Preston Norton, his father Julius Norton, and an unidentified portrait of a young woman and child. Likewise, our access to work by Neel was predicated on her having a number of connections to Vermont. Foremost among these was the fact that Jonathan Brand, who grew up in Bennington and is a good friend of the museum, has a sizable collection of Neel's work. Brand's father, Millen, a Social Realist author, had been close friends with Neel in the 1930s; as an adult, Jonathan developed his own friendship with Neel and acquired numerous paintings from her over the years. During a casual conversation with me in 2010 Brand mentioned his Neel collection and noted that he'd be happy to share it with his hometown museum. I filed away that information until the idea for this exhibition germinated. Almost coincidentally, although she was a New York-based artist, Neel had a studio and is buried in Stowe, Vermont, on a property her son and daughter-in-law have lived on since the early 1970s. They, too, have been instrumental in helping me realize this exhibition.
Still, what do Field's and Neel's portraits have to do with one another? Anna Mary Robertson "Grandma" Moses may seem a quirky tie-in. However, as a result of my work on Moses, including a recently unveiled reinstallation of the museum's Moses Gallery, I have become increasingly aware of the deeply intertwined histories of folk art and modernism. Bennington Museum holds the largest public collection of her work in the world.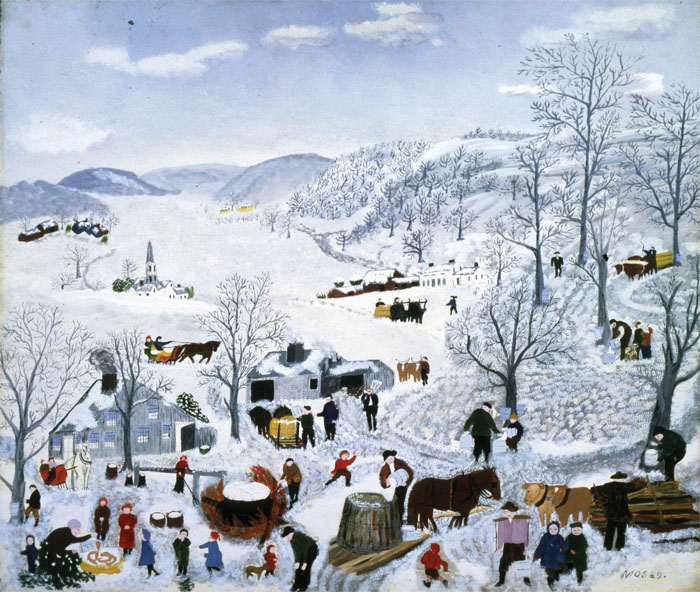 Anna Mary Robertson "Grandma" Moses, Sugaring Off, 1943, oil on pressed board, 23 x 27″. © 2014, Grandma Moses Properties Co., New York. Private Collection.
A 1932 exhibition at The Museum of Modern Art, American Folk Art: The Art of the Common Man in America, 1750–1900—often cited as the first museum presentation of early American folk art—featured two of Erastus Salisbury Field's now iconic full-length portraits of young children. At this time, Neel was living and painting in Manhattan's Greenwich Village. She was certainly aware of widespread art world interest in early American "primitive" art, a fact that has been noted by previous Neel scholars. It is the striking visual resonance between Neel's intense, nude portrait of her estranged daughter, Isabetta, from 1934, and Field's portrait of Luman Preston Norton, c. 1840, that originally sparked my imagination and prompted me to consider pairing Neel and Field.
As I researched their work further, I became aware of the artists' mutual interests in socially progressive politics and came to realize that when considered together, they would help shed a nuanced light on the relationship between avant-garde art and romanticized notions of the "folk." In these ways, an exhibition of consequence—meaningful in multiple ways—has been brought to life. This is the curator's role anywhere, a role embraced at the Bennington Museum.
---
Jamie Franklin is Curator of the Bennington Museum, Bennington, VT.
©2018 Art New England, All Rights Reserved
Designed and Developed By: T. Montgomery