New Sculpture: Defying Gravity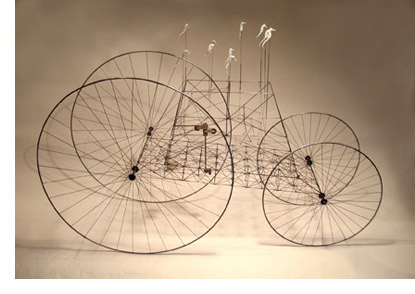 Sculpture. The word alone brings to mind art that's weighty—made of marble, bronze, or welded steel—and often monochromatic and static. However, new sculptors defy old paradigms using unconventional materials, combining color and motion, and creating work that appears absolutely weightless.
Among New England artists changing sculpture's scope is Sheila Pepe, whose work showed recently at Carroll and Sons Art Gallery in Boston. Common Sense and Other Things, the main installation in the show, linked the two gallery spaces. Made of rope, yarn, and shoelaces, the art stretched in space like a giant spider web. The piece extended thirty feet, wrapping around a central wall dividing the space, spreading from the ceiling to the floor, forming a web of blue, black, and gray filaments. Unlike conventional marble, bronze, or steel, Pepe's materials are changeable—ideal for viewer participation. Thus, in this installation, the artist left behind some knitting and crochet needles and yarn so that viewers could add to the structure. Also, because the installation did not have one observation point, viewers had to walk through the spaces to experience it. Ephemeral, haunting, and beautiful, the sculpture became an experience in perception as well as the perception of that experience.
Sculptor David Lang combines motion and humor. "The work is welded from thin steel wire, rods fabricated into fantastic, open vehicles on delicate wheels," says Lang, whose studio, in Wayland, Massachusetts, resembles an alchemist's abode with doll parts, records, farm implements, and welding equipment. "The wheels represent the passage of time as well as space. Motion is both inferred and actual, generated by a motion sensor in the piece."
In one of Lang's pieces called Swine Flew, shown in the Boston Sculptors Gallery, three small pig figures equipped with wings, fly in space over a welded rod chariot when the sensor is activated. Amusing, seemingly weightless, delicately structured, the work teases the imagination and our earthbound ideas of sculpture. Another light-structured piece, Horse Play, has a phalanx of preserved sea horses that gallop up and down at different heights, suggesting the rush of the sea and its inhabitants. These and other space structures challenge our perceptions of both process and finished work; however, Lang insists the most important components are air and imagination.
Julia Shepley, a Massachusetts artist exhibiting at the Boston Sculptors Gallery, uses the very ephemeral element of shadows in her work. Interested in the layers of space and time, Shepley uses thread as a medium to draw in three dimensions.
"Shadows are evocative, capturing the spirit of the object and adding an abstract quality that the physical thing doesn't have," says Shepley. "The shadow elements in my work suggest the inner life of the concept. I work with phrases, poems, ideas, and translate them into thread, rope, wood, wire, and Plexiglas, connecting them together to create a configuration that changes as I work on it. In Sky Habitation, shown at the Boston Sculptors Gallery, elements were added on, changed, and then suggested new connections and configurations." Shepley's work, perhaps the most immaterial of the sculptures considered, combines positive and negative space, art
and science, and concept and realization in elegant and evocative ways.
Rhode Island artist Adrianne Evans primarily uses glass in her work. If An Atom… was shown in Weighted Spaces at the Providence Art Club. Evans says the work is made of "pulled glass cane, Plexiglas, copper wire, and imagination." To construct it, Evans heated glass rods in a hot pot, attaching copper wire pipes at the ends, stretching the rods into long cylinders. Then she molded the semimelted glass, fastened to a circular wood base, upward into a circular top in lengths that stiffened into curved arcs, creating a sphere of equidistant transparent ribs six feet high and six feet in diameter. The finished piece both interacts with space and has a glistening immaterial shape of its own. It is a triumph of art, technique, and vision.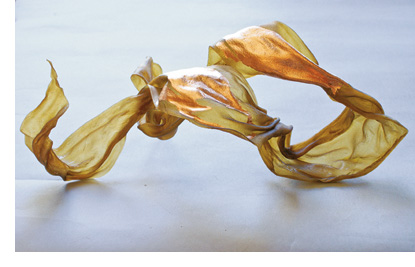 Massachusetts artist Rosalyn Driscoll makes use of a very unusual material for her modern sculpture: tanned cow hides from Texas. She either molds them into freestanding pieces or drapes them over transparent Plexiglas bases, creating the impression that they're floating in space. The idea of rawhide as sculptural material came to her during an artist residency in New Mexico. Pliable, the material adapts to numerous configurations. In some pieces, the artist employs mirrors over a wooden frame, further dematerializing the object. Some of her works, such as Calligraphy I, are molded so fluidly they seem to be on the point of taking off into space.
Jedediah Morfit, a sculptor on the faculty at Rhode Island School of Design, uses motion, planned and random. Your Weight or Your Fate is made from ceramic, wood, and ice. On a ladder-like structure, a ceramic bowl is filled with ice and sits on a cantilevered shelf. When the ice melts, the bowl is propelled through space and breaks into pieces when it hits the floor. In this work, space both penetrates the structure and is penetrated by the arc of the falling ceramic. It is a kinetic piece, as weight and weightlessness are combined, and as the sequence unfolds, it becomes a performance piece. The sculpture was shown in the Providence Art Club exhibition, Weighted Spaces.
Although these twenty-first century sculptures have new forms and concepts, there is ancestry for these works in the mobiles of Alexander Calder (1898–1976), who used motion from the passage of air or mechanical devices to change shape and configuration, suggest rather than overtly state, and offer fluid, moving works without solidity or stability or even a single viewpoint.
The new sculptural expressions of New England artists bring new qualities and concepts to the field of art, and are appropriate representations of the twenty-first century orientation of mutability, instability, and the multiple perspectives of a global worldview.
________________________________________________________________________________________________
Alicia Faxon has been writing for Art New England almost since its inception. She is professor emerita of art history at Simmons College and author of seven books, including Self-Portraits by Women Painters and Dante Gabriel Rossetti.
 
©2018 Art New England, All Rights Reserved
Designed and Developed By: T. Montgomery