out of bounds 2014
We want it to be our Armory Show," says Bob Armstrong, co-curator, along with his wife, artist Jill Whitney Armstrong, of their upcoming exhibition at the Rockport Art Association. "We want out of bounds 2014 to be incendiary…and blow things wide open."
It may seem strange to associate genteel Rockport with incendiary happenings. This seaside, seasonal community is more renowned for its rocky shores, stoic lighthouses and "quaint" art galleries. Oh, and that small, red fish shack, the Motif #1. However, there has always been more than meets the eye here. Rockport and the Cape Ann area, in general, have been lived in, summered in, studied in and painted by some of the greatest artists of our time, including Marsden Hartley, Winslow Homer, Edward Hopper and Milton Avery. Inside these "quaint" galleries and paint splattered studios, just an hour north of Boston, great art has been happening for generations—Emile Gruppe, Aldro Hibbard, Fitz Henry Lane. The list is long. Yet, today, these masters of modern art are yielding to a wave of new, young contemporary artists, and Rockport is changing.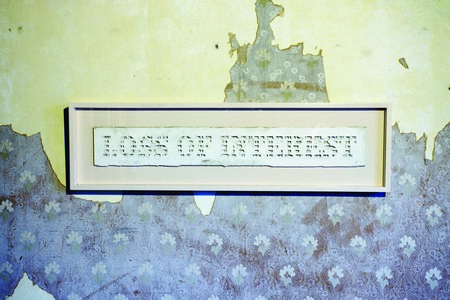 Alex Hamrick, Loss Of Interest, 2013, cut paper, mat board, house paint, wood, 6″ x 3′.
Several of these early masters, and early members of the Rockport Art Association (RAA) —Hibbard was a founder in 1921 and others include Eric Hudson, Marguerite Pearson, Harold Rotenberg and Peter Vincent—had another element in common—they were all alums of the School of the Museum of Fine Arts (SMFA). out of bounds 2014 thus becomes a bridge between the Cape Ann of 'yesterday, today and tomorrow' and the SMFA of today.
Embracing change is risky and Rockport gets that. "We want to bring a whole different set of people through our door and to embrace all kinds of art," says Carol Linsky, Executive Director of the RAA. "We're looking to expand our audience, to bring in younger people…to mix things up and go forward. It's really exciting."
Somewhere between 'yesterday and today,' Cape Ann fell into a lull. Economic hardships and the ebb of the fishing industry may have slipped Cape Ann into an existential state. A serene state of simply 'being' while continuing its art-making. It produced a "lack of awareness," according to Paul Kotakis, Manager of SMFA's Annual Programs. "There's been a big gap…Everyone sets their sights on New York for support and nurturing," explains Kotakis, "yet there's plenty of local towns that want to engage these young artists but they're not quite sure how. The first step is to show them we're doing interesting, relevant stuff."
Fast forward to today. Sitting in their iartcolony gallery in Rockport, flipping through slides with Bob and Jill, you can feel their energy exploding with each syllable. There's so little breath between their words—and they rapidly complete each other's sentences—that "BobandJill"seems a more appropriate moniker. out of bounds 2014 is the brainchild of the Armstrongs who also sit on the committee of the annual SMFA Art Sale where they first met Kotakis. At a recent meeting, Kotakis posed, "Where are my North Shore people? I know there's an interest, why are they not coming?" The gauntlet thrown, less than two months later Bob was calling Kotakis with news. It's Kotakis this time who completes Bob's sentences, beating him to his own punchline. "So you want to put on a big show?" he asked. "A big show," Bob one-upped.

Nikki Rosato, Untitled (Mouth to Mouth 1), 2014, hand cut road map, 11 x 14″.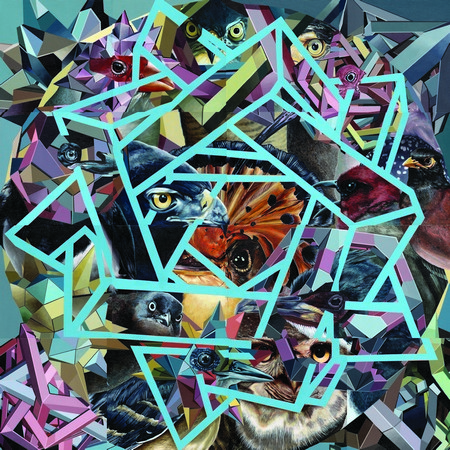 Juan Travieso, Swan Songs, 2014, acrylic on 16 wood panels, 48 x 48″.
Faster than you can say plein air, Bob and Jill secured the Rockport Art Association as a partner. "It's a match made in heaven," beams Linsky. With the SMFA behind the outreach—and the RAA granting Bob and Jill full artistic license —the artists were on board in record time. Why are some of the most innovative, edgy, young artists suddenly interested in a show on Cape Ann? "Because I said, 'Hey, we think you know that the North Shore is an interesting place and we want to show them what we're made of. Everybody is eager to help and to showcase the school in such a good way."
Another poignant element to this partnership, RAA's Marguerite Pearson Gallery will show the work of past alums Hibbard, Rotenberg, Hudson, Vincent and Pearson herself. Reminding us of their influence, their impact, and, no doubt, offering their approval. Current RAA members/SMFA alums include Judith Goetemann, Jeff Weaver and Ray Crane whose work will hang in the Hibbard Gallery. From Pearson, visitors will walk through Hibbard and into the Maddocks Gallery, where out of bounds 2014 will stand, August 23–September 23. Those twenty steps or so from one gallery to the other, representing a 93-year connection to the SMFA.
Art New England has chronicled and congratulated the RAA's embrace of contemporary art. Three years ago, Outside In (July/August 2011) welcomed the work of three stellar contemporary Gloucester artists: Gordon Goetemann; Jon Sarkin; and Ruth Mordecai (yes, another SMFA alum). Gloucester may be just minutes away yet the impact was deep. Last summer, the RAA presented Yesterday, Today and Tomorrow (July/August 2013)—featuring Jill Whitney Armstrong; sculptor Chris Williams and photographer Phillip Jones. It was the first appearance of photography in the main galleries of the RAA. Chalk that up to Bob and Jill. "They have the energy of 5,000 people," notes Linsky. "We're very lucky to have them." With a fierce desire to see Cape Ann recognized for its true self, they have —combined with the power of the SMFA —moved mountains, or, in this case, breakwaters that had been slowing Rockport's tide from turning. Rockport may have well been on its way but it's Bob and Jill's carpe diem approach that escalated the timeline. Clearly, RAA and SMFA are each about to experience the impact. "I can guarantee you that the RAA won't know what hit them—but they're gonna love it,"says Kotakis.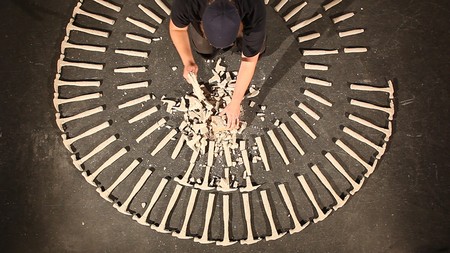 Greg Lookerse, Seventy Seven Clay Hammers Hammering One Nail of the Kneeling Confessional, 2012, 77 clay hammers, block of wood, single nail, video documentation in 16:9, duration: 8:51 minutes. All images courtesy of the artists.
Two of the selected artists, Alex Hamrick and Greg Lookerse, have each visited Cape Ann and are creating site specific work. Hamrick, a text-based, 2-D artist inspired by the sounds of Rockport writes, "I am planning on showing a mix of work, probably several drawings, a cut paper piece, and a cut wood piece … The phrase I'm planning on using is 'You sound like the entire ocean right now; I can't understand a word you're saying' … although that could change." Lookerse's visits to Cape Ann left him "contemplating the irony of the place. The beauty and idyllic towns are home to some of the most dangerous seas in the Northeast. After my second visit, I took to reading T.S. Eliot's The Dry Salvages. Eliot seems to have had a similar experience of the Cape … I'm interested in the connection artists of the past have had to this place … Eliot describes the men at sea as only seeing the future … and the women on the land as only seeing the past. My installation will explore this lack of interest or perhaps fear of the present."
There is no fear of the present here—nor the future—in this lively, little town. "It's important that we keep going in this direction," notes Linsky, "That we stay ahead of the curve, rather than behind it." Where else but in New England could this story unfold? Like Rockport, New England can retreat to its provincial side yet can flash its contemporary alter ego at a moment's notice. Not unlike the weather.
Not only will out of bounds reignite a dialogue and a reciprocity between Cape Ann and Boston, it will spark a tempest, thereby fulfilling Bob Armstrong's prediction of an incendiary event. A blaze of sea-inspired creativity, a blaze as red as the Motif #1 itself.
 
©2017 Art New England, All Rights Reserved
Designed and Developed By: T. Montgomery