Outsiders Invited into Rockport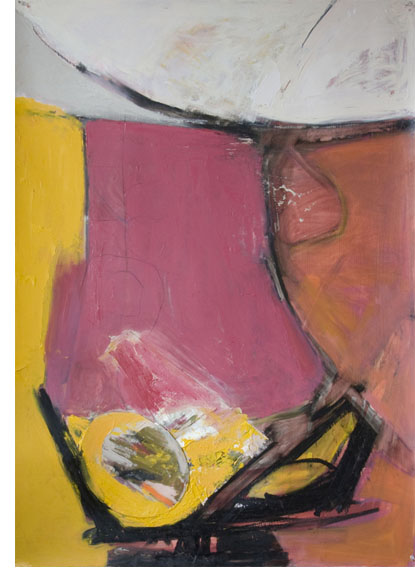 In a departure from tradition, the historic Rockport Art Association, which mainly exhibits traditional landscapes by its members, has invited Gloucester artists Gordon Goetemann, Ruth Mordecai, and Jon Sarkin to show their work. Carol Linsky, the Cape Ann gallery's executive director explains, "This is our ninetieth anniversary and we wanted to step outside the box a little and get people exhibiting…who had an exciting twist on their work."
Ruth Mordecai, who trained as a figurative sculptor in clay and steel, now works two dimensionally. Her works are in the collections of the Museum of Fine Arts, Boston, the Israel Museum, and the Rose Art Museum. Two works on paper from the 1980s look back to her sculptural history. Between Drawing and Sculpture, a blocky oil stick and graphite drawing of a back, brings to mind Matisse's series of bronze backs, while the monumental arch of Armature Series VI Back, a sixty-eight by forty-two-inch oil collage, veers towards architecture.
In 1999, Mordecai moved from Boston to Gloucester and started to paint the landscape. Her recent collaged oils on paper synthesize landscape, figuration, and metaphoric abstraction. The expressive gesture and large vertical format of her Dance and Between Painting and Sculpture series refer to the body. In her Stack series, black calligraphic forms, derived from memory and Old Testament imagery, are embedded in painterly white grounds to create an eloquent symbolic space.
Gordon Goetemann is known for two distinct bodies of work: his sensitive oils and graphite drawings, which detail shifting light and water at the shore's edge, and his imagined and abstracted landscapes like the Celestial Island sequence of large oils on view in Rockport. As with his Narrative of Life and Glory, a suite of paintings based on Mahler's Second Symphony and exhibited at the Cape Ann Museum in 2009, Goetemann's intention here is to create images with a spiritual dimension.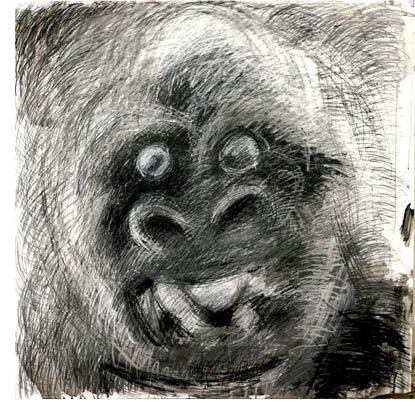 Goetemann designed the studies for his Celestial Island series on the computer. The resulting palette of high-key yellows, oranges, and greens, paired with deep blues and indigos, contrasts with the more subdued hues he uses in his representational work. The compressed shapes in Round the Cape and Essex, the two smallest paintings, each at thirty-eight by thirty-six inches, read as pure abstractions. In Genesis, Celestial Island Transfigured, and Luminous Planet, the acerbic color and bird's eye view of a vast landscape—over which float luminous bits of matter—evoke a visionary's view of worlds in formation.
Jon Sarkin came to art-making after a stroke and a brain hemorrhage in 1989 altered his cognitive landscape. He developed a passion for drawing and obsessively has made art influenced by comics and popular culture ever since. His work has been exhibited by the DeCordova Sculpture Park and Museum, which recreated his Gloucester waterfront studio in the 2006 DeCordova Annual Exhibition.
Several of Sarkin's large, loosely-drawn portraits of cultural icons are exhibited here, including Kong, a forty-eight by forty-eight-inch, humorous black-and-white drawing of a gorilla, and Superman. The superhero's abstracted features, painted in primary colors on a ragged piece of recycled cardboard, bear a resemblance to heads painted by Dubuffet and Jim Nutt. Sarkin's animated drawings merging text and image also are on view. Comprised of doodles, snippets of collage, random phrases, and lists of the names of artists and musicians, these associative mental maps completely cover the paper's surface and are reminiscent of the cartoons of Saul Steinberg.
_______________________________________________________________________________________________________
Anne Krinsky is a Boston-based artist whose work is in the collections of the British Museum and the Boston Public Library. Her recent solo shows include Anne Krinsky: A Provisional Space, at Soprafina Gallery, and Anne Krinsky: Time/Line, 2000–2010, at the Trustman Gallery.
©2017 Art New England, All Rights Reserved
Designed and Developed By: T. Montgomery