Where to Draw the Line
Nineteenth-century French painter Jean-Auguste-Dominique Ingres wrote, "To draw does not mean simply to reproduce contours; drawing does not consist merely of line, drawing is also expression, the inner form, the plane, modeling." Going by the work featured in the twenty-five or so shows in the Maine Drawing Project, Ingres knew whereof he spoke: This foundation of art can be much more than lines and contours (although these elements continue to play an important role).
Like the 2006 Maine Print Project, its predecessor and inspiration, Where to Draw the Line: The Maine Drawing Project explores its chosen subject from many angles, enhancing one's appreciation of the range of its technical and expressive possibilities. The project got off to a strong start in January with a number of notable shows, including Alex Katz: Drawings at the Colby College Museum of Art (through October 2) and The Bible Illuminated: R. Crumb's Book of Genesis at the Bowdoin College Museum of Art (through May 8). Momentum will increase through the summer and fall as a multitude of exhibitions opens.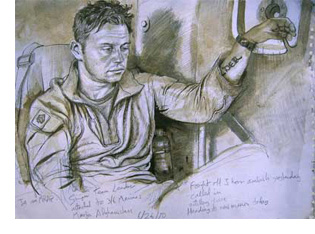 In the pushing-the-envelope category are Reese Inman's electric burn drawings at the Center for Maine Contemporary Art (July 16–September 18). The Belfast, Maine-based artist practices a drawing technique that involves "taking away from the paper instead of adding to it." Working from an algorithmically generated printout, Inman uses an electric tool to trace the design, burning tiny holes of varying sizes through the cartoon onto a sheet of paper beneath it. The resulting work is mesmerizing—even tessellating, to borrow from the title of one of her pieces.
The same venue is also presenting Steve Mumford: Embedded—Recent Drawings from Iraq & Afghanistan (May 28–July 10). Originally from Boston, now living in Manhattan with a studio in Maine, Mumford is a combat artist who has worked on and off in Iraq and Afghanistan since 2003. He arrived in Baghdad the day Saddam Hussein's statue toppled and was in Kabul as recently as this past March, on assignment for Harper's.
In an interview on PBS's Need to Know, Mumford describes trying to capture the everyday life of Iraqi, Afghan, and American soldiers in the midst of war. While the horrors are indeed depicted, most of his drawings offer scenes of relative calm. The 2010 graphite Sniper Team Leader exemplifies Mumford's empathetic approach, which reveals, in CMCA director Suzette McAvoy's words, "intimate aspects of the war zone that can't be communicated in photographs."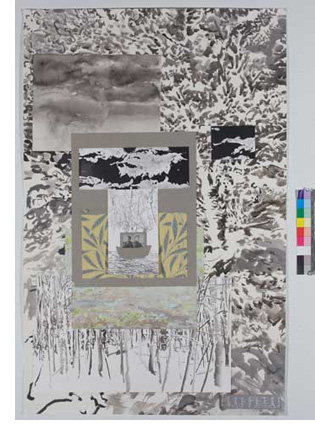 The painter Emily Brown, who divides her time between Philadelphia and Montville, Maine, is featured in two shows. At the Farnsworth Art Museum, she joins Mary Barnes, John Moore, and T. Allen Lawson in that venue's annual Four in Maine showcase (April 16–September 11), which is devoted to drawing this year. A solo show, Emily Brown: Drawings and Recollections, opens at Waterfall Arts in Belfast later in the summer (August 8– September 23).
Both shows feature Brown's remarkable new assemblages. Working intuitively, the artist has recycled odds and ends of incomplete artworks—including print proofs and drawings, plus assorted remnants from her Montville home, including wallpaper—into poetic compositions.
William Brayton, who teaches at Hampshire College, will exhibit recent wall pieces and related drawings at the George Marshall Store Gallery in York (August 27–October 2). The sculpture, which combines found objects with fabricated elements in wood, bronze, aluminum, and other materials, has a strong linear quality.
A number of venues are drawing on their permanent collections. The Ogunquit Museum of American Art will present Henry Strater: The Drawing Tradition (May 1–October 31), a sampling of the artist and museum founder's early drawings and related paintings, and Drawn to Modernism (September 8–October 31), works on paper by modernists active in the Ogunquit area, among them, Peggy Bacon, Will Barnet, and Bernard Karfiol.
Other exhibitions include Children's Book Illustrators at the University of New England Gallery (July 27–October 30); Andrew and Jamie Wyeth drawings from the collection of Victoria Browning Wyeth at the Bates College Museum of Art (June 10–October 21); and Christy Bergland: Late Seasons of Great Pond at the Saco Museum (September 17–November 13). Rounding out the year will be Drawing On at the University of Maine at Orono (October 12–November 18) where invited artists will draw directly on the walls of the Lord Hall Gallery.
Camille Smalley, education and program manager at the Saco Museum; and Laurie Hicks, associate professor of art and art education at the University of Maine, spearheaded the year-long project. According to Smalley, members of the consortium of curators and directors who were involved in the Maine Print Project continued to meet to discuss a future collaboration. The theme of drawing emerged. You can say that again.
____________________________________________________________________________________________________________
A new edition of Carl Little's 1993 Edward Hopper's New England has just been published by Pomegranate.
 
©2018 Art New England, All Rights Reserved
Designed and Developed By: T. Montgomery