Women Artists Find Their Voice in Istanbul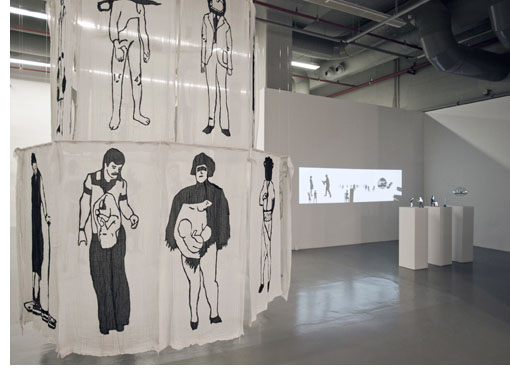 The Republic of Turkey offers a chance to live the dream of modernism. As European cities globalized through international expositions a century or more ago, Istanbul first instituted its biennial in 1987; in 2004, a museum, Istanbul Modern, opened. Almost a century ago, in 1913, the Newspaper of the Ottoman Painters' Association said, "We have to admit that the profession of painting and our unique way of life, and much less painting and womanhood, have never, even when persevered, agreed with each other."
As a corrective, Dream and Reality (through January 22) exhibited the works of seventy-four women, created since the establishment of the Republic under Ataturk in 1923. A visitor could see that from the beginning, some daughters of the wealthy had found a way to study painting and pursue careers, often in Paris, and were exposed to modernist impulses. Earlier works tended to favor portraits in the Boldoni/Sargent model. Younger artists, primarily in their forties and fifties, worked with newer approaches. Video, such as Elif Celebi's Desire (2001), shows bees struggling and drowning in a glass of Fanta at a café in a Serbian border town, the surrounding political struggle its inspiration. There is also multimedia familiar to the international festival circuit, but concerned with distinctive issues. Gunes Terkol, born in 1981 and the youngest artist included, showed dozens of images of Izmir's varied social classes in life-sized stitched and sewn images.
The climax of the first succession of galleries was a large painting by Fahrelnissa Zeid (1901–1991). A 1980s work in the lobby attests to her importance, but its mechanical forms in an allover composition, awkwardly bridging Léger and abstract expressionism, was predictable and late. The work in the exhibition, from 1953, claimed its historic importance. Its size—fourteen feet and ten inches wide—puts it in the range of the environmental aspirations of Newman and Pollock. But the fabric of forms here derives from the Turkish alphabet, rather than abstractions of human form.
Zeid's biography is equally exotic: she became the mother of Turkey's leading male abstractionist, Nejad Devrim, in her second marriage to the man who would be king of Iraq, had the Hashemite dynasty continued. Social privileges had afforded her entrée to the art world of Paris, where she showed from the 1940s on, but the first survey of her work was in Istanbul, only in the last decade.
In 2006, the Guerrilla Girls, reading coffee grounds in Istanbul, predicted that, "The curator with the best record for exhibiting women artists will be cloned and his duplicates sent all over the world." If so, the quartet here may claim a space for Asli Sungu (born 1975). Her double-screen video of a woman exasperating respectively her bored elderly father and her more engaged mother with endless trying on and casting off of clothes was a high point of levity from the newer generation.
____________________________________________________________________________________________
Monroe Denton is a writer and critic based in New York City.
©2018 Art New England, All Rights Reserved
Designed and Developed By: T. Montgomery