Exposure: 7 Emerging Photographers
How do we define an "emerging" artist? The trend in recent exhibitions and prizes is to feature artists exclusively under thirty-five. But as they say, age is only a number, and not all artists new to their discipline, their region, or to recognition are young. Are they those artists who are pioneering emerging trends or ideas in their chosen medium? Novelty does not always mean quality. Emergence is a nebulous concept, but in searching for the artists for this feature, it was most easily attached to a certain feeling, an immediate reaction of "Why haven't I seen this work before?" New England is composed of many creative enclaves, and it's easy for new and exciting work to slip through the cracks. The seven photographers on the following pages are those who deserve attention outside their respective networks, and we look forward to watching their continued ascent into the expanded field.
They range from recently graduated to midcareer. Some are pushing the limits of what is even considered photography, while others are taking traditional methods to a new level. All have recently been recognized locally or nationally for creating new and exciting work in their discipline. This might be the first time you've seen their work, but it surely won't be the last.
TARA SELLIOS
Massachusetts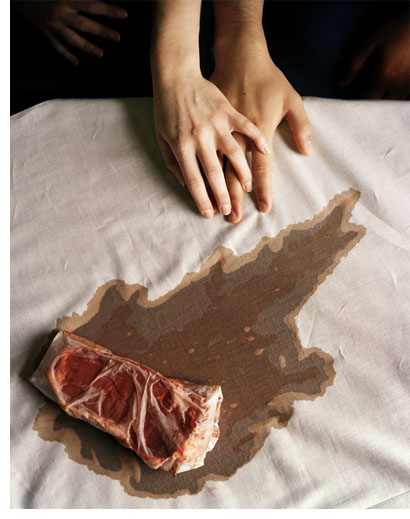 Tara Sellios of Boston has managed, in her relatively short career, to produce a profoundly clear and affecting body of work, to much critical recognition. Born in 1987, Sellios may indeed be the youngest artist profiled in this feature (and perhaps in the entire issue). Since graduating from the Art Institute of Boston as an undergraduate last year, she has been lauded by the photographic community locally and nationally for her intricately plotted, viscerally powerful still lifes. Using a large format camera, Sellios creates images that speak to a long tradition of memento mori in still life, juxtaposing bounty and excess with a grim reminder of mortality.
Much like the still lifes in oil of the Northern Renaissance and baroque periods, Sellios works with food and place settings, but these images are no soft ornament. Animal viscera, dead fish, bones, spilled wine (or possibly blood) are draped over pure white tablecloths, piled onto silver plates and poured into glasses and decanters. The result is at once pleasing in its vibrancy and deeply unsettling. These nightmare table settings suggest not only the slow decay of excess inherited from traditional memento mori, but also a very modern take on the line between sensuality and restraint. In moving the eye across her compositions, the viewer is at turns drawn in by the sumptuousness of textures and colors, and repelled by the content itself. In one image from the series Lessons of Impermanence, two hands lay on a white tablecloth, a woman's on top of a man's, both seemingly reaching for a blood red haunch of meat that stains the cloth a ruddy brown. The tension in both the gesture and composition is alarming.
Seven Evil Thoughts, a series of still lifes stretched across six panels of individual photographs, suggests in its title a reflection on guilt and redemption. But there is nothing apologetic about these images. Sellios is aware of the excesses in her works, and revels in them. After the initial shock wears off, images that originally seemed confrontational, even predatory in their violence, reveal a second nature that is introspective but no less self-assured. At once brutally direct and wickedly subtle, this young artist is one to watch carefully. Visit www.tarasellios.com to see more of her work.
JONATHAN GITELSON
Vermont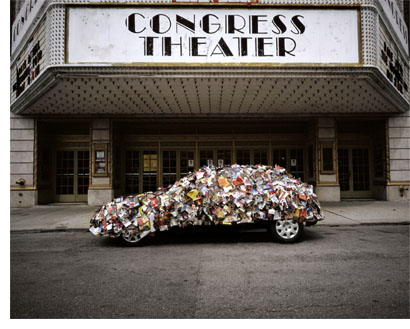 "Photography was my first love and is the medium that I have both studied and that I teach; however, I identify myself more as an artist than as a photographer. I mean by this that my work is previsualized conceptually and that oftentimes photography is my means of illustrating an idea or documenting a performance."
Jonathan Gitelson of Brattleboro combines photographs with handwritten notes and itineraries, graphs, and comic-book style narrative panels. These are employed to describe, in painstaking detail, seemingly mundane exercises and problems: a secret handshake with a friend or finding the "sweet spot" where a train car is most likely to open its doors at the platform. It's clear from these projects that the artist is always working, always receptive to the idiosyncrasies of routine that creep into his artwork. In the Car Project, Gitelson collected hundreds of flyers from nearby nightclubs and theaters that were strewn across the gutters and windshields of his neighborhood. He then made a car cover patchworked with the flyers, photographing the titular vehicle in front of the venues.
Gitelson takes ownership of those things that can often be alienating: the morning commute, searching the classified section in vain for that dream job, a stolen garbage can. Gitelson carefully records and documents them, not to reach any real conclusion, but to feel himself as part of the process, and not a passive spectator. Find him at www.thegit.net.
MEGGAN GOULD
Maine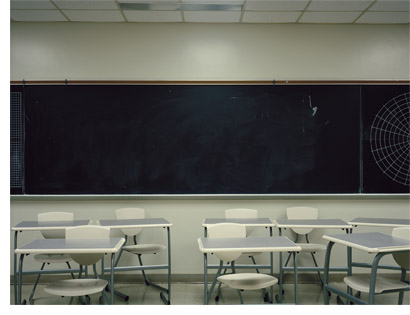 Brunswick-based artist Meggan Gould's background is both international and based in New England, having studied photography at RISD and UMass Dartmouth, as well as the Paris Photographic Institute. For the past five years, she has taught at Bowdoin College, and the academic setting has made its way into her photographic work, specifically in her quiet images of classroom blackboards. This is part of her Surface Tension project, composed of photographic series that focus on how we frame and organize visual information. Other sets in the project include Verso, which looks at the backs of photographs, and Screenshots, photographs of the virtual space of computer desktops. Gould's focus is on the information we are most likely to overlook, which she believes can tell us the most about a subject. Verso suggests that the notes, dates, and weathering on the back of a photograph can tell us as much about its history as the image itself; and Screenshots posits that a computer desktop, as intimate and commonplace as one's bedroom, can shed light on the owner's personality. Most recently, Gould's attention has been aimed at the camera itself. In Viewfinders, she photographs the technical information one sees when looking through various cameras. Oftentimes what is most important in Gould's images is the peripheral information—that which exists outside of the frame in question, or the frame itself. See these and other series online at www.meggangould.net.
KEVIN VAN AELST
Connecticut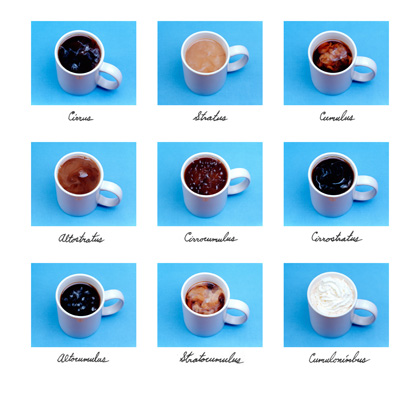 In the age of digital production, we have become increasingly distrustful of the authenticity of the image. Nearly anything can be faked, manipulated, or photoshopped, and if an image seems impossible, it's easier to assume that it is. Kevin Van Aelst's photographs challenge the line between fantasy and reality. Simple but imaginative, Van Aelst's images are carefully constructed tableaux of everyday materials made extraordinary, and without the aid of digital manipulation.
These carefully planned images have an effortless quality to them. They bring up the kind of play found in arranging a meal to make a face on the plate, or drawing with one's finger on a frosted windowpane. Van Aelst takes these impulses to an extreme. He has a penchant for visual puns that, while seemingly simple, are carefully planned and painstakingly constructed. The sculptural impulse is constantly at play in his work.
Van Aelst has developed a strong following outside of the art world on image sharing and microblogging sites like tumblr, where his images are published and republished hundreds of times over, but often without crediting the artist. Van Aelst is not diminished by this. "Being put on tumblr and blog sites is a testament to images being interesting on the surface," says the artist. "While being placed on a gallery wall requires there to be a bit more—for an image to work on different levels and stand up to deeper attention and thought. I'd like to think that the work can be suitable for both venues." For more of his work, visit www.kevinvanaelst.com.
STEPHANIE CARDON
Massachusetts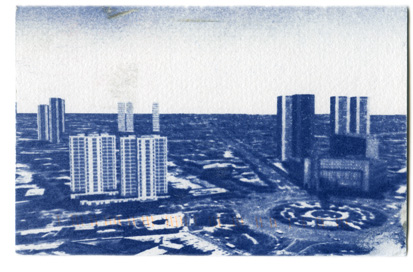 This Boston-based artist uses photography as her primary tool, but also employs text, video, sound, and sculptural installation. Raised in a bilingual household in France, with a background in history and literature from the University of Oxford, language is an essential element in her work, and many of her projects are inspired by literature.
Past works include Landor's Cottage Footnoted, a multidisciplinary project based on one of Edgar Allan Poe's final stories. Here Cardon reproduced the text in full, combining it with her obsessively detailed footnotes, color-coded classification of the original text, and photographs of the story's location. In Distal Zone, she reproduces virtual renderings of the Parisian cityscape as hazy blue cyanotypes. Stamped, addressed, and sent through the mail as postcards, the small images are displayed with poetic wall text that wraps around the gallery space. Cardon combines traditional and new processes, found and invented text, and fact and fiction to create open-ended, challenging narratives.
However her most recent work, Above Within Below, speaks to a more intuitive approach. A collaboration with sound artist Marc McNulty, the project is a sound installation and photographic series that attempts to communicate a sense of anxiety without definite source. It's a departure for an artist for whom source material is so tangible, even weighty. To see more of her work, visit www.stephaniecardon.com.
SCOTT ALARIO
Rhode Island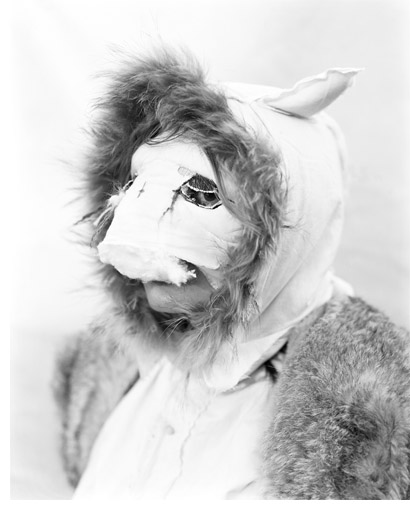 Scott Alario of Providence creates dreamy black-and-white images, illustrations to an unwritten fairy tale. Alario's work has always had a tinge of storybook naiveté, which only increased with the birth of his daughter Elska. Our Fable is a collaboration with his wife Marguerite Keyes (also an arist; the couple met while at MassArt) that began as a project for and about Alario's family, as a way of simultaneously inventing and documenting the half-remembered, half-dreamt period of early childhood. A sense of nostalgia in reverse, a knowledge of the process of future memories being forged, permeates the series. In one photograph, Alario, draped in a white cloth, bends over his daughter like a kind of human pup tent, shielding her from the impenetrably dark woods around them. Alario is hardly visible at first, but his daughter is lit sharply by the lantern placed next to her, her face blurred as if turning to the viewer. We have the sense that we too are watching over her, invisible but silently acknowledged. In another photograph from the series, a figure (possibly Marguerite) dons a white animal mask lined with fur and feathers. The playfulness of the image is cut by the intensity of the masked figure's gaze. Many of the images are tinged with the uncanny, a sense of something slightly amiss, similar to Sally Mann's photographs of children. Much of the series is dominated by white tones, soft focus, and double exposures, suggesting those pictures embedded in the mind earlier than memory.
Alario also has a deep connection to Iceland, where he lived for over a year, immersing himself in Reykjavik's art and music scene and drawing inspiration from the otherworldly landscape of the island country. You can find more of his work at www.scottalario.com.
GLEN SCHEFFER
New Hampshire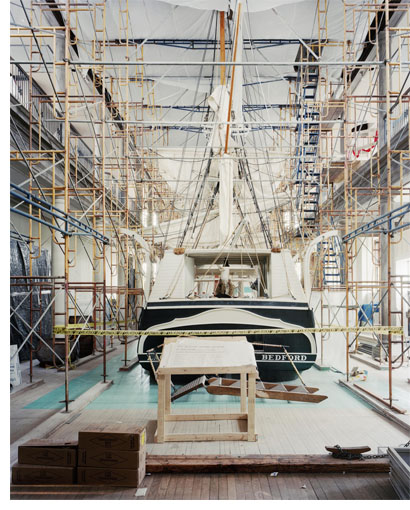 Glen Scheffer photographs social spaces: libraries, museums, and performance venues, curiously devoid of people. Despite their relative quiet and straightforward compositions, the images still retain a kind of maximalism, lent by the vastly detailed, sometimes chaotic spaces. The subject matter, treated with this mixture of austerity and vividness, calls to mind the work of Candida Höfer or Thomas Struth. Some of the most interesting images are spaces not typically seen by the public: the beat-up backstage waiting area of a rock club or a model ship gallery mid-installation, busy with scaffolding and packing crates.
Other ongoing series include formal studies of the artist's record collection. These tonally subtle black-and-white images treat the stacks of vinyl like celebrated art objects. Arranged in columns or piled and twisted into helixes, the arrangements are reminiscent of Hiroshi Sugimoto's photographs of seminal modernist sculptures. More of his work can be seen at www.glenscheffer.com.
________________________________________________________________________________________________________
Evan Smith is a writer, curator and artist based in Boston. He is the exhibitions coordinator at Axiom Center for New and Experimental Media in Boston, and editorial assistant for ASPECT: The Chronicle of New Media Art.
©2018 Art New England, All Rights Reserved
Designed and Developed By: T. Montgomery