Reviving the Troubled CMCA
After layoffs, cutbacks, and shutdowns, the Center for Maine Contemporary Art makes a stunning comeback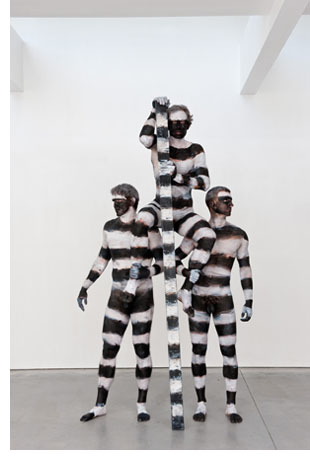 In October 2009, the board of trustees for the Center for Maine Contemporary Art (CMCA) in Rockport, Maine, laid off four of its five staff members and announced that the nonprofit gallery would close for the winter in hopes of reorganizing and getting its finances in order. Today CMCA is back, leaner by far in terms of staff,
budget, and hours of operation, but as vital to the Maine art scene as ever.
Two years ago, however, there were serious questions about whether the then fifty-seven-year-old art institution could survive. "We were in the same position a lot of arts institutions were in," says artist and CMCA trustee Dudley Zopp. "We had overextended ourselves."
"This was an organization in critical care that was not breathing on its own," says new CMCA director Suzette McAvoy.
Founded in 1952 as Maine Coast Artists, a nonprofit gallery that mounted summer shows of member artists from the midcoast area, CMCA became a year-round gallery in 1998 and changed its name in 2002 to reflect the fact that the gallery, housed in an old fire barn, had become the chief debut venue for new art and emerging artists in Maine.
When the financial crisis hit in 2009, the art community rallied around CMCA. Bruce Brown, the gallery's curator from 1987 to 2007, came out of retirement to help. Several former trustees returned as well.
In early 2010, having been closed for the winter, CMCA announced that McAvoy, former chief curator and interim director at the Farnsworth Art Museum in Rockland, Maine, would come aboard as director in September. "It takes a leader like Suzette to make everybody work together and make things happen," says Zopp. "To a great extent, it's Suzette who has made it happen." "From everybody's point of view," echoes Bruce Brown, "Suzette is the savior. She is pretty much universally admired."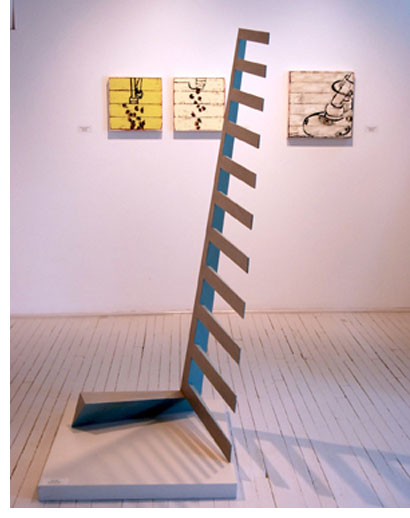 "CMCA has always been an institution I looked on favorably and wanted to survive," says McAvoy of her decision to take on the troubled gallery. "The crisis actually created an opportunity for it to reinvent itself. There was a question whether it could be revived."
What Went Wrong?
The easy answer to what went wrong at CMCA: the economy—what else? Arts institutions and nonprofits all over the country were badly hurt by the economic meltdown in 2008. But McAvoy, who reviewed five years of CMCA finances before taking the job, says there was "a snowballing effect" that overtook CMCA. "Operationally, it expanded too fast," she says. "It was a mistake for this organization to go year-round. The building is too large and it costs too much to heat."
Overexpansion could be seen in the gallery's increasing number of exhibitions it mounted from five a summer to twenty-five a year. By 2007, CMCA was running a $115,000 deficit. By 2008, the deficit had grown to $219,000. Attendance, once as high as 22,000 visitors a year, fell to 7,000. Membership fell from 851 in 2001 to 479 in 2009, falling off even more during the shutdown to 394.
Like many nonprofits, explains McAvoy, CMCA used a line of credit to get through lean parts of the year, paying off the line of credit after a major fundraiser, and then holding tight for thirty days before drawing on the credit again. As the gallery expanded and the economy worsened, this financing model became harder and harder to sustain. "They couldn't pay down the line of credit," says McAvoy, "so the bank converted it to a commercial loan secured by the building. Up until 2005, this organization didn't have any debt at all."
Then too, CMCA was suffering from a lack of leadership. When things came to a head in 2009, the gallery had been operating without a permanent director for two years, filling in with interim directors, a consultant, and, in the midst of the crisis, hiring a director without an art background. "There wasn't a steady hand at the helm," says McAvoy. "There was no mismanagement at all, but then the economy collapsed and the bank said it could no longer extend the line of credit. The only choice they had was to lay off staff."
What Was Done?
To get CMCA off of life support, McAvoy and the board of trustees (half of whom are new since 2009) have reduced the full-time staff from five to two (McAvoy and operations manager Paula Blanchard), cut the annual operating budget from $550,000 to $340,000, and made the decision to close the gallery from mid-December until May.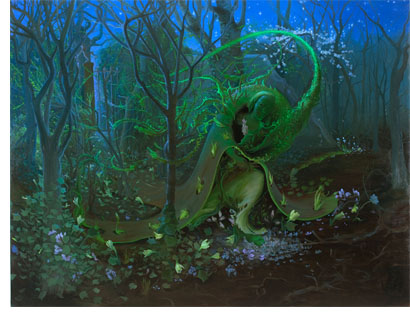 The new austerity has meant such things as replacing a fundraising software program with a $5,000 annual maintenance fee with one without a fee. But CMCA also underwent a minor facelift over the winter of 2010–2011 without incurring any debt. Using in-kind donations of time, talent, and materials, the gallery erected a new sign on the front of the barn, installed a self-service wireless coffee bar, converted a lower-level gallery into an ArtLab for children and community use, remodeled the lower level to create small galleries, and created a small apartment for an artist-in-residence. "These are all small things that add up to a fresh look," says McAvoy.
In turning the corner financially, CMCA has been aided by an annual art auction that brings in close to $85,000 and an annual appeal that raised $61,000 in 2010. CMCA was also awarded a $35,000 annual operating grant from the Quimby Family Foundation, a philanthropic entity established by Burt's Bees founder Roxanne Quimby to support environmental and arts initiatives. "Without that grant, we would not have survived," says McAvoy. "That vote of confidence from the Quimby Family Foundation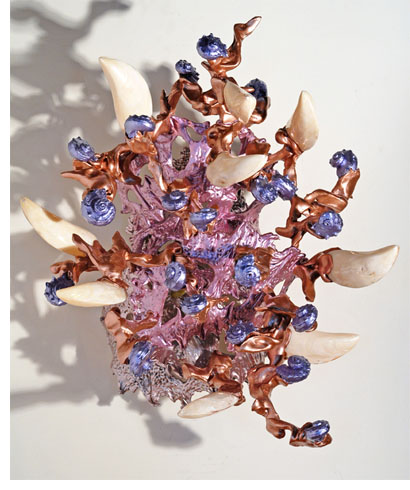 allowed us to go to Camden National Bank to refinance our loan. We lowered the rate from 7.8% to 5% and saw immediate savings. And the bank gave us credibility with arts donors."
What's to See?
Through all its organizational and financial
difficulties, CMCA has remained an important contemporary art venue, mounting, for example, major exhibitions by Will Barnet, Dozier Bell, Yvonne Jacquette, and a landmark Maine photography exhibition in 2010. "Artistic programming was not the problem," McAvoy said. "Britta [Konau, one of the staff members laid off in 2009] was a great curator. None of the things that changed were a criticism of past staff. It was all financial."
The CMCA mission is "advancing contemporary art in Maine through exhibition and educational programs." "Part of my vision is to show that Maine is not isolated," says McAvoy. "The best work being done here in Maine is connected to a larger international dialogue."
To that end, McAvoy, who serves as curator as well as director, has filled the 2011 summer schedule with exhibitions that connect Maine to the wider art world. Steve Mumford: Embedded—Recent Drawings from Iraq & Afghanistan featured combat zone drawings by Mumford, a Maine summer resident. (un)natural splendor: Inka Essenhigh & Richard Van Buren (through September 25) pairs fantastical paintings by Essenhigh, Mumford's wife and a New York art star, with the plastic sculpture of Richard Van Buren, another artist who divides his time between New York and Maine.
Works by installation artist Ethan Hayes-Chute, a Maine native now living in Berlin, Germany, will be featured concurrently with the Essenhigh-Van Buren show.
McAvoy says CMCA's established focus on cutting-edge art will not change. "What I love about CMCA," she says, "is that we can be closer to the moment. It's not our role to have retrospectives or loan shows. We can react quickly to what we see. I saw Steve Mumford's drawings for the first time in September and we had them in a show in May."
That said, McAvoy is now busy planning for CMCA's sixtieth anniversary in 2012. "We want to acknowledge the past but celebrate the future," she says. "CMCA is all about the future of art of Maine."
______________________________________________________________________________________________________
Edgar Allen Beem has been writing about art in Maine since 1978. He is the author of Maine Art Now (1990) and the editor of the forthcoming Maine Art New (University of Maine Press, Fall 2012).
©2017 Art New England, All Rights Reserved
Designed and Developed By: T. Montgomery