The First Rule of Mobius is You Don't Talk About Mobius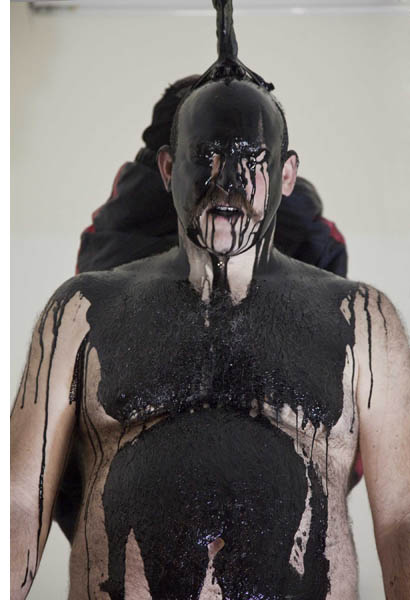 "Boston is the center for performance art internationally," Mobius Artists Group director Jed Speare tells me in the artist-run collective's new Cambridge space. A soft-spoken composer who works with sound, multimedia, and performance, Speare couches the claim by attributing it to the directors of Brooklyn's like-minded Grace Exhibition Space, but he does not dispute it, nor does he question Grace's assertion that Mobius, which is celebrating its thirty-fifth anniversary this year, is the oldest performance art collective in existence.
The implication is that Mobius, as Boston's performance-art anchor, is the center of the international scene, and I'm not sure I buy it.
"Where the 'international center of performance art' resides is a question that, immediately, engages both local and global issues of economic and artistic support," says T. Nikki Cesare, assistant professor at the Graduate Centre for Study of Drama at the University of Toronto, and Critical Acts editor of TDR: The Drama Review. Can Boston compete with Marina Abramović's spectacular retrospective at MoMA in 2010? With Tino Sehgal at the Gugg-enheim? With Performa?
That depends on what you mean by performance art, and, as Cesare notes, by "what it means to be the 'center' of a particular field—particularly one that, by its very nature, exists in some sort of cultural, political, and economic margins." Does New York, in its showcasing of perhaps an intentionally obscure art form, exempt itself from consideration for the (possibly specious) title?
"One of the ways we used to describe Mobius was as an R&D lab for the arts," says Marilyn Arsem, who founded the group in 1977, an incubator for "experimentation and testing ideas."
"I was interested in experimental performance," she says, but, working in experimental theater at the time, felt "further left than a lot of that work." Early projects encouraged cross-media collaboration between visual art, music and dance, video and writing, and how the work was presented was as important as its content. "We were interested in live performance, in looking at different ways to be with the audience, with the viewer, have them operate in the work in different ways." Hierarchy—both among group members and between artist and audience—was dissolved.
Works often took place not onstage, but in public spaces—in Cambridge's Central Square, for example, they performed in the food co-op, at an alternative bookstore, on the street. Deal-ing with conceptual aspects of performance, smell and sound and projections, improvisation and chance operational actions, the works often made participants out of spectators. The name Mobius was chosen because many of the performances theoretically could have gone on forever, like the Möbius strip.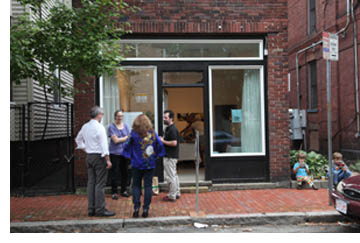 Thirty-five years later, Arsem's obvious faith in the mission persists. Since July 2011, the now twenty-four-member collective is back in Central Square, operating out of a 500-square-foot storefront space on well-traveled Norfolk Street; though performance art has gained larger and larger audiences of late, the nonprofit is resolutely small-scale. Inside, the space is bare, just this side of shabby, and it's hard to imagine that its modest footprint doesn't restrict programming possibilities. "Without a doubt there's a limitation in terms of its size," Speare admits, "but it hasn't stopped us from doing lots of performance events and movement events, music. It's really just a matter of scale. It's not a hindrance to any genre of work."
What's the current work like? Not unlike the eponymous strip, Mobius is hard to pin down. Speaking with Speare and Arsem, I was reminded of Fight Club and the titular cult's credo: "The first rule of Fight Club is you don't talk about Fight Club."
"Mobius is the sum of the artist group members' activities," Speare said. "It's not Mobius the space. Mobius the space is just one aspect of Mobius."
"We as the organization are not telling the group members what to do," Arsem added. "The group members are saying, 'we're doing this."
Members are expected only to attend monthly business and art meetings, and to consistently produce and share both their own work and that of guest artists. Individually and as a collective, members have fostered international relationships that have brought hundreds of artists to Boston and sent Mobius artists all over the world.
Is there a common artistic philosophy? Not exactly. "I'm Mobius and Marilyn's Mobius, but we're also different too," Speare says.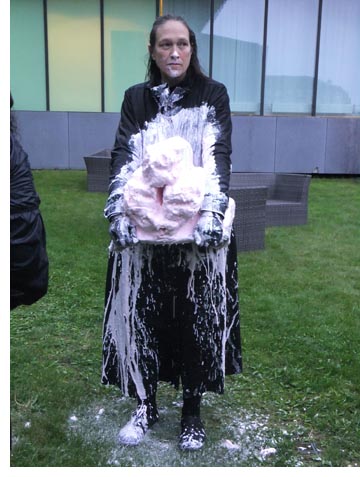 Arsem, for her part, drafted a manifesto last January that describes at least her own beliefs. Titled "THIS is Performance Art" and intended for publication in conjunction with Infr'Action Venezia '11, its thirty-three theses emphasize performance art's urgency, its physical and psychic risk-taking, its site-specificity, spontaneity and ephemerality. "Performance art is now," Arsem writes. "Performance art is live. Performance art reveals itself in the present…. Performance art operates on a human scale. It exists on the same plane as those who witness it. …It cannot be held. It cannot be reproduced.…Witnesses are privy to a unique experience that will never happen again."
Specializing in site-specific performance, Arsem embodies her ideals. For a commission at the Museum of World Culture in Göteborg, Sweden, last summer, the artist, after discovering that it neighbors an amusement park boasting the largest freefall ride in Europe, installed herself in the museum's courtyard in the rain, holding thirty liters of peppermint ice cream and screaming with the freefallers every five minutes for hours, until the ice cream had all melted.
Arsem's manifesto comes at a time when, according to Infr'Action Venice, "performance art's true and intrinsic qualities are being confused by notions of live art and re-enactment, and is drowning in the unclear matter of its opposite: the staged, the theatrical, the spectacle."
In other words, what's going on at MoMA and the Guggenheim isn't necessarily performance art. And there hasn't necessarily been a resurgence either. "Sudden rediscovery?" Arsem says, "We've been here all along."
Three years after its official founding in 1977, Mobius moved into a ramshackle loft space in Boston's Chinatown. Because the space was not outfitted for public events, performances and workshops were held there by invitation only, while more sanctioned performances continued at various public and art spaces around the city. In 1983, as such spaces began to close their doors as funding for the arts dried up, Mobius got one of its own: the former Helen Schlein Gallery in Boston's Fort Point neighborhood, then a vibrant community of artists who had flocked to and repurposed the area's disused warehouse spaces.
Renaming themselves Mobius, Inc., the group operated that space, on Congress Street, for twenty years, presenting works by both members and national and international performers. Artists would often linger after a performance to dialogue with audience members, particularly during designated works-in-progress sessions. "They were so much more scholarly and friendly and community than the New York scene, which was much more fame and ego," recalls Sady Sullivan, a frequent audience member during that time. "I loved how Mobius was working to keep Fort Point alive as an artists community and how even though it was personal and local and approachable, the people involved had national reputations in the field and were part of the international dialogue. Mobius does art for the spiritual, communal greater good."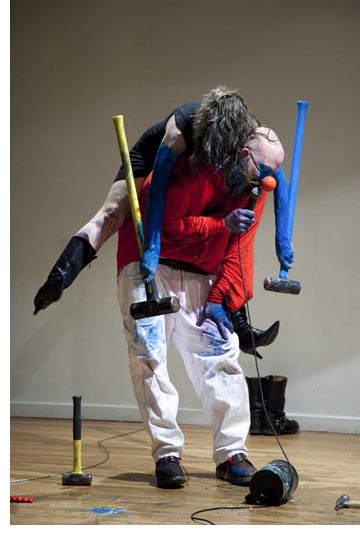 In 2003, the collective, which had changed its name to Mobius Performing Group, and then, finally, to Mobius Artists Group, was forced out by "development pressures," Speare says—as is often the case, artists had done such a good job rehabbing the neighborhood that they had priced themselves out. Mobius initially planned "a pretty sensible transition to a smaller mode of operating," Speare says, but in 2007 seized an opportunity to run a 2,100-square-foot space on Boston's Harrison Avenue, something that the group's younger members were especially keen on. But the space came with crippling hidden costs "that hurt us, and that's why we left," Speare says.
The current Cambridge storefront space is an apt symbol of everything Mobius stands for—modest, unobtrusive, easily accessible, and situated within the community. The organization's calendar is thick with performances by members and visitors, taking place both on Norfolk Street and elsewhere.
In a space smaller than some living rooms, audience participation is easy. In a recent work titled Amaranthine of Grandma, Mari Novotny-Jones and Cathy Nolan Vincevic recreated a visit to grandma's house. Visitors were asked to sit down for tea (but were served an orange Metamucil-like concoction) and were roped into conversations about various absent "family members." Women were all addressed as Mary Francis and men as Shawn Patrick, and both artists played grandmas—Novotny-Jones a lucid and loving, if not frustrated, matriarch; and Vincevic, a woman so deep in dementia that she hadn't pulled her pantyhose up past her knees and often lost her way mid-sentence. Both talked with, touched, and otherwise engaged anyone who entered the aptly decorated space. One visitor, upon leaving Mobius­, could be heard saying, "That was as painful as visiting our actual grandma."
This year, Mobius will transfer its archives of photos, videos, posters, and other materials to Tufts University, the degree-presenting institution affiliated with the School at the Museum of Fine Arts, Boston, where Arsem heads the performance area, and Novotny-Jones teaches. The organization will also contribute both still images and live performances to the exhibition 100 Years at Boston University, "an essential introduction to the history of performance art that has directly shaped the history of twentieth-century art, and that continues to be central to the art and ideas of the first decade of the twenty-first," opening January 19.
"Mobius was an obvious choice for inclusion," says director and chief curator Kate McNamara, "as the artist-run organization has long facilitated and promoted a performance community in New England, having worked with hundreds of nationally and internationally acclaimed artists."
Center or not, Mobius has succeeded on its own terms. "Our role is to be exactly as we are, which is an enduring arts organization which has led because it endures," says Speare. "Because it endures, it leads by example. Just by existing, we lead by enduring."
_______________________________________________________________________________________________________________
Kris Wilton is a freelance writer and editor based in Cambridge, Massachusetts. Her writing has appeared in Modern Painters, Art+Auction, ARTnews, Emerging Photographer, Slate, and the Village Voice, among other publications.
©2018 Art New England, All Rights Reserved
Designed and Developed By: T. Montgomery