Annette Lemieux: The Strange Life of Objects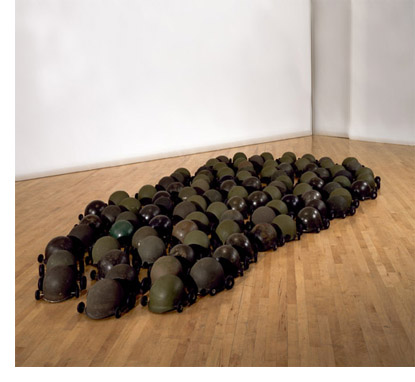 This illuminating midcareer survey of nationally-exhibited Massachusetts artist Annette Lemieux is comprised of a broad range of work including paintings, installations, and sculpture from 1983–2010. A traveling exhibit, it originated at the Krannert Art Museum at the University of Illinois at Urbana-Champaign but was curated by two New England curators: Lelia Amalfitano and Judith Hoos Fox. The Worcester Art Museum presents a carefully edited version of the exhibit selected by curator of contemporary art Susan Stoops; the full exhibit is featured in the solid exhibition catalog.
One of the earliest pieces in the exhibit, the 1986 tableau It's a Wonderful Life, borrows its title from the classic post-World War II Frank Capra Hollywood movie. A large gray canvas meticulously painted with a random sprinkling of circles serves as a backdrop for a globe on an ornate wooden plant stand. This installation, like much of Lemieux's work, suggests an intersection of memory, the personal, and the universal — whether politics, popular culture, or historical events. Through Lemieux's deliberate, succinct material language, the work raises conceptual questions of autobiography, longing, the ephemeral, and the nature of self.
The elegant, restrained economy of means that is a hallmark of Lemieux's work often serves to amplify her message. In Hell on Wheels (1991), a group of worn army helmets in varying shades of green and gray sport black wheels. She alludes to childhood toys and war, play and conflict: however, the impact of the piece is dually subtle and direct. Placed on the floor as they are, the mass of wheeled helmets suggest an army, strangely bodiless. Installed in juxtaposition with a large-scale red canvas, Hell Text, which is seared with a text of memories of the Holocaust, the piece assumes a more specific meaning and weight.
While Lemieux's work addresses weighty issues, it is not without humor. The all-white Potential Snowman (2001) consisting of three spheres, a cast carrot nose, and coal carefully arranged on a low pedestal, is a sort of cataloging of the parts of a snowman that will never melt. Considering that it is a response to the events of 9/11 allows us to access the full meaning of the work, tempering but not erasing the humor.
©2018 Art New England, All Rights Reserved
Designed and Developed By: T. Montgomery