Collision
Rhode Island School of Design Museum of Art • Providence, RI • www.risd.edu • Through June 19, 2011
An unsuspecting visitor walking into the RISD Museum of Art's Lower Farago Gallery could be forgiven for misreading the name of the group show Collision as "Confusion."
The spacious, high-ceilinged gallery virtually erupts in a cacophonous explosion of works that include paintings, sculptures, ceramics, videos, installations, prints, and more. Strips of colored paper hang from ceiling to floor; paintings are literally hung on top of designs applied directly to the walls; the text of Romeo and Juliet scrolls down a wall and across the floor.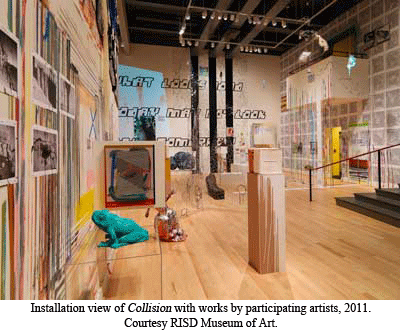 Collision was the brainchild of painter and 1985 RISD alum Jackie Saccoccio, who invited seventeen artists, including a number of RISD graduates working in various media, to curate their own works in the show in any way they desired. The show was originally conceived for Blue Balls, the 2008 inaugural exhibition at Art Production Fund's LAB in New York City.
Collision revels in deliberate chaos, a playground in which the artists happily allow their creations to butt against, overlay, and otherwise intrude on each other. Theater mavens may be reminded of the artful clutter of the pawnshop setting of David Mamet's 1975 play American Buffalo. The effect is dizzying and takes some getting used to.
The best way to approach the show is to check preconceptions about art and the art of curating at the door. This is an installation that invites—demands—that you surrender to its merry madness. The less one stands aloof to ponder the exhibit's significance, the more one becomes part of the fun.
While one really can't picture the brawling that broke out at the Paris premiere of The Rite of Spring happening at the Farago, Collision may cause some consternation among more tradition-minded museum goers. I respectfully direct them to the museum's upper galleries, where antiquities, impressionists, and portraits await to return them to their comfort zones. A word of advice: After perusing the classics, return to the lower Farago Gallery and let Collision transport you to other possibilities of artistic expression. This may be the perfect show for contemplating the world in 2011.
—Steve Starger
 
©2018 Art New England, All Rights Reserved
Designed and Developed By: T. Montgomery