Corinna Schnitt: Once Upon a Time
Museum of Art at Rhode Island School of Design • Providence, RI • www.risdmuseum.org • Through November 6, 2011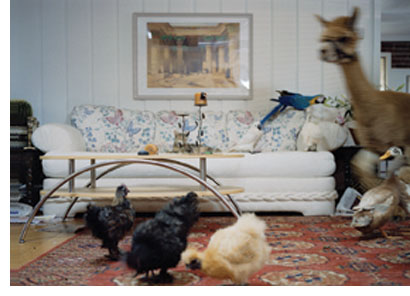 The title of German artist Corinna Schnitt's video exhibition at the Rhode Island School of Design museum shares its name with the centerpiece of the show: Once Upon a Time (2005). The alternately hilarious and cringe-inducing video shows a typical middle-class living room overrun by an increasingly diverse and destructive assortment of animals.
Over the course of the twenty-five-minute video, a neatly arranged living room is subjected to a tumult of cats, dogs, parrots, rabbits, geese, and eventually hoofed barnyard animals including a llama, a cow, a donkey, and a miniature horse. Lowered from their human stature, viewers take in the scene from a vantage point close to the floor as the camera spans the room in a 360-degree rotation.
As the animals make the human space their own, the impulse to anthropomorphize them is strong and is only enhanced by a popular media culture that trains us to see animals as cuter, furrier versions of ourselves. A belligerent cockatoo posted on a couch cushion becomes a cranky dad or moody adolescent. A rambunctious goat reminds us of a freewheeling, if unruly, child with no regard for proper indoor behavior.
Other videos in the exhibition are darker in tone, though they share some of the wry humor of Once Upon a Time. In Raus aus seinen Kleidern (Out of Your Clothes) the camera focuses, then slowly zooms out, on a woman on a high-rise apartment terrace shaking out her laundry. A voiceover, presumably the woman's own, describes a preoccupation with laundry maintenance to the point of negligence in areas such as romantic relationships and the upkeep of her apartment. Themes of compulsive cleanliness and order appear in other videos too—perhaps a comment on the overly sanitized and structured lifestyle supposedly upheld in the artist's native Germany.
The videos seem to speak with a certain grimness of the responsibilities and expectations of domestic life. Given this reading, the animals in Once Upon a Time no longer seem so absurdly out of context in their occupation of civilized space, but come to be seen as models for living with an uninhibited, if messy, immediacy.
©2018 Art New England, All Rights Reserved
Designed and Developed By: T. Montgomery