Esmé Thompson: The Alchemy of Design
Hood Museum of Art, Dartmouth College • Hanover, NH • www.hoodmuseum.dartmouth.edu •
Through May 29, 2011
Esmé Thompson's work is a perfect example of the convergence of style and voice—one nourishing the other— but where ultimately voice rises from that very fundamental interaction, to become the human cry we yearn to hear.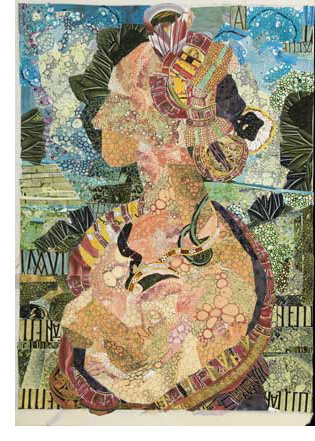 The mark of a fully developed voice is evidenced, in part, by the transformation of material, which feels true to the work's deepest intention—the initial impulse that brought it forward.
In Thompson's case, style cannot be so easily characterized or assumed. Patterning and spatial juxtapositions are not simply fixations of surface, but a nuanced gathering, recording, and synthesizing of information, both external and internal, toward a re-vision.
There's so much to admire here, not least the energy and joy at every turn. One way to approach Thompson's work is to consider how she uses visual components as vocabulary. In effect, she creates a language that is in continual flux, as shape-shifting and aboriginal as any language, absorbing cultural references and meanings, evolving as more than the sum of those parts.
This process can be seen clearly in the small collages, which are preliminary stages for larger acrylics. The collages speak with great urgency, as if they were conceived while in a dream, full of saturated color and emotional density. Thompson's palette is darkly lush in these exploratory pieces, merging to a lighter, more outwardly expansive palette in the subsequent larger pieces.
A conversation is set up between one stage and the other, and back again. The voice in the smaller pieces comes through as vivid and edgy, whereas in a larger piece it might be perceived as more reasoned in tone, more studied—successful in a different realm, a slightly tilted worldview.
Something is gained in these continual translations, traveling inward along spatial and symbolic byways of language, while simultaneously traveling through points along a mindful trajectory—states of grace, stations along the Tõkaidõ.  The work is phenomenological and spiritual at once.
One does not find one's voice, as the saying goes—as if it were out there somewhere, hidden, waiting to be discovered. Rather, as in Thompson's work, it is achieved by a hard-won lifetime of shaping experience through touch, a deep visceral sentience, and a profound respect for works of the human hand, heart, and mind.
—Pam Bernard
©2017 Art New England, All Rights Reserved
Designed and Developed By: T. Montgomery