Francis Alÿs: The Moment Where Sculpture Happens/The Sign Painter Series
Davis Museum and Cultural Center • Wellesley Hills, MA • www.davismuseum.wellesley.edu •
Through June 5, 2011
Paradox of Praxis 1 (Sometimes Making Something Leads to Nothing) is a video of Belgian-born artist Francis Alÿs pushing a big block of ice through the hot streets of Mexico City, his adopted home since the late 1980s. At first, Alÿs strains to propel this giant ice cube. But as it melts, leaving water lines behind, he's able to stand upright and kick what's become a dirty snowball. Bystanders ignore this six-foot six-inch gringo in baggy khakis and rusty-colored Converse sneakers doing something so odd. It isn't until the ice dissolves nine hours later (the video lasts only five minutes), that three children finally notice and snicker at the little puddle.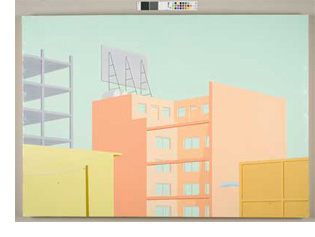 This video is the centerpiece of a small but tantalizing show at the Davis Museum at Wellesley College that is two exhibits in one: The Moment Where Sculpture Happens and The Sign Painter Series. Both series, as is often the case with conceptual art, appear uninspiring at first glance. Man pushing ice cube? Or, as in The Sign Painter Series, a triptych of similar cityscape paintings of blocky high-rises, billboards, and parking garages? Each is defying you to ask yourself, "What is the point?"
And that's the question that Alÿs, who described himself in The Economist as a "partera" (midwife) and a catalyzer rather than an inventor, wants us to ask. According to James Oles, the curator of the Davis show, "Alÿs's intent isn't to actually change things as was the tradition of Mexican artists in the 1920s and 1930s. He does not use art as a weapon but as a subtle trigger, a haiku."
In the Davis show, the focus of Alÿs's poetic performance is Mexico City, a hubbub of old and new world—a place that the fifty-two-year-old former architect and urban planner describes as a fertile laboratory for his work. His camera, paintbrush, and pencil highlight the overlooked—the street vendors, the sign painters, the ice distributors, or, as in the video Perro Durmiendo, a dog sleeping on a busy street corner. Viewing each becomes a meditation on how much we disregard in the social fabric of our daily lives. Alÿs inspires us to stop and notice.
—Sarah Baker
 
©2018 Art New England, All Rights Reserved
Designed and Developed By: T. Montgomery