Gina Siepel: Currents 6
Colby College Museum of Art • Waterville, ME • www.colby.edu/museum • Through February 13, 2011
A 1996 graduate of SUNY Purchase, Gina Siepel earned an MFA from the Maine College of Art and studied at Bard, the Center for Furniture Craftsmanship, the New York Studio School, and the Skowhegan School of Painting and Sculpture. Cross-disciplinary and inventive, Siepel is a perfect candidate for this ongoing series of exhibitions featuring contemporary Maine-connected artists. And her multimedia, multi-part installation happens to be in sync with the series' title; currents run through it.
Introduced to the Kennebec River while attending Skowhegan in 2008, Siepel has spent part of the last two years exploring its history and culture. Among other things, she built a traditional bateau, the boat used by log-drivers to navigate the river. The exhibition includes this simple and sturdy boat and the design drawings the artist created during its construction.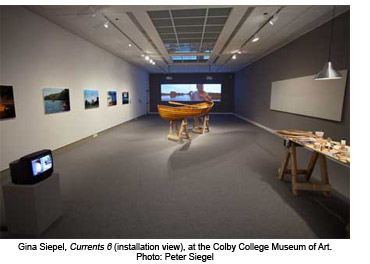 Connected to the bateau is A River Twice, a forty-two-minute video that runs in a split-screen format on a wall of the gallery. Inspired by Heraclitus's famous observation regarding the impossibility of stepping into the same river twice, Siepel invited a musician, several scholars, a registered Maine guide, campground owners, and an environmental activist to offer their diverse takes on the Kennebec as they bob along in the bateau.
The exhibition features several other recent projects, including short videos related to Thoreau's grave in Sleepy Hollow Cemetery in Concord, Massachusetts, and the Great Carrying Place, site of Benedict Arnold's portage on his march to Quebec in 1775. The latter piece consists of footage of Maine Route 201 with cars and logging trucks whizzing past.
Last but not least is a series of large-format inkjet prints by Monika Sziladi, a Hungarian-born photographer who met Siepel at Skowhegan. Each of the seven photos features a recreation of a Winslow Homer painting, in a contemporary setting, with the artist standing in for the figure. While displaying a sense of humor, these images, like the other works in the show, are provocative in their striking juxtapositions and cultural layering. In the end, Siepel's installation is human ecology, weaving history and art and environment into an interconnected whole.
—Carl Little
 
©2018 Art New England, All Rights Reserved
Designed and Developed By: T. Montgomery