Jon Gregg
Amy E. Tarrant Gallery • Burlington, VT • www.flynncenter.org • Through December 31, 2010
Jon Gregg's series of fifty paintings on paper are process-driven and commanding. Each piece is thickly worked in oil stick and oil pastel, a menagerie of scratched and drawn lines rearing over each surface in a colorful dance.
Formally, Gregg is difficult to categorize. His works are undeniably abstract, yet often feature what seem to be narrative groupings of figures. The pieces vary wildly in color and form, employing a liberated palette of bright colors and drawn shapes that shift easily between works. They are feverishly worked, yet exude an extemporaneous ease.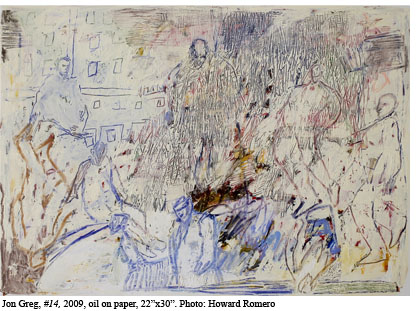 Before turning his attention to his painting and cofounding the Vermont Studio Center in the early 1980s, Gregg studied architecture under Louis Kahn. Building and structure seem key to Gregg's work. His densely painted surfaces recall the thick texture of plaster. His works often include crowds of figures wearing crowns or top hats that appear to form city skylines as they cluster in confused coteries.
Gregg doesn't title his works, and adamantly refuses to write an artist's statement, despite his skill as a writer. He insists his paintings speak for themselves in their own language, leaving the viewer to interpret his works through the filter of his/her own experience.
A practitioner of Tibetan Buddhism for forty years, Gregg gives a monthly lecture at the Vermont Studio Center on the relationship of meditation and studio practice. He suggests meditation as a means of releasing thoughts that limit creative freedom. His devotion to that method is felt in these works, which command a simultaneous attention and release from the viewer; they seem meant to be taken in through the senses and released into the wild landscape of the viewer's life. By the artist's attempt to work freely, he invites the viewer to see freely—to step into the stream of these works and see where they go.
These works aren't didactic or political. They're paintings. Gregg's lush works evoke sound and silence, human suffering, love, loss, abundance, war, peace, and politics, all seemingly without trying. The artist virtually pours these works onto paper, where their ardent marks thrum with life.
—Amy Rahn
 
©2018 Art New England, All Rights Reserved
Designed and Developed By: T. Montgomery