KARA WALKER: HARPER'S PICTORIAL HISTORY OF THE CIVIL WAR (ANNOTATED)
Fleming Museum • Burlington, VT • uvm.edu/~fleming • Through December 12, 2014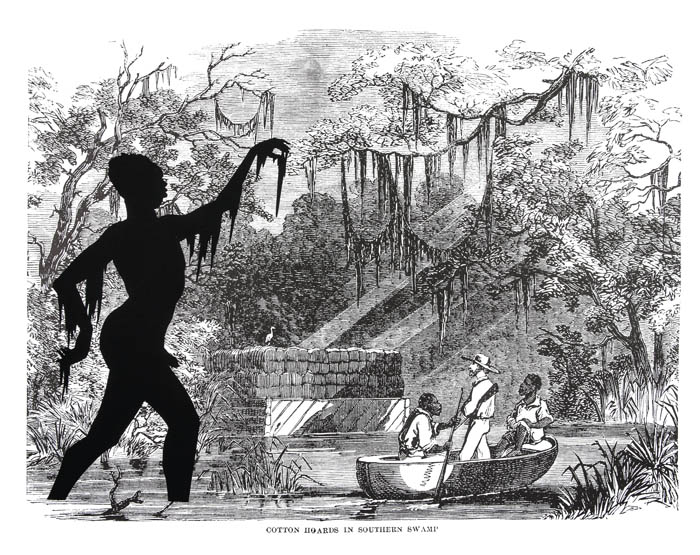 Kara Elizabeth Walker, Cotton Hoards in Southern Swamp, from the series Harper's Pictorial History of the Civil War (Annotated), 2005, offset lithography and silkscreen on Somerset textured paper. Purchase with the Susan and Bernard Schilling Fund and the Belle and Hy Baier Art Acquisition Fund. Mount Holyoke College Art Museum. Photo: Mount Holyoke Digitization Center.
Kara Walker is best known for large-scale silhouette installations that use irony and satire to underscore derogatory racial stereotypes. This past summer, A Subtlety or the Marvelous Sugar Baby, an Homage to the unpaid and overworked Artisans who have refined our Sweet tastes from the cane fields to the Kitchens of the New World on the Occasion of the demolition of the Domino Sugar Refining Plant presented a 80-foot long by 40-foot high sugar-coated mammy sphinx in a soon-to-be-demolished warehouse in Brooklyn. A Subtlety drew connections between the sugar industry's problematic relationship with African-Americans, its historic reliance on slavery and its current implication in the crisis of obesity and diabetes. Walker's direct portrayal of racial stereotypes—mammies, piccaninnies, brutes and jezebels—has made her a controversial artist among some African-Americans.
Kara Walker: Harper's Pictorial History of the Civil War (Annotated) at the Fleming Museum is an intimate presentation of the artist's smaller work. Walker overlays her familiar silhouettes of racially derogatory stereotypes onto lithographs of enlarged woodcut plates from Alfred H. Guernsey and Henry M. Alden's Harper's Pictorial History of the Civil War, 1866. A large mammy figure joins in the revelry in Alabama Loyalists Greeting the Federal Gun-Boats. A giant piccaninny with oversized buttocks battles a tiny brute in Signal Station, Summit of Maryland Heights. Walker's prints provide counterbalance to the other two exhibits on view: Civil War Objects from the University of Vermont Collections and Civil War Era Drawings from the Becker Collection—where the representation of the African-American Civil War experience is limited and problematic. Walker's prints rewrite the history of the period while using the disturbing mythology of the antebellum South to raise questions about that history. The experience of the work depends largely on the viewer's own relationship to that history. White viewers may find the imagery disturbing, but a necessary investigation into the history of racism. African-American viewers may find the work a tiresome reminder of the stereotypes they continue to confront today. The result is a complex body of work that asks the viewer to contemplate race in America.
©2018 Art New England, All Rights Reserved
Designed and Developed By: T. Montgomery