Madeleine de Sinéty: Photographs
Portland Museum of Art • Portland, ME • www.portlandmuseum.org • September 24–December 18, 2011
From her childhood in France's Loire Valley (she was born there in 1938) and in Algeria, to recent residence in the western Maine town of Rangeley, the photographer Madeleine de Sinéty has lived a remarkable life. On a student visa, she spent six months in Iraq in 1958 following the overthrow of the monarchy. She has lived in a village in Uganda, followed a logger through Maine woods, and been a wedding photographer.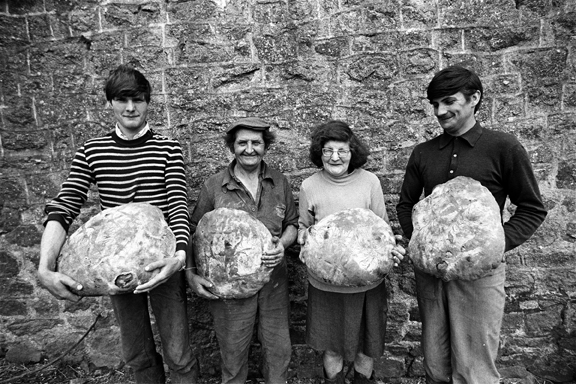 De Sinéty has also had her share of misfortune. Her second husband, American journalist and science writer Daniel Behrman, died of lung cancer in 1990; and her thirty-year-old son Thomas perished in a car accident in 2006. She herself has been battling cancer off and on for the past quarter century.
All along, de Sinéty has cast an empathetic eye on the world. This exhibition of fifty-four black-and-white and six color digital prints, dating from 1970 to 2001, highlights her humanistic vision, most notably, her portraits of villagers in Poilley, France, and in Paidha, Uganda. The exhibition also features nine gelatin silver prints from her first documentary project, a photo essay about the last days of the steam engine in France in 1970 to 1972 (Behrman, who shared her passion for the old railways, had given de Sinéty her first camera, a single-lens reflex Nikon, in 1969).
De Sinéty's photography has an authenticity that comes from living with her subjects and, in many cases, taking part in their activities (one of her journal entries in the exhibition catalogue describes rounding up heifers on a Poilley farm). She is present when an elderly French widow brushes her hair, Ugandan youngsters pound flour, or the sturdy Matt Lord twitches logs through the snow.
As photographer Mary Ellen Mark, de Sinéty's mentor and teacher at the Maine Photographic Workshops, writes in an introduction to the catalogue, the artist "sees the beauty in those precious moments of life that we often ignore." By reminding us of the joy of bouncing on a bed, the grief of digging a grave, or the pleasure of freshly baked boules, de Sinéty makes us more responsive to human experience—a most
laudable accomplishment.
©2018 Art New England, All Rights Reserved
Designed and Developed By: T. Montgomery