Maria Magdalena Campos-Pons: Sugar
Smith College Museum of Art • Northampton, MA • www.smith.edu/museum • Through January 2, 2011
The site-specific installation at the Smith College Museum of Art, Sugar: Maria Magdalena Campos-Pons, pulls the viewer in many directions. A large, sculptural installation, accompanied by video interviews, this piece illustrates how cultures—African, Cuban, Chinese, and American—converge over a single commodity: sugar.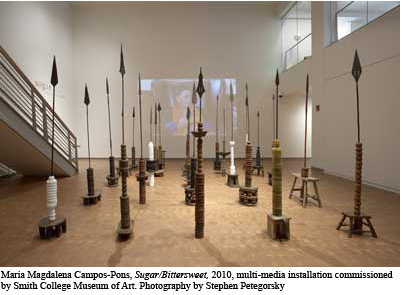 Focused upon memory and history, as well as larger personal, interwoven, and historic narratives, Campos-Pons explores heritage and exile. Born in La Vega, Cuba, a town named after a sugar plantation, the artist has African and Chinese ancestors. She now lives in Boston.
For Sugar/Bittersweet, rows of African spears nearly fill the open floor space. Each spear points gracefully upward and serves as a holder for round beadlike disks, some of which are made of actual sugar. Others are glass re-creations made to represent sugar. It's hard to distinguish which of these disks are authentic and which are not. Most of the spears rest on top of native African and Chinese stools.
The way that Campos-Pons combines authentic objects, such as the sugar disks, spears, and stools, with sculptural elements that she has crafted, conveys another world, one that's thick as a field of sugar cane, yet evokes much more than the fields—it hints at different countries and eras. The topic of sugar is a favorite for Campos-Pons, one that she has explored for many years, and she seems to have carried her journey—along with her ancestors'—into the room.
The show includes two older works. Meanwhile the Girls Were Playing (1999–2000) features three skirts that combine video, glasswork, flowers, and images of her sisters. These images rely squarely upon her childhood memories.
For all the emotionality, Campos-Pons's work is extremely thoughtful, even conceptual. The way she mines memory in some of her images, such as the Duchampian windows in her other older work, People Who Were Not Heroes: A Town Portrait (1994), are clearly intended to fit within the formal canon of Western art. Campos-Pons's impressive work manages to be simultaneously energizing and haunting.
—Sarah Buttenwieser
©2017 Art New England, All Rights Reserved
Designed and Developed By: T. Montgomery