Marianne Mueller: Any House Is a Home
Peabody Essex Museum • Salem, MA • www.pem.org • Through December 31, 2011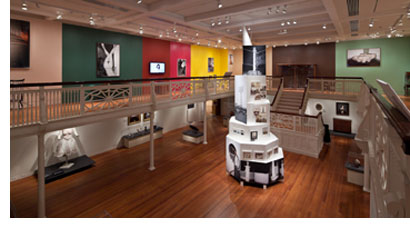 The Peabody Essex Museum's recently inaugurated Freeport series invites contemporary artists to create solo exhibitions in response to the museum's collection or the region's history. The second installment, Any House Is a Home, features Marianne Mueller, a Swiss photographer who creates installations from a personal archive of thousands of snapshots accrued over twenty years. For this exhibition, Mueller juxtaposes her photographs with objects from the museum in an intuitive rethinking of museum collection and display.
Decorative arts, furniture, and photographs (297 in all) from the museum's vast holdings are combined in unlikely pairings with Mueller's own photographs and videos. Her arrangements focus on the small, the overlooked, the domestic, and the everyday. She shows us what we wouldn't normally think to look at, or in the context of a museum, wouldn't be privy to seeing. A row of women's shoes from the collection sits under large, blurry, black-and-white images of dancing legs. An antique armoire faces a brightly painted wall, displaying its backside. There's a sense of discovery to each tableau, a feeling of having stumbled upon a private moment.
Mueller has a talent for taking staid objects and images and imbuing them with a sense of personal history. She asks us to
consider the relationship between our everyday experiences and the life and history of the museum. The new context of the objects makes them familiar, even friendly; they are transported from the world of the museum—of historical narrative—to the world of our accrued experiences. In a sense, Mueller is democratizing the museum collection.
Because so much is left open to interpretation, each viewer sees the objects differently, in Mueller's words, we "experience them anew, beyond timelines and classifications."
Mueller's subject matter may at first seem scattered and banal, but with time it reveals itself as intimate and playful. Any House Is a Home is foremost about the act of noticing; of finding value in the idiosyncrasies that pervade high art, everyday life, and anything that might fall in between.
©2018 Art New England, All Rights Reserved
Designed and Developed By: T. Montgomery