OVERVIEW OF GRIN GALLERY
GRIN Gallery • Providence, RI • grinprovidence.com
Housed in Olneyville's The Plant, a mixed-use complex with an aim towards servicing Providence's creative class, GRIN gallery is operated by two MassArt graduates, Lindsey Stapleton and Corey Oberlander. GRIN forms one-third of a trifecta of new galleries in the weathered former factory, along with Yellow Peril Gallery and Just Art, committed to bringing contemporary art to the vibrant, if somewhat down-and-out neighborhood on the city's West Side. The gallery's goal is to spotlight and incubate the work of emerging artists across mediums, many of whom, fresh out of art school, have never exhibited before.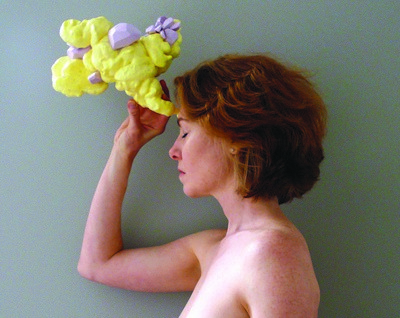 Leah Piepgras, Thought Cloud, 2014, foam, 11 x 7 x 5″.
The first half of July features Leah Piepgras' chimerical !Super Vision!, a series of finely crafted sculptures, inspired by the artist's research in brain science, exploring the power and limitations of seeing as a creative and cognitive act. In Thought Cloud, for example, a candy-colored explosion of foam gives tangible shape to the evanescence of thought. "I think of my art as a tool to communicate complex thoughts," Piepgras writes, "a tool to disorient the perception of your physical self and surroundings." Later in the month, Sam Denoncour shows a series of lush landscape paintings. His images of bucolic wooden A-frame houses, canoes, and figures wading in a glassy lake, the shadows long and deep, nostalgically evoke the warmth and languor of summer. His painting Saun Looks for Relics is particularly pensive, a dreamy tableau of lost time. "The work allows me to pull deeper meaning from the places I've explored and the people inhabiting them," he writes, "The process allows me to have a deeper relationship with memory, it allows to me to morph and illustrate my own story as I see fit." The exhibition also includes a work of sound art—a first for this artist.
Both Piepgras and Denoncour have created a whole new body of work for their exhibitions, using the space as an experimental testing ground to explore new techniques, mediums, and ideas. Indeed, GRIN has proved an exciting place for emerging artists to take risks and develop new work within a thriving arts
community.
 
©2017 Art New England, All Rights Reserved
Designed and Developed By: T. Montgomery