Painting Air: Spencer Finch
Museum of Art, Rhode Island School of Design • Providence, RI • www.risdmuseum.org • Through July 29, 2012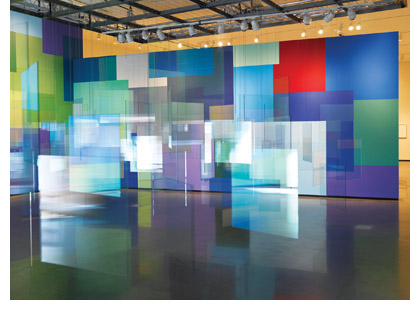 Painting Air is an exhibition of creative exploration and experimentation. This two-part project showcases work by New Haven-born, Brooklyn-based, RISD Sculpture MFA '89 Finch. It features a large-scale installation alongside a second gallery of works curated by the artist from the museum's permanent collection.
The highlight of the exhibition is Finch's installation, Painting Air. Finch visited Claude Monet's water garden in Giverny and explored the changes in light, color and atmosphere previously observed by Monet when he said, "I want to paint the air…and that is nothing short of impossible." Finch responds to this sensation in a conceptual work—a grid of 112 glass panels suspended in the middle of a room with color blocks on the walls, loosely deriving from Monet's palette in his Giverny water lilies, and Joan Mitchell's paintings made nearby, at Vétheuil.
RISD Museum director John Smith refers to Finch's work as "a mix of science projects with art." Precipitation, water, and color are themes worked throughout the exhibition. One example of this is the installation, Sky (Over Franz Joseph Glacier, April 8, 2008, 10:40 am). Visitors hear an ice machine shooting ice down a chute that collects the cubes, and melts them into a pool of water. The dye in the ice makes for a brilliant blue that replicates the hue of the sky seen by Finch above a New Zealand glacier.
An adjoining gallery contains works from the permanent collection curated by Finch in the spirit of Andy Warhol's precocious Raid the Icebox 1 exhibition, generated by RISD in 1970. Curator of contem-porary art, Judith Tannenbaum, invited Finch to choose works from storage to make new connections and develop unconventional juxtapositions. He relished the experience of returning to his alma mater's collection and freely exploring its variety and scope, stating: "There are so many objects…[that] will never see the light of day because they are too specific and too particular." In one instance, Finch pairs a Willem de Kooning drawing with a Peruvian textile, allowing a contemporary eye to discover relationships between the works' use of line. Finch's artistic personality is allowed immense creative freedom, and his curatorial imprint lies in making dynamic and innovative relationships unlike any prior interpretation of the permanent collection.
—Elysian McNiff
©2018 Art New England, All Rights Reserved
Designed and Developed By: T. Montgomery