PAINTINGS: MARK WETHLI AND DOUGLAS WITMER
Icon Contemporary Art • Brunswick, ME • on.fb.me/1lg5D5T • May 31–June 28, 2014
Douglas Witmer's approximately four foot tall painting, A Trace of Something I Want To Feel Again, is a pink rectangle bordered left and right by a pale gray gesso wash. Dry pink stretches up and down the canvas just shy of the top and bottom edges. A thin, paler gray border frames the space. Except for differences in the touch of their application, the pink and gray share the same tonal value, such that if photographed in black-and-white they would be nearly identical.
That Witmer uses "trace" in his title is telling. The painting is not a full-blown event; it is more evidence of an incident recalled and seen in its essence. The slightness of the image asserts a property of elementary vision, like the first sensation one might experience upon becoming sighted after being blind. Witmer's sensual paintings reflect an imaging project that secures a clear emotional weight.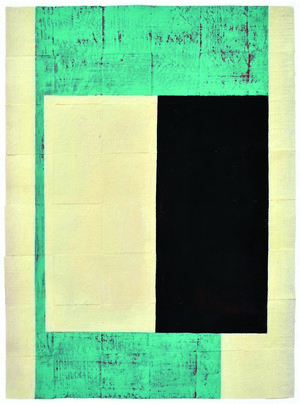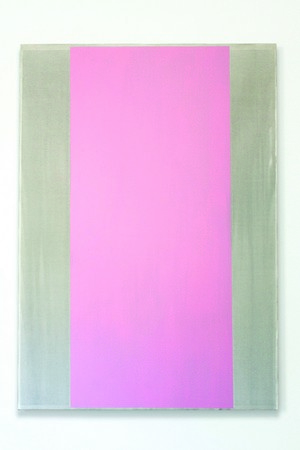 Left: Mark Wethli, Ridge, 2014, flashe on woven Jaipur paper, 16 x 12″. Photo: Mark Wethli. Right: Douglas Witmer, A Trace of Something I Want To Feel Again, 2010, black gesso and acrylic on canvas, 47 x 33″.
Mark Wethli's paintings are smaller works, painted with matte vinyl paint on woven strips of paper. Employing structured spaces that bring to mind both windows and books, Wethli's paintings offer an intensity of encounter. Their woven surfaces are insistent under layers of color, suggesting their own object evolution, like palimpsests. They have the temporal feel of paintings reoccupying the spaces of earlier paintings, inviting visual penetration.
Ridge, like Wethli's other paintings, is a small, constructed template space that appears open and shut, complete and incomplete. Structural edges, although hard, are not precise; they are emphatically products of the hand and the measuring eye. Within his structure, Wethli delivers a slightly shuddering color vitality that seems to breathe.
The artists share a painting language developed in visually intimate spaces. Both present frontal forms, their rectangularity parallel to the picture plane. Witmer's images absorb the gaze, whereas Wethli's have an action that mirrors the looking of the viewer, imparting an unexpected looking back. Both painters, by including framing within their imagery, establish coded screens—entryways as well as perimeters—within which our seeing is directed, and through which meaning is negotiated.
 
©2018 Art New England, All Rights Reserved
Designed and Developed By: T. Montgomery