PHILIP FREY: IN THE MOMENT
Courthouse Gallery Fine Art • Ellsworth, ME • courthousegallery.com • August 20–September 14, 2014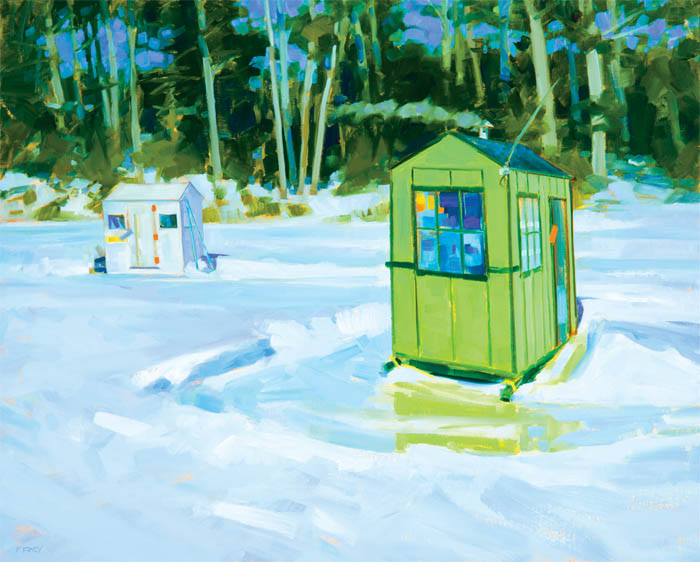 Philip Frey, Malevich's Ice Fishing Shacks, oil on linen, 24 x 30″.
Philip Frey has focused on the coast of his home state for the past 20 years or so, producing landscapes of Mount Desert Island, Monhegan and other locales beloved of plein air painters, of which he is one. The work in this show, 31 oils on linen all dated this year and of various sizes, extends his vision and subject matter while maintaining a solid sense of place.
Frey has always had a special passion for Maine's working waterfront. He has painted the fishermen's co-op at Winter Harbor and lobsterboats at anchor in Stonington. Here he visits downeast boatyards, focusing on various vessels undergoing repairs or, in the wittily titled Left Hanging, suspended in a sling above a wintry harbor.
A Frey painting often has a dappled quality as he places short strokes of paint on the canvas to recreate the scene. At times this approach is perfectly suited to a subject: A "patchwork" barn is pieced together with patches of color. In the one city scene in the show, Ruby Glow, an oil tanker adds a red accent to the view from a shadowed street in South Portland (one wonders if the STOP sign in the painting doesn't relate to the movement to keep tar sands oil out of Maine).
In two brilliant studies of ice fishing shacks, Frey invokes a pair of 20th-century masters. With its rich blue, Mondrian's Ice Fishing Shack might also carry the name of Yves Klein. Malevich's Ice Fishing Shack offers a wonderful and humble geometric-abstract abode in a northern setting.
A Heliker-LaHotan artist residency in 2012 introduced Frey to nearby Great Cranberry Island. Several paintings of bathers on the island dock prove his prowess with rendering the dynamics of figures in the landscape. Young people in bathing suits hang out, doing handstands, riding bikes or simply catching the sun. You might call it the "playing waterfront."
In a nice bit of synchronicity of place and art, a handsome group of paintings by one of Great Cranberry's past masters, John Heliker (1909–2000), was on display in a second gallery. One feels Frey is a worthy heir, as passionate as Heliker was about representing the character of this special island.
 
©2018 Art New England, All Rights Reserved
Designed and Developed By: T. Montgomery