Rackstraw Downes: Onsite Painting, 1972–2008
Portland Museum of Art • Portland, ME • www.portlandmuseum.org • Through March 20, 2011
The British-born Rackstraw Downes discovered plein air painting in Maine in the early 1970s, having ventured north from New York City at the advice of Alex Katz. This first retrospective of the artist's "onsite" work features landscapes of Maine, Texas, New York, and New Jersey, as well as interiors of the World Trade Center, Snug Harbor (a retirement home for seafarers on Staten Island), and the Brooklyn studio of painter Daphne Cummings.
The earliest piece in the show, the painterly Dunham's Farm Pond (1972), could pass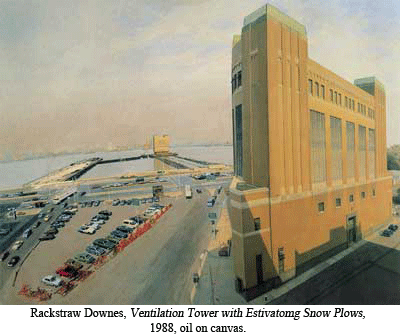 for a Fairfield Porter. By contrast, the most recent work, the three-part Farm Buildings Near the Rio Grande (2008), consists of precise renderings of a simple open-air structure in a Texas landscape. The detail for which Downes is renowned is on full display here.
A fool for long horizontal panoramas, Downes also pulls off the near square. At the Confluence of Two Ditches Bordering a Field with Four Radio Towers (1995), approximately four-feet-square, epitomizes his signature branching composition, in which the viewer's eye is drawn in different directions from a foreground focal point. Wires doing a choreographed skip-to-my-lou across the sky add linear energy.
The Portland Museum of Art has supplemented the original show, organized by the Parrish Art Museum in Southampton, New York, with pieces from Maine collections. An oil sketch of a bend in the Kennebec River is wonderfully loose, while a view of pulp mills at Madison offers geometric curves (a rail line and log boom). Downes's working process is highlighted by a drawing and oil sketch for Olsen's Reunion (1981–1982), a painting that curiously harks back to Eastman Johnson's maple sugar camp paintings of the 1860s.
In a talk about his work delivered at a Portland hotel, Downes proved to be eloquent and reflective. His knowledge of the settings of his paintings is often extraordinary. Describing The Mouth of the Passagassawaukeag at Belfast, ME, Seen from the Frozen Foods Plant (1989), he provided a history of local buildings and an explanation of a "drain tide." This attention to surroundings goes beyond exacting representation: It is holistic.
—Carl Little
 
©2018 Art New England, All Rights Reserved
Designed and Developed By: T. Montgomery